When one thinks of national golf destinations, Oklahoma certainly isn't one of the first states that comes to mind.
But could a waterfront resort named Shangri-La on Monkey Island change that?
In northeastern Oklahoma, on the 46,500-acre Grand Lake O' The Cherokees, Shangri-La's ownership group has invested more than $100 million into upgrading accommodations and amenities at the golf and outdoor recreation oasis since taking it over in 2010. The latest addition is a dramatic 18-hole par-3 course called The Battlefield that gives the resort 45 holes of golf in total. It's far more than simply a short course—scenic and strategic on hilly land with over 100 feet of elevation change—and complements the resort's existing 27-hole championship layout that includes a lakefront par-five known as "The Mickey Mantle Hole."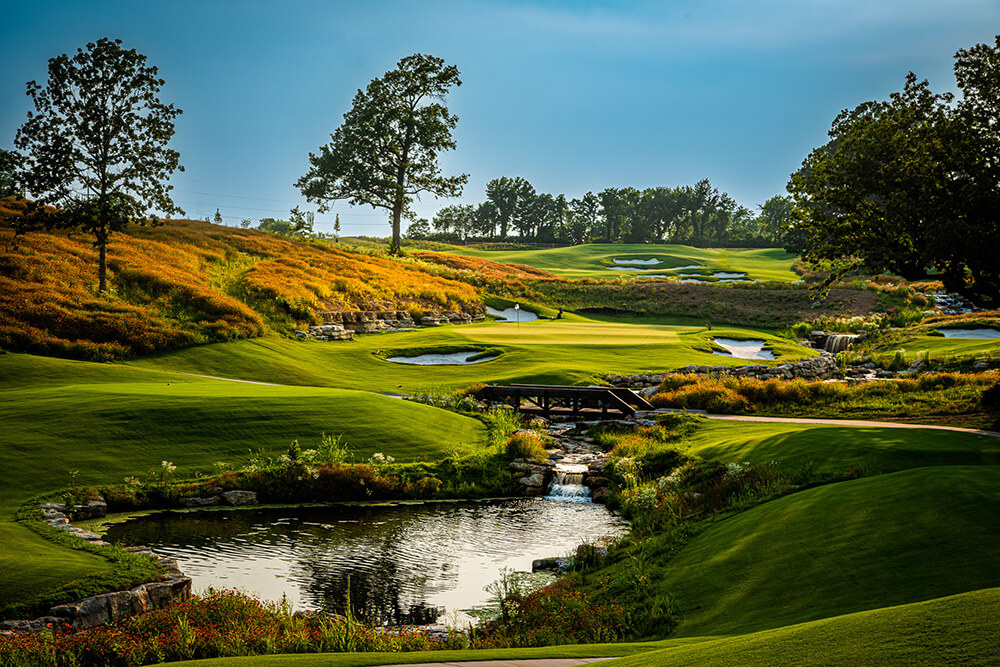 "I've been to a lot of destinations and we fit right in," says Shangri-La Director of Golf Rob Yanovitch. "We put a lot into our budget and our ownership has a commitment to that high-end playability experience. It definitely holds its own against the top places to travel to in the country. Members will bring their groups here for a golf trip and you'll have guests ask why it doesn't get more attention."
Shangri-La, which is closer to neighboring states such as Missouri, Kansas, and Arkansas than it is to Texas, has about 900 members, with about 20 percent of those being local. Most of the rest are between 90 minutes and three hours away, hailing from cities such as Oklahoma City, Tulsa, and Wichita, as are many of the visiting golf groups. But the resort also pulls in guests from throughout the Midwest (Kansas, Missouri, Iowa, Nebraska) and beyond, with out-of-town travelers typically flying into airports in Tulsa and northwest Arkansas.
Guests account for about 60 percent of play, even with Shangri-La's sizeable membership.
"We try to make it a more laid back, personal experience rather than a shove-people-through-the-rounds golf course. It's very much a personalized, member feel," notes Yanovitch. "Everybody gets the same treatment, whether they're members or not. It makes it unique from other resorts. The group getaway—12, 16, 20 guys—that's kind of our wheelhouse. And then we do have corporate play with the (9,000-square-foot) convention center down at the resort."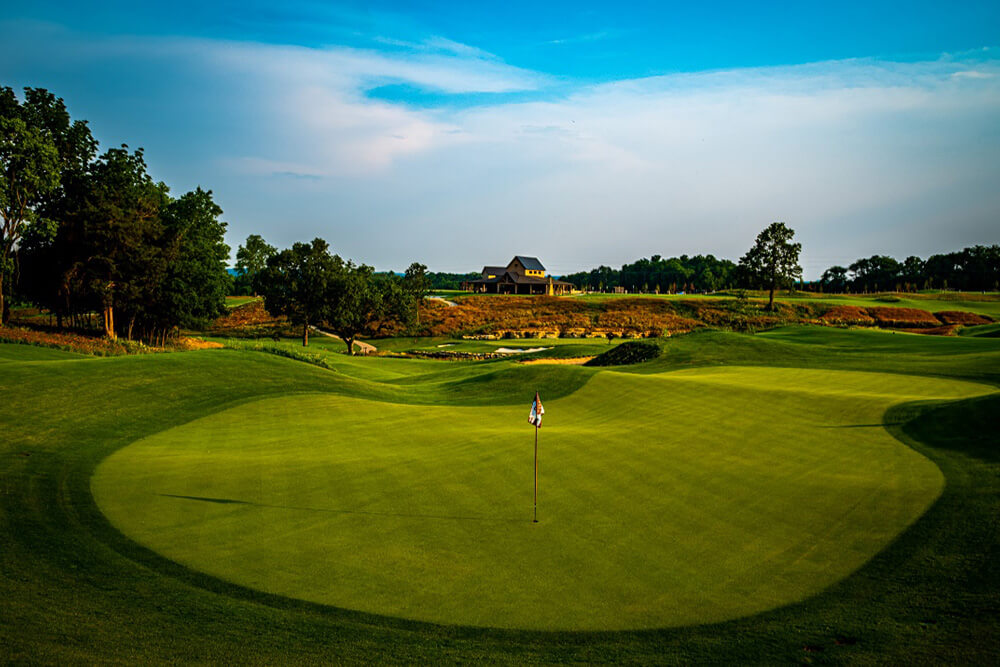 The model is not unlike a place like Firestone in Akron, Ohio. Intentionally so.
"When they were building it, they went all around the country and played different places to see what we wanted to be like," Yanovitch adds. "It's really a unique experience, with the cottages, a great golf course, a robust membership. So that's one of the models at least operationally that we looked at as something to mirror."
Shangri-La also boasts a full-service marina, indoor and outdoor pools, a fitness center, a spa, six distinct dining and cocktails venues, and an indoor/outdoor activity park called The Anchor that offers basketball, tennis, pickleball, cornhole, fishing, and a "Mini-Fenway" Wiffle Ball Park. Indoors, there are traditional arcade games inside along with virtual reality games, a shooting simulator, and Trackman Golf simulators. The popular sports bar at The Anchor features two giant video walls and games like ping-pong, pool, shuffleboard, darts, and foosball.
But for many visitors, golf is the primary draw.
The main course weaves through rolling parkland landscapes, with open fairways accented by ponds and streams as well as the massive lake that surrounds the resort on three sides. The 9th hole at The Legends 9-hole course features two different green complexes and is named after Mantle, the New York Yankees star who once made an albatross on the par five during one of his charity tournaments at the property.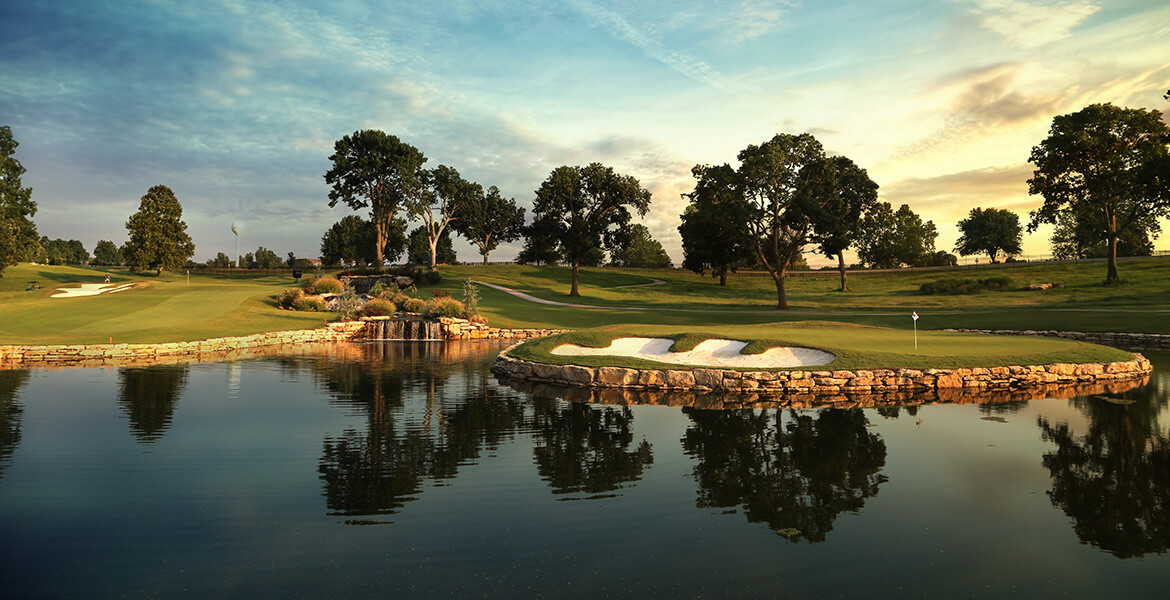 And now The Battlefield raises the stakes, with five sets of tees on a Tom Clark and Kevin Atkinson-designed course that can stretch to 3,000 yards while remaining playable for golfers of all abilities. It might just help put Oklahoma in the national golf destination conversation.
"With 45 holes of intriguing, expertly conditioned golf holes and a resort set on a waterfront and water sports oasis, we see Shangri-La going from a 'best kept secret' to one of the country's top-of-mind golf destinations for buddies' trips, family golf getaways, or large group events," says Shangri-La CEO Barry Willingham. "The Battlefield elevates the conversation on what a short course experience can be. It might be the first short course you can truly call 'Bucket List Golf.'"
Have you played golf at Shangri-La or elsewhere in Oklahoma? Tell us about your experience in the comment section.