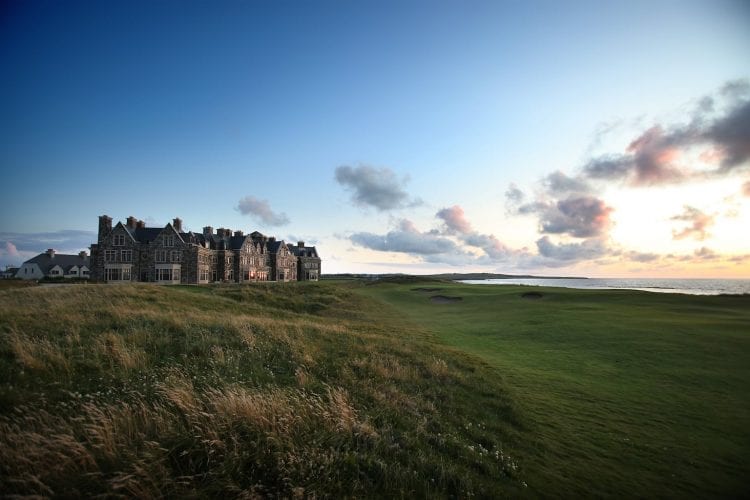 Imagine awakening one morning and being told that a Maserati and a Ferrari were parked in your driveway, ready to roll. Or that 10 cases each of Dom Perignon and Roederer Cristal were on ice in your rec room, or that Jennifer Aniston and Courtney Cox were perched provocatively on the arms of your La-Z Boy. All you had to do was choose one of them. That's how I felt when the phone rang and an editor instructed me: "Take a good look and tell us which is the better destination for golfers, Scotland or Ireland."
I was verging on clinical giddiness when the realization hit: This would be an impossible task. After all, on the surface Scotland and Ireland are indistinguishable. Both have gorgeous countryside, charming little towns, craggy castles, quaint pubs, tweed-jacketed men on bicycles and more sheep than people. Both have huge shirt logos and tiny vegetables, long summer days and short soda cans, feeble water pressure and powerful winds, too few ice cubes and too many Indian restaurants, terrific fish and terrible hamburgers.
And both, above all, have magnificent collections of golf courses. Moreover, I was biased. I love Scotland so much, I've moved there. I pay Scottish taxes and speeding tickets, stand in line (sorry, in a queue) at Scottish post offices and bakeries, visit Scottish doctors and recycling centers (sorry, centres). I even eat haggis. How could I possible assess Ballybunion et al., with an objective eye when I live on the Old Course at St. Andrews?
Worst of all, I hadn't been to Ireland in more than 20 years. Admittedly, my memories of that visit were fond – exceedingly fond – but were they accurate? A lot had happened since 1981—to Ireland, to the world, to me. Truth be told, this wasn't a matter of comparing Jennifer and Courtney; it was comparing a one-time love to my one true love, that long-ago mistress to my longtime wife.
But the job had to be done. And so I did the only thing I could: I returned to Ireland, where I drove 1,500 miles, visited 22 golf courses, stayed in 11 hostelries, consumed gallons of Guinness, lost two dozen golf balls, gained eight pounds, had breakfast with an elephant and totaled my Ford Focus in a field full of sheep, all in quest of the answer.
The first thought that struck me when I saw my long-lost colleen was that the years had been kind to her. The beyond-the-fairways Ireland I'd remembered was fringed with poverty. Beggars hobbled through the Dublin streets and many of the winding rural roads were dotted with painfully decaying homes. Not anymore. Over the past several years, the Republic of Ireland has enjoyed one of the most robust economies in the world
There is a happy, brightly painted look to the towns—indeed, most of the 50 or so villages through which I motored had a more upbeat and sprightly feel than their auld grey Scottish counterparts. Meanwhile, along those country roads most of the dilapidated shacks seem to have disappeared, replaced by dozens of modern homes. Big ones. Every aspect of the Irish economy has blossomed over the last 10 years, and none more than golf tourism. By contrast, Scotland's share of the pie has shrunk, due in large part to an underfunded, fragmented and poorly managed marketing effort. Maybe the most telling reflection is in Ryder Cup site selection. Scotland will play host in 2014, but Ireland got it in 2006, at a golf course that's less than 20 years old. More than 50 courses have sprouted in Ireland since 1990, and nearly all of them offer a warm welcome to traveling golfers. Two of the newest and most impressive are at Carton House, 14 miles west of Dublin Airport in the town of Maynooth. Within the stone walls of an 1,100-acre estate that was the ancestral home of the Fitzgeralds, Earls of Kildare, are two courses, one a parkland layout by Mark O'Meara that weaves through specimen trees and alongside several ponds and streams. Holes 13 through 15, two par 3s sandwiching an heroic par 5, are just as fetching and almost as demanding a stretch as Augusta's Amen Corner.
The other course, the one that's getting most of the attention, is by Colin Montgomerie. It's an exposed, low-lying, links-type layout, lined with tall grass and hungry bunkers. The Irish Golf Union will soon make its home at Carton House, and once the old manor and attendant lodges are fully outfitted, this place will probably become golf destination No. 1 in greater Dublin. But surely the course in the Dublin area that has assumed the highest profile is the one by Arnold Palmer and Ed Seay at the Kildare Hotel & Country Club, known worldwide as the K Club, site of the 2006 Ryder Cup.
To put it bluntly, this was the most disappointing course on my visit and one of the most overrated I've ever played. If you're seeking a true Irish experience, don't bother to play the K Club. It's Florida golf—think Doral on drugs—with water everywhere along with a series of intentionally obscured tee shots, hard-to-decipher doglegs and repelling greens. How Darren Clarke managed to shoot 60 there in the 1999 Irish Open I'll never fathom—I had 60 by about the 11th hole. Let's just say the K course was a strikeout with me.
But the rest of the place was a knockout. The accommodations at Straffan House, around which the Palmer course plays, were impeccable in all respects, as befits Ireland's only AA Five Red Star hotel. The hot bath, superb meal and bottle of wine were just what I needed after the ego-bruising I'd suffered. And to be fair there's a second, kinder/gentler course on the property. Subsequent stays at Rathsallagh House, Adare Manor, Ashford Castle and Dromoland Castle affirmed that Ireland can match any destination in the world for first-class lodging, food and service. All four of those establishments have fine parkland courses on their grounds, the two best being Adare, where in 1995 the late Robert Trent Jones crafted the last of his more than 400 designs; and Dromoland, where Ron Kirby and Joe Carr just completed a masterful reconfiguration.
Taken together with Jack Nicklaus' Mount Juliet; the three lakeside classics down south at the Killarney Golf Club; and—the best of them all—Druids Glen by Pat Ruddy and Tom Craddock, there's a compelling case for the supremacy of Ireland in parkland golf. In reply, Scotland has only the courses at Gleneagles, Blairgowrie and the super-private Loch Lomond.
But winning that battle is like winning the JV scrimmage, so let's get to the main event: the grand and glorious links courses we Americans cross the Atlantic to play.
I'll get right to it: I've now played the top dozen or so links on each side, and based on that experience, I have to give the edge to Ireland. I can already feel the cold stares of St. Andrean neighbors. But let's take a side-by-side look at the first-string squads—the top half-dozen links from each land.
Representing Team Ireland: Ballybunion, Royal Portrush, Lahinch, Portmarnock, Royal County Down and Waterville.
For Team Scotland: Carnoustie, Muirfield, the Old Course, Royal Dornoch, Royal Troon and Turnberry.
Now, those of you who have been fortunate enough to play all or most of those courses, tell me if you don't agree that the more exhilarating and engaging tests of golf are, for the most part, on the Irish side. Maybe it's the fact that Ireland is the first line of defense against the winds and surf of the Atlantic, maybe it's the deeper green of the fairways or the sheer cliffs that drop vertiginously to broad sandy beaches—whatever the reason, there's something massive and mystical about the great links of Ireland, something that's missing in their Scottish counterparts.
Whether it's the 7th tee at Ballybunion, the 17th at Waterville or the 6th at Royal Portrush, the combination of stern shotmaking demands and majestic scenery causes this golfer's blood to rush.
Scotland appeals in a subtler, quieter way. With the exception of a few holes at Turnberry and Dornoch, we're low to the ground, down amid the dunes, plying our way across humps and hummocks rather than battling heroically against three-story sandhills and defiant plateau greens. Sure, along with the Irish scenery come some blind shots, goofy kicks and onerous hikes from green to tee. But it's all part of the invigorating joy, a happy tradeoff for the grandeur of the playground.
Now let's expand the squads and bring in those young recruits the scouts have been touting. For Team Scotland, there's Kingsbarns, a nouveau links sculpted artfully by Mark Parsinen and Kyle Phillips from a tract of seaside farmland just outside St. Andrews. Kingsbarns grabs your attention at the 1st hole and never lets go with a series of inspiring and ingeniously plotted holes that look as if they've been there for centuries. Currently it ranks among the top 50 courses in the world and should probably be in the top 25.
But that's it. Scotland has not produced another significant course—at least not one along the sea—in the last two decades. (There are several in the works.)
By contrast, Team Ireland has signed four rising players, each on a different coast: Starting in the east and moving clockwise around the island, they are the European Club (1992), Old Head (1997), Doonbeg (2002) and Carne (1993).The European Club, on Brittas Bay about an hour south of Dublin, is a no-frills mom-and-pop operation owned and run by golf writer-turned-architect Pat Ruddy and his family. Ruddy has nursed the course from humble beginnings into an enthralling and unrelenting test. It features a couple of unorthodox gambits‹steep bunkers sided with wooden-plank " sleepers" and two extra par 3s (holes 7a and 12a) that bring the course to 20 holes—but there's not a blind shot in sight and three of the holes (7, 12 and 13) have been ranked among the top 500 in the world.
Old Head, near Kinsale on the southern tip of the island, is set on what is surely the most spectacular golf terrain in the world, a 220-acre promontory high above the Atlantic. A St. Andrews neighbor of mine had described it derisively as "a fine place to walk your dog," but I found it far more than that. Granted, the tightly cramped setting doesn't allow for a completely straightforward course, but the six-man tag team of architects did a commendable job of shoehorning the 18 holes. Of course, it's the holes on the edge of the cliffs (there are nine of them) that make this place something special. Without question, the par-5 12th is the most jaw-dropping 564 yards I have ever walked.
At Doonbeg, Greg Norman was given an incredible setting—a stretch of mammoth, rolling dunes on the west coast halfway between Ballybunion and Lahinch—and he made the most of it. In fact, he made a bit too much. Just as with his first course, the Medalist in Hobe Sound, Florida, the Shark's first pass seems to have been aimed at his own stellar game more than those of us mere mortals.
When, after hitting the 1 st green with a sand wedge, I faced another sand wedge shot for my first putt of the day, I knew I was in for an adventure. The ensuing four hours included a traffic jam of crisscrossing holes at the center of the course (where the tee shot of one of my fellow players came within a whisker of cold-cocking a wanderer from another hole) and at least three greens where three-putting was not a possibility but  an achievement. But Greg has already begun toning things down, and in another year or so he will undoubtedly have himself a bona fide gem.
Carne, also known by its town name Belmullet, sits on the remote northwesternmost tip of Ireland. In 1984, the locals took it upon themselves to encourage tourism by forming a company, buying 260 seaside acres and commissioning Eddie Hackett (Ireland's Robert Trent Jones Sr.) to build them a course.
It turned out to be Hackett's final work, and also his best, an absolutely joyous 18-hole romp through the dunes. Hackett did not move much earth, but in exchange he asks us to trek constantly up to elevated tees, down to nestled greens, and sometimes back up to elevated greens. The result is sort of the Cruden Bay of Ireland, a course as fun to photograph as it is to play, but with arguably the strongest stretch of finishing holes this side of Carnoustie.
Situated as it is, Carne serves as a sort of gateway to a collection of equally undiscovered gems in the northwest of Ireland, and each seems to be outdoing the other for the attention of traveling golfers. There is venerable Sligo, long and treacherous, with fairways that toss your ball mercilessly right and left, and its signature 17th hole, a dogleg par 4 that is one of the hardest in the game.
There is Enniscrone, recent beneficiary of a rerouting that includes six dramatic new holes by Donald Steel set among colossal sand hills.
There is Rosapenna, its original 1891 layout now joined by a new baby brother, a rigorous Pat Ruddy examination called Sandy Hills that some feel will outdo even his European Club.
And there is the excitement of what is to come on the nearby island of Bartra, where after nearly seven years of negotiation, Nick Faldo has purchased 360 acres of duneland, accessible only by hovercraft, and intends to " handcraft" the ultimate links.The courses of the northwest require a bit of traveling, but what you spend in petrol you'll save several times over in the green fees and lodging costs that average less than half of those in the rest of Ireland (or Scotland).
The population is sparser, the traffic is less dense, the pace of life is  slower and the scenery is just as stunning as anywhere in the country. Indeed, you never know what you'll encounter around the next bend. Certainly, on the early morning when I turned onto the road leading to Enniscrone, I had little idea I was about to come face to face with an elephant.
But there he was, all alone on the misty linksland, trunk swaying as he shifted lazily from side to side, staring at me as if I were the one who didn't belong. I stopped the car and beheld him for a moment, sipping my take-out coffee and wondering whether he was an Indian elephant or an African elephant. I can only say with confidence that he wasn't Irish. Like your correspondent, he was merely a visitor, taking part in the annual Enniscrone summer carnival.
But the elephant incident wasn't my biggest surprise as a motorist. That distinction belongs to the day prior, on the rain-slicked road from Belmullet. I don't know whether I looked away from the road at the map or spent too much time ogling the cliffs of Downpatrick Head. But the next thing I knew, I was skidding through a hairpin right turn, plowing through a wire fence and launching my Focus airborne.
There was just enough time for "Ohmygod, is this it?" to flash through my mind, then I was face-first into an airbag. The car had sailed 20 feet, dropped another 20 and landed nose-down in a pasture of vaguely amused sheep. Smoke was spewing through the dashboard, the car's headlights were about a foot from my chest and my only escape was by smashing through the passenger-side window. Miraculously, however, I was unhurt—all but my pride.
A dazed 15 minutes later, my belongings and I were crammed into the car of a Good Samaritan named Michael and a short while later delivered into the welcoming arms of the Stella Maris Hotel in Ballycastle, where, also miraculously, the proprietor turned out to be an old friend and colleague, Terry McSweeney, former publications director for the PGA of America.
The rascal had married an Irish girl, Frances Kelley, and the two of them had bought an old convent in Frances' hometown and converted it into a stunning seaside hotel. Thanks to the nurturing of Terry and Frances—and a 50-mile lift from Terry to the Knock Airport, the closest car-rental location, I was on my way again the next day.
The forbearing if foolish folks at Murray's Europcar even entrusted me with another set of wheels. I'm not sure I'll ever be as cautious a driver as my wife wants me to be, but I do know this: Henceforth I will pay heed to all signs that read "Slippery When Wet."
My over-aggressive driving aside, I must say the Irish road system still has far to go. You have to know it's not an ideal situation when:
The guy at the Dublin Airport car rental counter, asked whether he has any cars available with satellite navigation systems, replies, " No, we're not set up for that in this country yet. Besides, getting lost is all part of the Irish experience, isn't it?"
At intersections, the signposts (which look like a kindergarten kid made them out of popsicle sticks) direct you to the nearest 10 or 12 towns and point in at least that many directions on the compass, despite the fact that your only options are left and right.
Signs in about half the country—including Dublin—are printed in two languages, English and something only Darby O'Gill and the Little People understand. For example: "Dublin City Centre 4 miles/Dufna Slaegh Tiramisu 6 km."
Someone tells you, "It's a 50-mile drive, but you better allow three hours."
I'm convinced it's all been perpetrated by a sect of demented leprechauns who lurk behind those stone walls, giggling at the sight of each steering-wheel-banging motorist.In Ireland, getting there is emphatically not half the fun. But thefrustrations are more than compensated for by the places—and people—you encounter. Several moments stay with me: The proprietor of the Old Presbytery B&B in Kinsale who drove several miles to his son' s home and back to fetch a charger for my cell phone. The garage mechanic who looked at my deflated tire and said, "I'll be happy to blow you up—no charge."
The Adare Manor bellman who led me into my enormous second-floor suite by announcing, "When Bill Clinton came here a few years back, this is where he slept—please don't ask me who with."
Mind you, I do not subscribe to the stereotype that all Scots are dour and all Irish are silly-happy, but there is an undeniably brighter hue to the Irish face, a distinct optimism. A Scotsman sees clouds forming and talks of rain. An Irishman ignores the clouds.
I loved the warmth of Ireland, her courses, everything about her—even more than I had two decades earlier. But the bottom-line question still remained:
Is Ireland Better Than Scotland as a Destination for Golfers?
Uh— no.There are three reasons Scotland wins this match. The first is benchstrength. Once you get past those starting squads and hot new recruits—when you dig down to the next dozen courses on each side, and the dozen after that—the edge shifts firmly back to Scotland. There are simply more good links courses in Scotland—many more—than in Ireland.
Scotland, let it be known, also has a far more organized and modern road system—but the truth is, you don¹t need to do much driving, and that's reason number two. If you want, you can stay in one place your entire visit, play a different course each day for a week or so, never drive more than half an hour and never play a less than top-quality course.
In the Ayr region, in addition to Troon and Turnberry, there's Old Prestwick (site of the first 12 Opens), Prestwick St. Nicholas, Western Gailes, Barassie and the refurbished Kintyre Course at Turnberry, not to mention the private Dundonald (if you can get on).
Near Muirfield there's Gullane Nos. 1 and 2, North Berwick, Luffness, Longniddry and Dunbar (all links courses, all British Open qualifying sites). In the Highlands it's a bit more spread out, but you can easily make a week out of the courses at Dornoch, Skibo, Nairn, Brora and Tain, plus Neil Hobday's just-renovated course and club at Spey Bay.
But make no mistake, the ultimate one-stop mecca is St. Andrews—and now more than ever. Why go anywhere else when there are four superb links courses (Old, New, Jubilee, Eden) within walking distance of town; four more beauties (Kingsbarns, the Duke's, the Devlin and Torrance at the Fairmont St. Andrews Bay) within a 15-minute drive; four links charmers in the fishing villages of Crail, Lundin, Elie and Leven (all less than a half-hour away); and four parkland beauties (three at Gleneagles, one at Blairgowrie) within an hour's drive. And lest we forget, Carnoustie is just 45 minutes away. That's 17 courses—with an 18th, St. Andrews' Castle, on the way.
Ultimately, Ireland never had a chance for the simple reason that Scotland's head start was insurmountable. It is the place where golf was born, the place that has given us Old Tom Morris, the featherie, the Road Hole, the Royal & Ancient Golf Club, and 88 British Open Championships. My heart is where my home is – lay me down in the cradle of golf.
But I will confess: Now and then, there's nothing like an Irish fling.