April of 2018 marked the 50th anniversary of a memorable Masters—but one that made its indelible mark in history for the wrong reasons. A Sunday in Augusta that should have been remembered for Roberto De Vicenzo holing out for an eagle on the first hole on the way to a 65, and for Bob Goalby shooting a 66 to set up a playoff, instead became notorious for De Vicenzo signing an incorrect scorecard that left him one stroke behind a champion whose title would forever be marked with a figurative asterisk. It was an ugly scene, a dazed De Vicenzo sitting at the scorer's table where he had been called back after the error was noticed. Too late; the Argentinian had already signed his scorecard. Sadly, it's the kind of incident not isolated in golf history. Here are our choices for golf's 10 ugliest Rules moments through the years, plus some dishonorable mentions.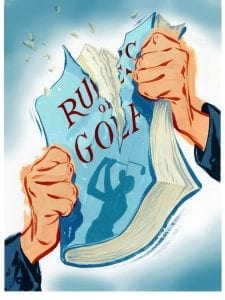 Illustration by Tim Bower
1: Roberto De Vicenzo 1968 Masters
A television audience and live gallery saw De Vicenzo make a short birdie putt after a brilliant approach to the 17th hole. Unfortunately, his marker, fellow competitor Tommy Aaron, wrote a "4" on the scorecard instead of a "3," which De Vicenzo didn't notice before signing the card at the scorer's table located in the open just inside a spectator rope. A Rules committee headed by former USGA president Isaac Grainger couldn't see a way out of saddling De Vicenzo with a par on 17 and the runner-up check instead of a playoff spot. The next year, Augusta installed a tent next to the 18th green, providing a more private and quiet area for players to check their scorecards.
2: Jackie Pung, 1957 U.S. Women's Open
Pung, like De Vicenzo, signed an incorrect scorecard, but her situation was even worse. Seemingly a one-stroke winner over Betsy Rawls at Winged Foot Golf Club's East Course, Pung was disqualified for signing for a score on a hole lower than what she actually shot—marker Betty Jameson had written down a "5" instead of a "6" on the 4th hole. In an effort to lessen the sting, Winged Foot members took up a collection and handed Pung more than $3,000 (first place paid $1,800).
Dishonorable mention: Doug Sanders was leading the 1966 Pensacola Open by four strokes through 36 holes until being disqualified for not signing his scorecard after the second round.
3: Craig Stadler, 1987 Andy Williams Open
In the third round, Stadler knelt to play a shot from near a tree on the 14th hole, putting a towel on the ground to keep his pants dry. At the beginning of Sunday's telecast, NBC included the shot in a package of highlights. Unfortunately for Stadler, a recent addition to the USGA's Decisions on the Rules had deemed such use of a towel to be "building a stance." Upon finishing the final round in an apparent tie for second, Stadler was informed that he was DQ'd for not including a two-stroke penalty in his third-round score.
Dishonorable mention: Nick Faldo had a six-stroke lead with six holes to play in the final round of the 1994 Alfred Dunhill Masters in Bali, Indonesia, when he was DQ'd for removing a stone from a bunker during the third round. 
4: Lexi Thompson, 2017 ANA Inspiration
In 2016, the Rules were changed to allow penalty strokes to be added retroactively, including two extra strokes for an incorrect scorecard. That didn't save Thompson. Leading by two after completing the 12th hole of the final round, Thompson was informed that four strokes were being added to her third-round score because she had replaced her ball on the green in a slightly wrong spot. Thompson rallied to tie So Yeon Ryu in regulation, only to lose a playoff. The incident precipitated a pair of Rules changes for 2018: no more consideration of viewer call-ins or emails (a tournament official will monitor broadcasts) and no additional two-stroke penalty for an incorrect scorecard if discovered after the scorecard is signed.
Dishonorable mention: The PGA Tour's first TV-monitoring venture was discontinued after Tom Kite was told he had to go back to the tee instead of the lateral water-hazard drop he had taken during the third round of the 1991 Byron Nelson Classic.
5: Dustin Johnson, 2010 PGA Championship
After missing a putt on the 72nd hole, Johnson thought he was headed to a sudden-death playoff. Instead, he was met by a Rules official who informed him of an impending two-stroke penalty after TV-watching officials had seen him ground his club in the sand of one of Whistling Straits's outside-the-gallery-ropes bunkers. Johnson ended up T5.
Dishonorable mention: Anna Nordqvist lost the 2016 U.S. Women's Open due in part to a two-stroke penalty on the second hole of a three-hole playoff, where she barely touched sand with her club in a bunker.
6: Dustin Johnson, 2016 U.S. Open
At least Johnson won this time, but it was an ugly situation as he was informed on the 12th tee during the final round that he was subject to a penalty for causing his ball to move on the 5th green while grounding his putter for a practice stroke. The ruling was controversial, as was the fact that the one-stroke penalty wasn't applied until a post-round review, so as the championship came down the stretch the players didn't know what the leading score was. It's a scene that won't be repeated: Under a commonly adopted new Local Rule, a player is no longer penalized for accidentally causing his ball to move on the putting green.
7: Arnold Palmer, 1958 Masters
Leading by a stroke during the final round, Palmer was told by a Rules official that he wouldn't get a drop for an embedded ball behind the 12th green. Palmer didn't agree and played a second ball, making a par instead of the double bogey he made with the original. It wasn't until the 15th hole—after Palmer had eagled 13—that the Rules committee gave Palmer a par on the 12th. He ultimately won his first major by one stroke.
8: Tiger Woods, 2013 Masters
During the second round, Woods had the misfortune of hitting the flagstick with an approach shot to the 15th hole, his ball ricocheting into a pond and necessitating a drop. A viewer called in pointing out that it appeared Tiger hadn't taken his drop at the point of his stroke, but the Rules committee looked at the video and deemed the drop proper. Then Woods told reporters he had purposely dropped two yards behind the previous spot, essentially incriminating himself. A two-stroke penalty was applied, but the committee waived disqualifying him for an incorrect scorecard because of its previous review of the incident.
9: Suzann Pettersen, 2015 Solheim Cup
When Alison Lee of the U.S. picked up an 18-inch putt after Europeans Pettersen and Charley Hull started to walk away and the referee began announcing that the hole had been halved, Pettersen piped up and said the putt hadn't been conceded. That gave the 17th hole, and ultimately the four-ball match, to Europe.
Dishonorable mention: Another case of Solheim Cup acrimony came in 2000 when Annika Sorenstam holed a chip shot but U.S. captain Pat Bradley made her replay it because she had played out of turn.
10: Porky Oliver, 1940 U.S. Open
Oliver was one of six players who, with a storm impending, decided to tee off early in the final round (the second 18 of the day), before the starter got to the first tee. Informed they would be disqualified, the two threesomes elected to play on, and Oliver shot a 71 that would have gotten him into a playoff if the DQ hadn't stood.
Dishonorable mention: Taylor Smith was informed midway through the final round of the 1996 Walt Disney World event that he would be disqualified for using a putter grip that didn't conform with the Rules. He played on and would have been in a playoff with Tiger Woods if the ruling hadn't been upheld.
10a: Korean LPGA Rules Officials, 2017 KB Financial Star Championship
Upon completing their first round, apparent co-leader Hye-Jin Choi and another player were slapped with two-stroke penalties for marking and picking up their balls when they were on the fringe of one hole during the first round. It was later discovered that four other players had done the same thing on a course where it wasn't easy to see the borders between green and fringe, and they had already signed their scorecards. KLPGA officials decided not to penalize anyone. At a player meeting that night, some threatened to withdraw over the penalties being rescinded while others threatened to withdraw if the penalties were applied. In the end, the KLPGA decided to cancel the entire round, and the head Rules official resigned.