The founding of England's first major-championship golf venue might easily have been dubbed the Great Escape of 1887. It was conducted by a group of frustrated golfers from Wimbledon Common in the suburbs of London, where the game was played by two golf clubs on the same course—in opposite directions.
The search for new ground was led by two players from the Wimbledon Golf Club, Dr. Laidlaw Purves and Mr. Henry Lamb. The former fervently vowed to walk hundreds of miles along the English Channel until he found suitable linksland. Fortunately, Purves never had to make his arduous trek, thanks to a tip that sent him to the medieval seaport of Sandwich.
One of the famed Cinque Ports that defended the coast of southeast England, Sandwich had seen Roman invaders and Canterbury-bound pilgrims in its heyday, but lost much of its naval influence after the Great Storm of 1287 deposited enormous chunks of silt in the harbor. As decades passed, sandbars grew and merged until the harbor found itself a good two miles from the sea.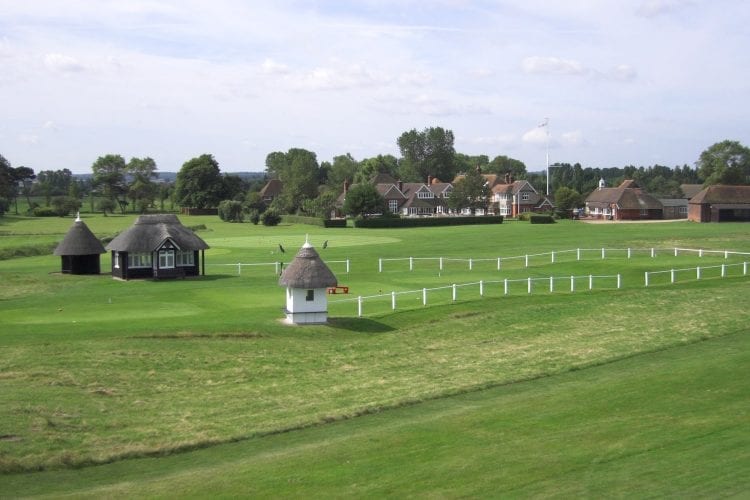 That process also created acres of rolling sandhills, a wonderful sight that greeted Purves. Within months, Purves, Lamb, and Scottish greenkeeper Ramsay Hunter laid out a course that gained immediate and high praise. They named their club St. George's in honor of England's patron saint, and it has been a worthy rival to St. Andrews ever since.
Known colloquially as Sandwich, Royal St. George's has been an undisputed championship venue almost since its inception. The course has produced a remarkable number of firsts while hosting the British Open and Amateur championships a dozen times apiece, as well as the Walker and Curtis Cups.
Its first major, the 1892 British Amateur, saw a battle between two English titans, John Ball and Harold Hilton, with Ball emerging victorious. Twelve years later, a non-Brit captured the title for the first time when Walter Travis, an Australian immigrant to America, prevailed at Sandwich. Travis and his hosts got along miserably, due to the champion's use of an unorthodox center-shafted putter called the "Schenectady," which the Brits banned shortly thereafter.
Later that same week, Sandwich became the first and only venue to host both the Open and Amateur championships in the same year. The Open had never been held outside of Scotland and no English professional had ever taken the title until John H. Taylor claimed the prize that week.
One cannot play Royal St. George's, which took on the Royal designation in 1902, without thinking of the greats who have walked its fairways, and no hole at Sandwich is imbued with greater Open history than the par-4 5th. There in 1949, genial Irishman Harry Bradshaw drove his ball into the broken end of a beer bottle during the second round. Unsure of any relief, he played the ball, smashing ferociously but seeing it squirt only a few yards forward. Now fully distraught, Bradshaw took a double bogey, wound up in a 36-hole playoff with his good friend Bobby Locke of South Africa, and took a terrible beating. It would be almost another 60 years till a player from the Irish Republic, Padraig Harrington, finally won the title, which he also successfully defended.
The most famous hole at Sandwich might very well be the 14th, a par 5 where a slice at any point sails out of bounds onto neighboring Prince's Golf Club. It's known as the "Suez Canal" because a wide stream crosses the fairway and threatens the second shot. This hole cost Sarazen the '28 Open because he ignored his caddie's advice to lay up with a mashie and used a spoon to splash his ball into the water. The Squire made double bogey and finished two shots back of Hagen.
There were no such disasters for Greg Norman: So often disappointed in the majors, the Shark vanquished rival Nick Faldo by two shots in '93. Gary Player called Norman's final-round 64 "the best golf I ever saw played at the British Open," and Gene Sarazen went a step further, describing it as "the most awesome display of golf I have ever seen."