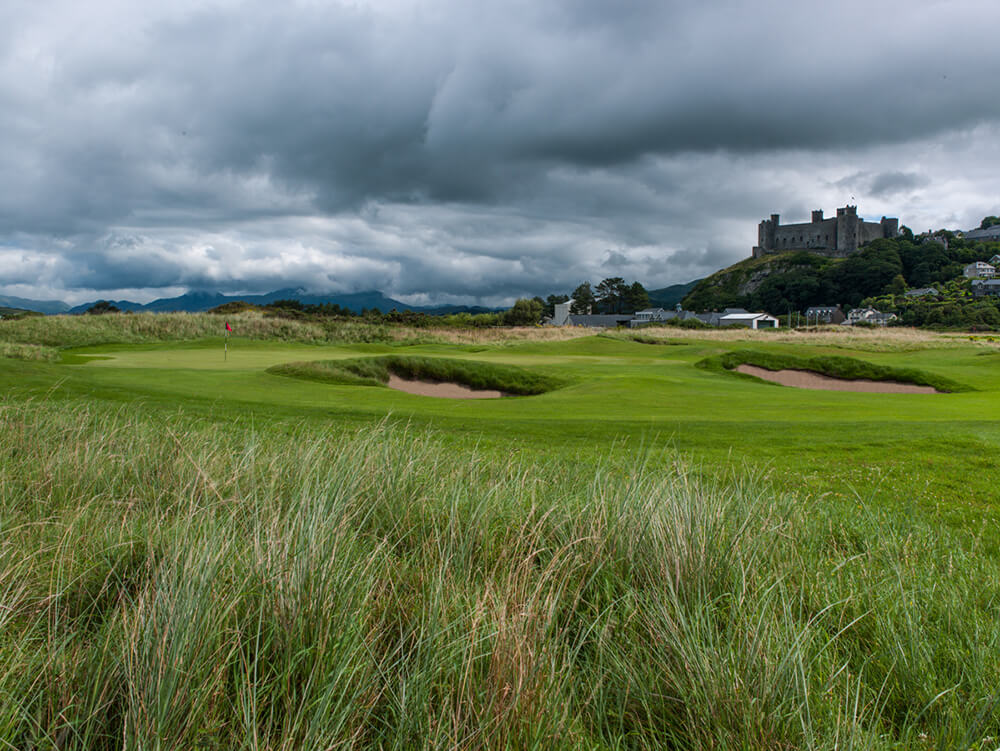 Beneath a 13th-century castle built to keep the Welsh in check, this rugged links has subjugated eager golfers for 110 years running.
And now we plunge into a tract of truly wonderful duneland—tall and short sandhills, ridges and hillocks and hollows, rumpled fairways, hidden greens and long-legged rough, where skylarks breed and 12 varieties of orchids flourish. At the 222-yard 14th, only the flag is in sight, the shot calling for a stout forced carry over deep rough to a green cowering on the far side of a swale and surrounded by dunes. It calls to mind the equally superb third at Sandwich.
The best hole at Harlech is quite probably the best par-4 in all of Wales. The 432-yard 15th requires another long forced carry, this one from an elevated tee, in order to clear a phalanx of sandhills and gain an angled fairway flanked in the landing area by watery ditches. The second shot, semiblind and into the prevailing wind, must follow the line of a dune-framed valley to a smallish ledge-like green sequestered in a horseshoe of low sandhills. From start to finish, this is a great and heroic hole, routed over terrain so naturally perfect that no artificial hazards were needed.
The 17th is the last of the par-4s and one of the finest, a 428-yarder with sand right and left to snare the off-line drive. Sand also awaits at both sides of the green, but the real danger is posed by a bold crossbunker 20 yards short of the putting surface. Can we carry it? Into the breeze, maybe not. Still, we didn't come 3,000 miles to lay up.
Emerging from the marvelous sandhills, we play the 201-yard home hole over level ground to a green that is open across the front. A final glimpse of the castle here never fails to please.
Royal St. David's is noted for its hospitality, and you will certainly want to have lunch or a beverage in the modest yet comfortable clubhouse. As you reflect on your round, no doubt you'll agree with one former club president, who said simply, "Harlech is a magical place."