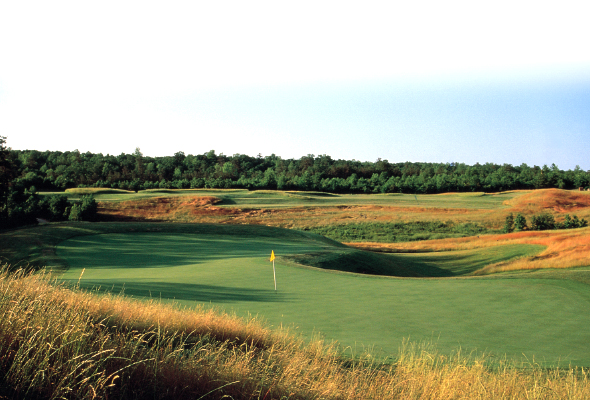 Royal New Kent opened in August 1996. From a playability standpoint, Royal New Kent features generous, contoured fairways, occasional blind shots, 140 bunkers and large, fast greens with bold swales and ridges. A thinking man's course, each hole has several ways to play it and every shot has options regarding the choice of clubs and ball trajectory—depending on the wind and the firmness of the turf. When you play Royal New Kent, just let your imagination run wild.
What lies before golfers on the 1st tee will seemingly transport them to another continent. Inspired by Ireland's Ballybunion, this 396-yard par 4 plunges more than 50 feet straight down to a narrow-looking ribbon of fairway set in a valley between two massive, fescue-laden dunes. The opening hole at Royal New Kent is no handshake.
Upon reaching the tee of the 431-yard 4th hole, it appears that designer Mike Strantz hasn't left a clue as to where to hit your tee shot. But he is just warming up. After closer study, you will see a small, white aiming rock atop the large dune directly in front of you. Hit your drive over the rock and you will be thrilled to find your ball in the middle of a generous fairway. Blind shots are just one of the simple pleasures of golf in the kingdom—as is playing with a local caddie who knows every nook and cranny of his course, the yardage to every flagstick and the subtle breaks of each putting surface.
At 403 yards, the 8th hole may be the best golf hole on the course, with a premium on playing the angles and smart shotmaking. The 379-yard 9th hole may offer the best opportunity for birdie on the outgoing nine.
As you approach the elevated tee at the 567-yard 10th hole, you will notice a marked difference in style. To the right is a large pond, the fairway is broader, the contour of the land is somewhat gentler and mature trees frame the hole—although the wide open feeling continues throughout the nine.
Regardless of style, Royal New Kent's homeward half presents you with nine more thrilling and well-designed golf holes. The 401-yard 11th hole plays down another serpentine fairway, twisting and turning its way to a wide well-bunkered green. Next is the 202-yard 12th hole, unique in that its hourglass shaped putting surface is 86 yards deep, pinched by bunkers in the middle. Incredibly, this is a four- or five-club green.
All in all, Royal New Kent is an exhilarating and fitting tribute to the fabled seaside links of the Emerald Isle. If you use your imagination, you may see the mountains of Mourne over Dundrum Bay at Royal County Down and the Atlantic surf breaking over the magnificent dunes of Ballybunion.