By Adam Schupak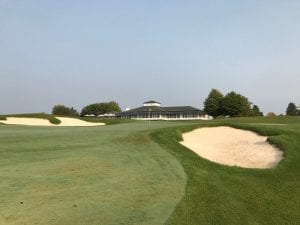 When Art Fry, co-inventor of the Post-It Note, visited the construction site of Royal Golf Club in Lake Elmo, Minn., he took one look at the stunning clubhouse view of Horseshoe Lake and said, "I've played a thousand rounds here and I never knew there was a lake there."
That's just one of the many improvements to a golf facility that looked headed to becoming another casualty. 3M had purchased the site in 1958 and opened Tartan Park Golf Course five years later. In 2014, it was opened to the public, but a year later declining golf revenue and a changed corporate culture led 3M to shutter the recreational getaway. Suitors lined up to convert the 27-hole facility 10 miles east of downtown St. Paul into big-box retail, a casino, or another residential community: The land had become extremely valuable as suburban housing in the Twin Cities crept eastward.
But Hollis Cavner, an events promoter and chief executive of ProLinks Sports, had other ideas. The Cavner-led HC Golf Course Development, LLC, purchased the 477-acre property for $5 million on March 14, 2016, and teamed with Arnold Palmer and Annika Sorenstam to save the golf component and
build a new 18-hole course and six-hole par-3 course there.
"Tartan Park was going to be blown up and turned totally into a real estate play. They would have put in somewhere from 500 to a 1,000 homes," Cavner says. "I was the only one with a plan to keep the golf course."
Thad Layton, a vice president and senior golf course architect at Arnold Palmer Design Co., says Tartan Park is a prime example of why distressed properties should consider all options before closing. "There may be opportunities to bring a golf course architect or a land planner to look at a way to reconfigure the golf and provide some additional land to develop, perhaps as real estate," Layton says.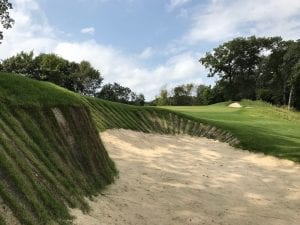 Cavner—who with Palmer had spearheaded the nearby TPC Twin Cities, home of the 3M Championship on the PGA Tour Champions and beginning next year a PGA Tour event—had eyed Tartan Park for some time. The rolling topography winds through thickets of pine and oak forests, wetlands and lakes. In reworking the course, thousands of elm and willow trees were removed and an eight-foot-high hill in front of the clubhouse leveled, creating the lake view Fry and many other regulars now admire. And it's not as if the land won't be used for housing: What Layton described as "a Central Park for golf" has space for 292 single-family homes and villas expected to be built along the perimeter.
The nines at Royal are named for their co-designers: The Queen (the front, for Sorenstam) and The King (the back, for Palmer). After building courses in China, South Africa, and South Korea, it's Sorenstam's first American project.
The course is roomy off the tee, with green contours that are bolder than  spicy brown mustard and judicious use of bunkering—just 23 in all. There's a reachable par four on each side—holes 3 and 15—and the course concludes with back-to-back par fives for a chance to make a late Palmer-like charge. The course is family friendly, with multiple tee boxes and four- and-five-hole loops suitable for those pressed for time. The par-3 course is free for kids, and clubs and balls can be checked out like a library book. To play the big course, kids can pay their age.
3M employees will continue to receive special rates, as will Lake Elmo residents. As it is, the non-resident green fee is a very reasonable $59.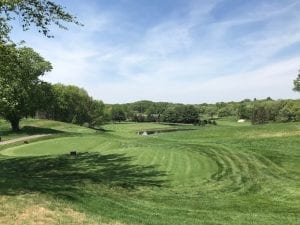 "We want to be known as a community center that happens to have a golf course," says Shawn Weisen, the club's PGA professional. "We invite everyone to come out and sit on the porch, enjoy the fire pits, play adult Jenga, and Connect-4. You don't have to come out here and play golf."
"Is it a great business model?," asks Cavner. "The students at Harvard Business School would be rolling their eyes saying, 'What the hell? It doesn't work.' Sure, with that much land, you could've made $100 million. That's short-term thinking. We're going to do just fine with the housing we have. Are we bucking the trend? Absolutely, but somebody's got to. Somebody's got to figure out how to get kids playing again. Someone has to make the game fun again, and that's our deal."
Royal Golf Club was the last construction site Palmer visited, just six weeks prior to his passing in 2016.
"The last thing Arnold said to me is make the golf fun," Cavner said. "I think if he were looking down, he'd be very proud."