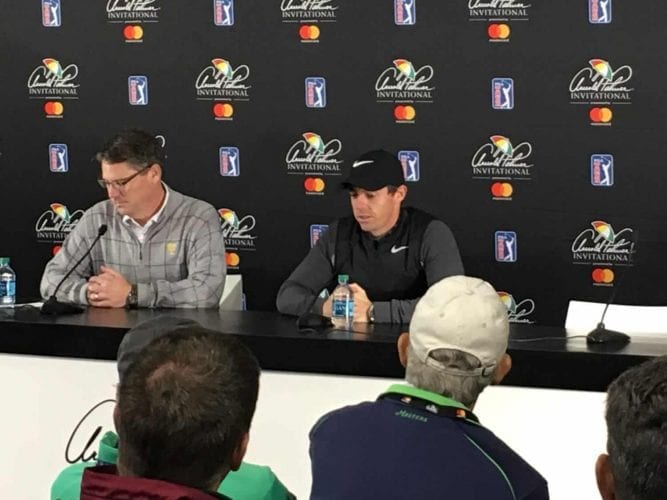 Unless you have been in a coma, or living under a rock, there's a pretty good chance you know that Sam Saunders is the PGA Tour playing grandson of the late Arnold Palmer. You also probably know that this week is the Arnold Palmer Invitational, the first since Palmer's passing back in September.
Saunders is playing in the Arnold Palmer Invitational this week. will play his first two rounds this week with Rory Mcllroy and Brandt Snedeker. The three go off today at 1:08pm ET off the first tee. It will be the first time Rory will have ever played a competitive round with Sam, something that he said will be very special.
"I don't think I've ever played in a competitive round with Sam before," Rory said. "It will be a lot of fun. There's so much goodwill out there and I'm sure he will enjoy it, as will I. It will be an emotional week for him, but it's awesome."
It's already been a busy week for Saunders. On Wednesday, in addition to his responsibilities of playing the pro am, Sam met with the media in the traditional spot his grandfather did for so many years before heading out to the driving range to participate in the ceremonial opening tee shot for the Opening Ceremony. Once that first tee ball get's hit this afternoon though, Rory said it won't be 18 holes of reminiscing about Palmer, it will be business as usual out there.
"I definitely won't initiate any of those sort of things because I know if everyone was talking about my grandfather that had just passed away I wouldn't want that," Rory added. "You're trying to do your job and so out of respect to him it will be business as usual and let him play his game."