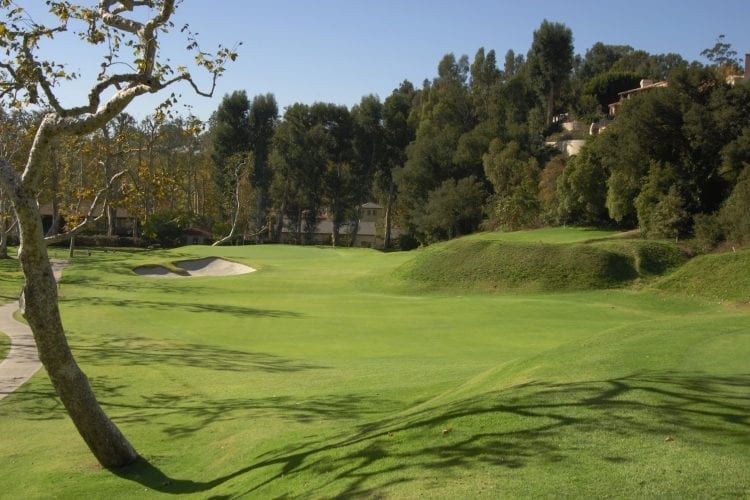 Which is America's most historic golf venue? The Country Club in baronial Brookline can build a case around Francis Ouimet's 1913 U.S. Open shocker. Merion's claims will emphasize Bobby Jones clinching the 1930 Grand Slam, while the architecturally rich classics such as Winged Foot, Cherry Hills, Baltusrol and Oakmont roll out expert witnesses to cite a treasure trove of major moments.
But there may be no more fascinating 127 acres in American golf than Southern California's Riviera Country Club. Compelling architecture, rich tournament lore and a celebrity heritage make it an authentic national treasure.
Carved out of a dry riverbed that meanders from a Santa Monica canyon toward the Pacific Ocean a mile away, Riviera opened 78 years ago to immediate acclaim. Despite Depression and World War II-era financial struggles that threatened the club and George Thomas' brilliant design, Riviera's spongy kikuyu fairways, yawning hazards and towering eucalyptus groves survive today as sacred ground for golfers worldwide.
Consider the tournament lore. Riviera is home to Ben Hogan's first national championship (the 1948 U.S. Open), his back-to-back Los Angeles Open wins (1947-48) and his incredible post-automobile accident comeback, the epic 1950 L.A. Open loss to Sam Snead when rains forced the two legends to return a week after the final round for a playoff.
The late Jim Murray, Pulitzer Prize-winning sports columnist and longtime Riviera member, declared the Riviera-Ben Hogan partnership the most famous in sports history. "Ruth-Gehrig, Dempsey-Tunney, even Notre Dame-USC, have nothing on Hogan-Riviera," Murray wrote.
Less known but every bit as dramatic was Hogan's emotional return to Riviera in 1987 when the Hawk decided to leave Fort Worth for the first time in years to revisit scenes of glory and tape a Hogan equipment company commercial.
The ads developed into one of golf's most successful campaigns, literally saving Hogan's company. Longtime Riviera professional Art Rios looked on as Ben, clad in a yellow sweater and swinging sweetly as ever, hit shots into what Rios called the "greatest par-3 hole in America," Riviera's 236-yard fourth.
But the Riviera story isn't just about Hogan. The L.A. Open's Golden Years featured an incredible run of memorable championships. Byron Nelson has said that the four professional majors once consisted of the U.S. Open, the PGA Championship, the Western Open and the annual season-opening Los Angeles Open at Riviera.
The event first came to prominence when Macdonald Smith and Denny Shute won at Riviera in 1929 and '30, respectively. During an impressive stretch from 1945 to '53 the era's best players took titles there. Nelson and Tommy Bolt captured one L.A. Open apiece. Snead and Hogan each won twice and the eternally underrated Lloyd Mangrum claimed three victories. In 1945, Babe Zaharias became the first woman to qualify for a PGA Tour event, then topped that feat by making the 36-hole cut at Riviera.
The Los Angeles Open was contested at other venues—including Griffith Park and Rancho Park—but returned for good in 1973, only skipping Riviera when the club hosted the 1983 PGA Championship (won by Hal Sutton over a charging Jack Nicklaus) and the 1998 U.S. Senior Open (won by Hale Irwin).
The roster of more recent L.A. Open champions at Riviera is remarkable: Johnny Miller, Tom Watson (twice) and Lanny Wadkins (twice) during the '70s and '80s; Corey Pavin (twice) and Fred Couples (twice) in the early '90s, and more recently, Nick Faldo, Ernie Els and current two-time defending champ Mike Weir, who attacks Riviera with Hoganesque precision.
What has attracted the greatest names in golf to Riviera since the course opened on June 24, 1927? Contrary to conventional wisdom, the rocky, dry riverbed chosen for the Riviera course was not ideal for golf. Wealthy amateur architect George Thomas toured it at the behest of Los Angeles Athletic Club founder Frank Garbutt and was underwhelmed. Garbutt had asked Thomas to build the prominent downtown club a first-rate course for its new "countryside" development, and eventually Thomas agreed. But he needed assurances that his cohort and construction supervisor, William P. "Billy" Bell, would have access to all resources required to solve any soil and drainage problems. A year of arduous construction with a massive crew—and soil trucked in from miles away—did generate an enormous tab, but in the end it was clear that Bell had combined his best engineering instincts with Thomas' love of heroic holes, creating what Ben Crenshaw calls the greatest "made" course in the world.
In its early days, Riviera combined the ruggedness of Thomas' old home club, Pine Valley, with strategic nuances inspired by St. Andrews. Colorful scrub areas and sandy washes artfully camouflaged multiple playing options to create the ultimate blend of strategy and naturalness. The importation of kikuyu grass stabilized slopes after a damaging 1938 flood altered several holes. (So dramatically was the original design changed that Hogan repeatedly referred to Riviera "before the flood" as one of his five favorite courses.)
The strategy required by Thomas and Bell's massive bunkering survives today to create a still-fascinating, albeit  different test emphasizing the aerial game more than Thomas and Bell probably planned.
Several classic holes define Riviera. The opening par-5 features a tee shot 100 feet above the fairway and finishes at a boomerang-shaped putting surface. Hogan's favorite, the long one-shot fourth, is a modified Redan fronted by the elder statesman of man-made bunkers, while the par-3 sixth is defined by that oft-bemoaned bunker in the center of the green.
The clever "gull-winged" 15th green and the island par-3 16th—together with the 18th hole's blind tee shot and amphitheater green—get plenty of attention, but no hole in America has aged better than Thomas' masterful shortie, the two-shot 10th. No matter how much the game changes, one thing is certain: Great players will fall prey to this wide, flat, well-bunkered 315 yards of pure strategic golf. Murray called it "a shameless little harlot that just sits there at the end of the bar in her mesh stockings and miniskirt and winks at you."
Riviera's 10th is not complicated: Lay up down the left side and leave a short pitch to a bowling-pin shaped green. Knowing this, players still cave to temptation and play straight at the green either intentionally or via some subconscious refusal to lay up left. The aggressive route to the hole rarely leads to eagles, or even birdies, and almost always causes round-deflating pars and bogeys.
Ernie Els dominated the 1995 PGA Championship for three days until succumbing to Sunday's final-round forward-tee and mid-green hole location. Els drove the green but failed to make birdie and fell out of contention. Meanwhile, eventual champion Steve Elkington played safely and made birdie.
If the classic design and epic tournament tradition weren't enough, Riviera hosted the 1932 Olympic equestrian events on the same polo fields where a young Elizabeth Taylor prepared for "National Velvet." Golfers might find it hard to believe, but the popularity of the equestrian center was probably the only reason the L.A. Athletic Club refused to close the ailing golf club during the Depression.
Greta Garbo made occasional equestrian center appearances while Walt Disney, Will Rogers, Gary Cooper and Spencer Tracy competed in Sunday afternoon polo matches that drew thousands of spectators. Clark Gable also participated early on, but soon stopped when MGM gave him an ultimatum: pictures or polo.
Several well-known movies have also been filmed at Riviera. "Pat and Mike" starred members Katharine Hepburn and Spencer Tracy, "The Caddy" included member Dean Martin, and Hogan's dramatic comeback was recreated at Riviera for "Follow the Sun." The 1970s were marked by Martin's high-stakes money games, with the single-digit handicappers and celebrity antics immortalized in Dan Jenkins' "Dogged Victims of Inexorable Fate."
Around that time, longtime pro and former British Amateur champion Willie Hunter handed the reigns over to son Mac, who created a golf-focused atmosphere that produced professionals Barry Jaeckel, Tony Sills and LPGA Hall-of-Famer Amy Alcott.
Today Riviera is owned by Japanese real-estate tycoon Noboru Watanabe, who paid $108 million in 1989 to the descendants of L.A. Athletic Club founder Garbutt. It was a small price to pay for one of American golf's true national treasures.