It's hard to pinpoint Rick Shiels's English accent. Predominantly Lancastrian, there's a lot of Mancunian in there too, and just a trace of Yorkshire perhaps. Fortunately, despite the mix, he has no problem communicating with an audience, be it online or fans of Golf Channel's Driver v. Driver 2 on which he was a judge.
Since Shiels began posting instructional tips, equipment and course reviews, and "Teeing it up with…" features, Shiels's YouTube videos have been viewed close to 250 million times. Over one million people now subscribe to his channel, and his most popular videos receive more than three million views from golfers who seek his opinion.
The English accent and tidy diction are just small pieces of the story, of course. The main reasons Shiels draws so many eyes and ears are experience, knowledge, and authenticity. It's clear he knows what he's talking about but, more importantly, he genuinely wants to help golfers improve and be better informed about the equipment choices they make.
At 16, Shiels left his birthplace, Manchester, England, to study for a National Diploma (roughly the equivalent of an Associate's Degree) in sports with a focus on golf. After college, he contacted a number of high-profile clubs hoping to getting a job as an assistant pro. "I didn't get much of a response at first, but was then offered a position at Mere Golf Club [designed by James Braid and opened in 1934] in Knutsford," he says. "I spent seven years there earning my PGA qualifications and building a reputation as an instructor. I wasn't good enough to be a player, but enjoyed coaching more than playing tournament golf anyway." By the time he left Mere in 2007, he was coaching 60 hours a week.
His next stop was Play Golf Manchester, now the Trafford Golf Centre. Shiels solidified his regional reputation there, eventually becoming the most sought after of the facility's half-dozen instructors. "I was really busy," he says, "but wanted to extend my reach beyond Manchester." To do that, he latched onto the promotional potential of social media, first Facebook and then Twitter. He also hired a videographer to create six instructional videos that he posted on YouTube. "It cost an arm and a leg, and the response was a bit disappointing to be honest," he says. "I wasn't very happy with the style, so I tried it myself."
Shiels wanted something a bit rawer and organic and soon his videos attracted a much bigger audience. "A lot of people would message me saying they'd seen the videos and would like a lesson. It opened the floodgates."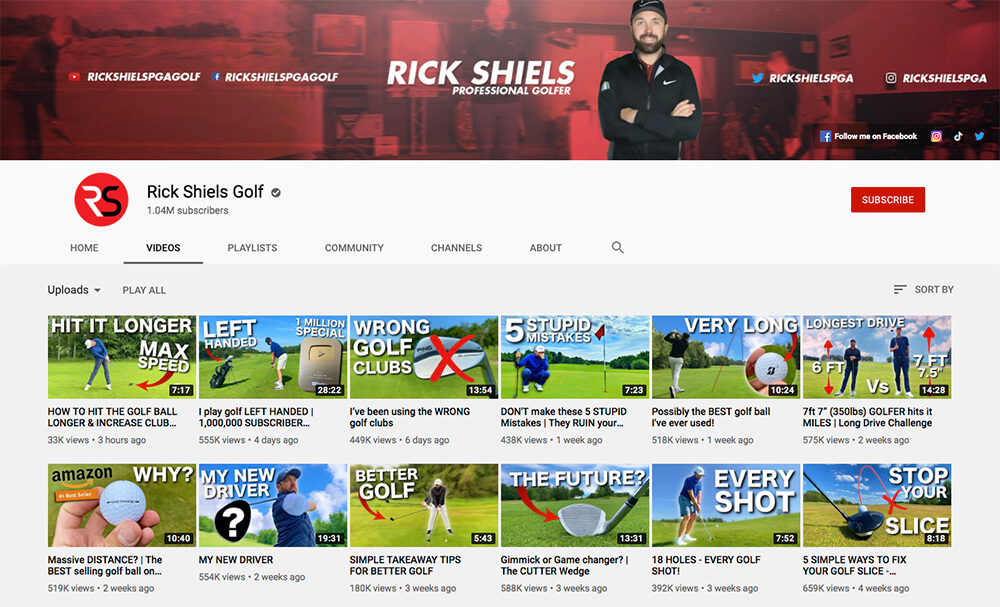 By 2015, Shiels was posting over 300 videos a year and, when YouTubers began monetizing their channels with ads, he began to sense a change in careers.
Equipment manufacturers took notice. Toward the end of 2015, Shiels received a driver from Nike in the mail, and posted a review once the news embargo had lifted. "I tried to do it a bit differently," he says. "I had a launch monitor and published all the stats from the test. At the time, no one was really questioning the marketing spiel, but I wanted to give people firm grounds for choosing, or rejecting, certain clubs."
Viewers got frank, comprehensive, entertaining reviews, and they lapped it up.
The formula is still working, though Shiels, who says the typical new club review takes about two weeks to produce, admits he is cutting down on the stats a little. "There's a danger we become fixated with our launch monitor numbers and lose sight of the point of the game, which is to score lower," he says. "I was among the first to introduce launch monitors on reviews, but feel like I'll be the first to get out." Shiels fills the space with his thoughts on the club's appearance and what range of shots he can play with it.
Shiels is currently teaching out of the Quest Golf Academy in Burnley, England, which he and fellow PGA instructor and YouTube star Peter Finch opened in 2016. He teaches a select number of students two days a week, devoting the rest of his time to producing video content—plus a wife and three kids.
The success of that content relies heavily on impartiality. Shiels has been offered sponsorship deals by every major manufacturer but turned them all down. "I'm careful not to become 'friendly' with any brands," he says. "I just don't want to be shackled."