Cordillera: Mile-High Golf
If there's a golf facility with three more diverse courses than Cordillera, we'd like to see it.
The resort community at the western end of Colorado's Vail Valley boasts a Tom Fazio layout along the valley floor (called the Valley); Hale Irwin's up-and-down Mountain course; and Jack Nicklaus's spectacular Summit course, which features never-ending views from the top of the world. And the elevations are as different as the designs, with the Valley at 7,000 feet, Mountain at 8,000 feet, and Summit at a lung-taxing 9,200 feet. Locals call it "golf at every climate."
The community went through some taxing times of its own when the economy turned sour, but came out of bankruptcy and brought in Troon Golf to manage the courses, which are back in top form and available to guests of the on-property Lodge at Cordillera. The 56-room lodge, well known for its spa, recently debuted Restaurant Mirador with a new chef, extensive wine list, and contemporary American menu featuring lamb and other dishes sourced from local ranches. There are also restaurants at each course.
There's a fourth golf option at Cordillera, the Dave Pelz-designed Short Course, 10 holes sculpted by the short-game guru to test pitching, chipping, and putting skills. It's a terrific spot to practice or just have fun. And Pelz's short-game schools are coming back to Cordillera this August for the first time in a few years.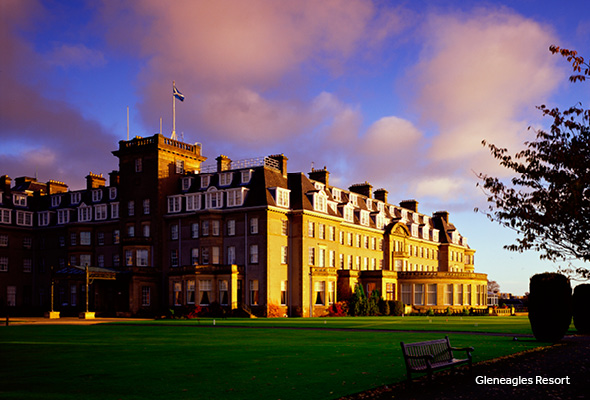 Gleneagles: Redoing a Classic
The venerable Gleneagles Resort in the Scottish Highlands has just completed a multi-million-dollar renovation of its five-star hotel and century-old golf course. Earlier this year, rooms, the main bar, and public areas throughout the property were redesigned with a "distinctly Scottish identity" highlighted by wool and velvet, custom-made antique-brass and cut-glass light fixtures, and an estate-like feel. And just last month, the James Braid-designed King's Course, which celebrates its centennial in 2019, reopened with the reintroduction of original features such as wider green approaches (to emphasize pitch-and-run shots), more tightly mown turf, reshaped bunkers, and areas of heather. The course is also being modernized with new bunker drainage and lining technology, which complements recent improvements to fairway and green drainage. Practice areas and the on-site golf academy were also upgraded
The Cape Club
Formerly known as Ballymeade Country Club and located at the western end of Cape Cod, this property recently finished a total revamping of its course and clubhouse, and will begin unveiling resort amenities next year. Indoors, the clubhouse was redone with a new restaurant, the Cape Grille Steak & Seafood. The original 18 holes also received a top-to-bottom refresh, with new tees and greens, expanded views, widened and recontoured fairways, and new turf. The next phase will see the construction of cottages, villas, residences, and a spa, but in the meantime, the course re-opens in August, offering guests a "member for a day" experience of golf and dining.