What architects do—and don't do—when creating residential community golf courses
It's hardly a revelation to say that golf course architects are charged with delivering attractive, compelling designs with every new course they construct. In the case of courses for residential communities, however, there are some different considerations at play. Because each development is unique, requiring a design specific to its environment, there are no absolutes. Yet, most residential community golf courses, in every price range, share a number of traits according to the architects interviewed. They nominated six characteristics found in every layout that successfully melds enjoyable golf with flourishing real estate. When you're evaluating the course(s) in the community where you're thinking of buying, here's what to look for.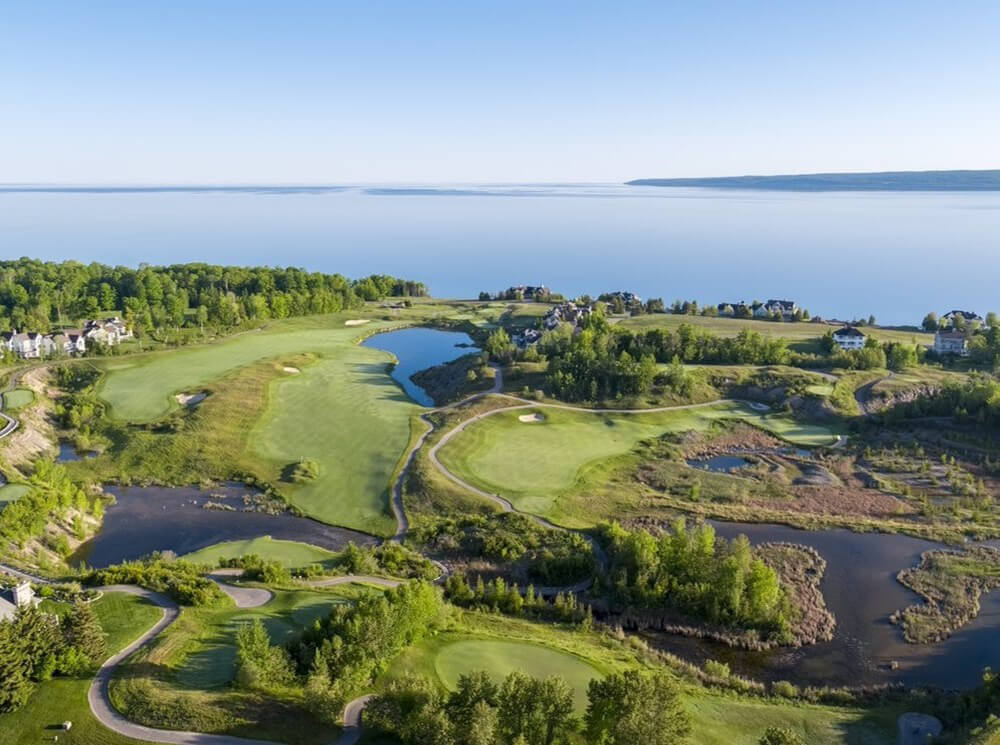 SAFETY FIRST
"With a real estate layout, you have to focus on safety," says Brian Curley, principal architect in Scottsdale, Ariz.-based Schmidt-Curley Golf Design. "You have to do things in the design that maneuver people in a direction away from potential hot spots, which are areas that are continually in peril. Even the relationship of cart paths to the housing has to be factored."
Ken Ezell, of the Wildwood, Fla.-based CEC Golf Design Group (Clifton, Ezell and Clifton), has designed more than two dozen residential community courses in the Sunshine State, many of them for The Villages. He points out a specific kind of hole to see if the architect has safety in mind.
"In any type of real estate community, the ones we've seen that have failed or had miserable litigation often have doglegs that haven't been thought out very well," Ezell says. "They were not sufficiently protected by either landscaping, mounding, or bunkering. Everybody is trying to be Bryson or Rory or John Daly and cut the corner. You really want to keep the golf out in front of you, with wide fairways, soft doglegs, and eye-catching obstacles to keep people focused away from the houses."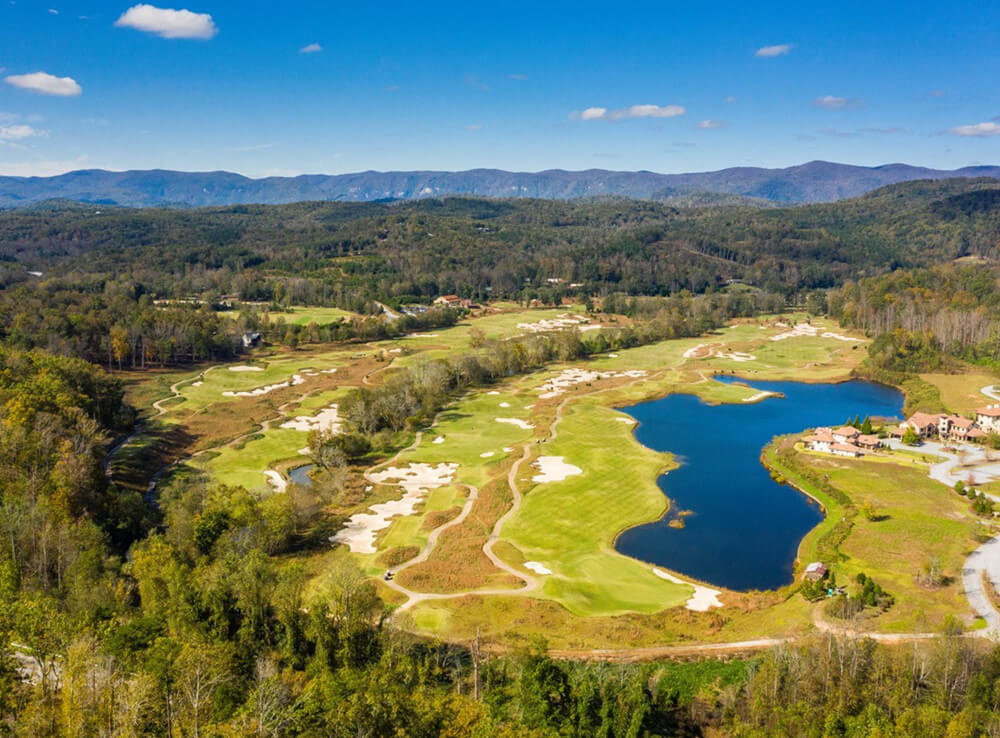 ENHANCED AESTHETICS
"Another thing we do as designers in creating a residential community golf course is heightened focus on visual impact in the design," says Curley. "You might have more eye candy in a residential golf course setting because you're directing traffic. The more you can do to steer people away from houses, the better. You can do that with landscaping. You can do that with bunkers. Also, maybe there's a premium on the lot because there are bunkers or a water feature to look out at instead of a bunch of turf."
Unquestionably, water views are much coveted by most home buyers—but there is a cost beyond the price. "Highest home value comes when homes look out at water and golf, but too much water can make the course overly difficult," says Jupiter, Fla.-based architect John Sanford. "It's got to be balanced."
Nevertheless, all those lakes, especially in Florida golf communities, prove a win-win for the developer and the homeowner. "You have to have the lakes—dig them—so you can get the fill (dirt) to build the lots up and build the golf course features," says architect Brian Yoder, who worked with the late Arthur Hills for 21 years. "The developer gets those premium lots and the home buyers get protection for the homes."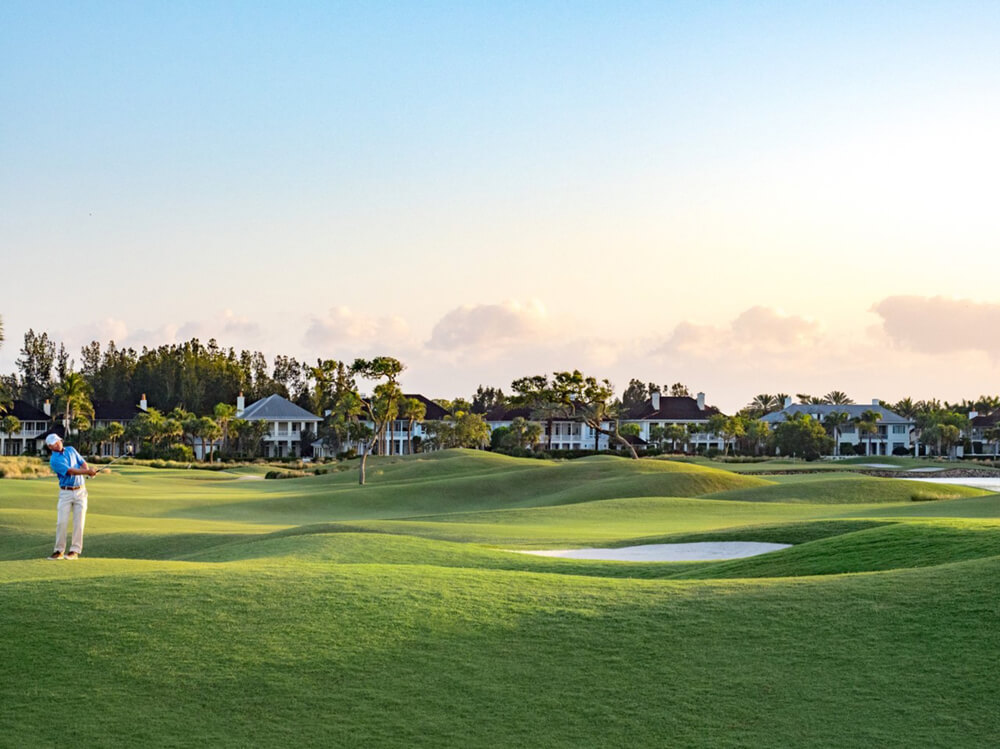 LANDSCAPE PROTECTION
Perhaps the ultimate balancing act when crafting an interesting community design is shielding the golfer from the visual impact of adjoining homes while maximizing the course views for the homeowner. And along with it is the aforementioned safety aspect, understanding how design and landscape elements can assist both the way-ward-hitting golfer and the vulnerable homeowner.
A veil of trees is the likeliest solution to help soften the residential edge, but there's more to it than simply sticking them in the ground. Trees must be properly placed; they also must pro-vide a sufficient canopy to knock down errant shots, but be suitably transparent to allow the homeowner to enjoy acceptable views of the course.
"You want your tree-scaping to be a little bit away from the house," says Ezell. "Try to stagger them so that the homeowner will continue to have views from their back porch, but also act as a corridor to focus the golfer's eye away from the home."
Planting dense shrubs offers some protection, as well; it also boosts privacy between neighbors and reduces golfer eye strain from looking at house after house after house. Grass mounds are another alternative aesthetic and landscape design tool to assist the golfer and the homeowner.
In some cases, a more creative response gets the job done.
"I once visited a private club where they wanted to spend an inordinate amount of money to create a huge berm to hide a bright-white rooftop of a new home built just past the dogleg of a par four," recalls Forrest Richardson, the Phoenix, Ariz.-based architect. "It would have been in the range of $150,000 when all was said and done. I suggested they look at offering the homeowner a new roof, maybe natural colored shingles. That worked—with a savings of $125,000."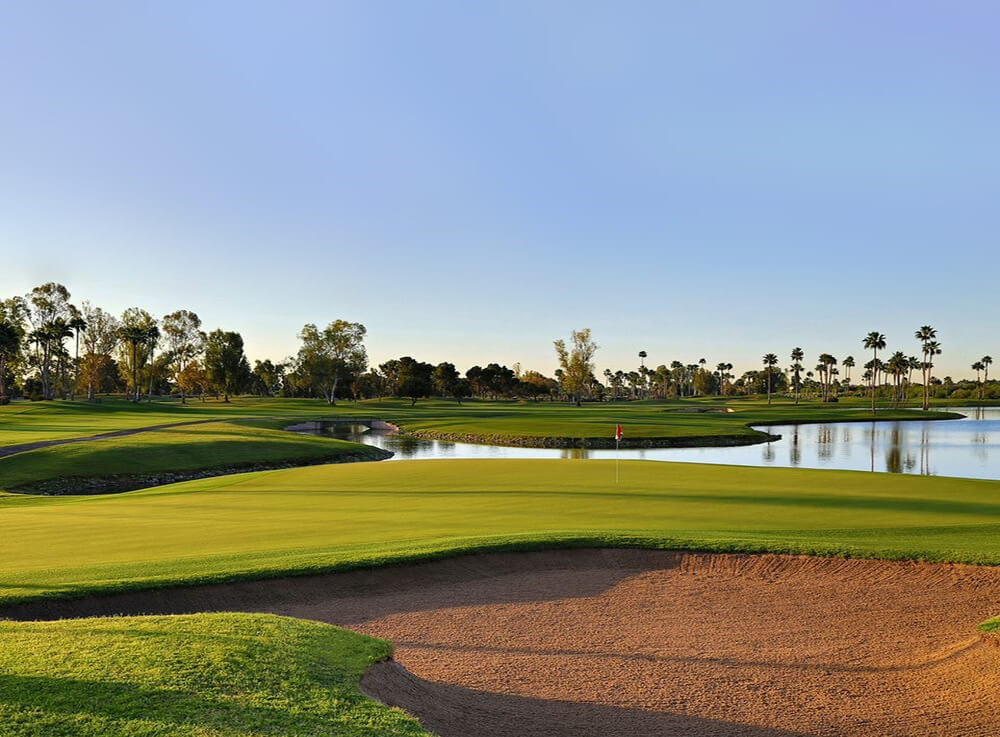 CORRIDOR WIDTH
Every architect agreed that what they call "single-loaded corridors," with homes on both sides of the fairway, are at best a necessary evil and at worst should be avoided whenever possible. "Core golf is the best, with homes on the perimeter," says Sanford. "But it also tends to yield fewer golf frontage homes. Double-loaded golf holes (side-by-side fairways) allow for a good mix of safe golf and golf front-age yield. Single-loaded fairways are the curse in residential communities."
BUNKER DEPLOYMENT
"Bunkers as obstacles are one of the integral elements of the golf course, but they don't have to necessarily be penal," says legendary architect Robert Trent Jones Jr. "They can act as a lighthouse, either to guide you away from a home or a hazard or keep you from an even worse fate, like out of bounds. We often make the fairway bunkers shallower on residential courses to give players of all levels the ability to advance the ball a fair distance. And we tend to bracket bunkers off the tee. That makes the player focus on hitting between them, rather than picking a side of the fairway, which might have housing on it."
Yoder urges loading up one side of the fairway with heavy bunkering. "Just make a big splash, a statement that says, 'stay away from here' when you want people to shy away from one side or the other."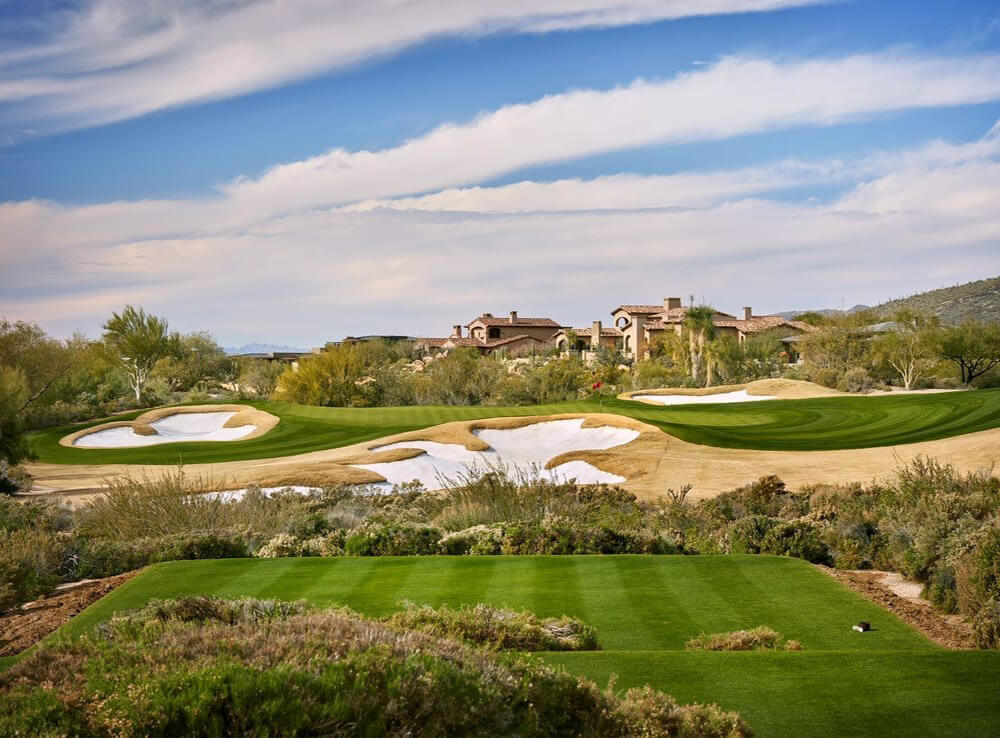 FEMALE FACTOR
The ideal real estate community golf course isn't intended to test tour pros on a daily basis. Rather, its purpose is to engage its residents—especially women, who are often the primary decision makers when it comes to home-buying, in golf course communities or elsewhere. "Women see the golf course as a social center for their friends," says Jones Jr. "They do not want a punishing golf course; they want something that is interesting, attractive, and forgiving."
As such, multiple forced carries off the tee and into the greens, penal bunkers, and overly challenging green complexes are no-nos in residential community course designs.
Yoder nicely summed up the philosophy of his mentor, Arthur Hills. "Art was a pretty smart guy," says Yoder. "He always said, 'We gotta make it playable for the ladies, make it beautiful for the ladies. Because they're the ones that will tell their husbands that they want to live there."