For the past decade or so, most of Tom Doak's new course openings—from private clubs like Stone Eagle to high-profile resort layouts like Old Macdonald to rejuvenated munis like CommonGround—have been accompanied by the Renaissance Cup, a friendly match-play competition that for architecture fans is one of the most coveted invitations of the year. Created to familiarize friends, clients (past, current, and future), and industry types with newly unveiled work over the course of multiple rounds, the Cup also helps Renaissance Golf Design support a good cause at the heart of the game—the Evans Scholars Foundation.
It wasn't long after the invitations went out, in mid-November, that it became evident the 2013 event was going to be a monster. Besides being hosted at Streamsong, the hotly-anticipated 36-hole resort in central Florida, the timing fell right on the heels of the PGA Show in Orlando. "Our Cup runneth over!" was the headline of one email from Renaissance associate Don Placek, announcing that the field of 128 had filled up in two days. As it turned out, dozens of other invitees turned out to play casual rounds over the two courses, bringing the number of golfers somewhere in the ballpark of 200. Indeed, at times it seemed impossible to walk more than 10 feet without either running into an old friend or being introduced to someone new.
The format of the Cup is exciting and occasionally vexing. All matches are contested at scratch, and because of the event's short timeframe—two days—teams play nine-hole contests that always produce a result. If the nine ends all square, the last team to win a hole moves on. My partner and I fell victim to this dreaded scenario. After winning our opener, our second round opponents joined us on the 10th tee. One up through 8, we both three-putted from just off the 18th green while one of our opponents, Jean, a surgeon from South Africa, coolly drained a six-footer to both halve and win the match.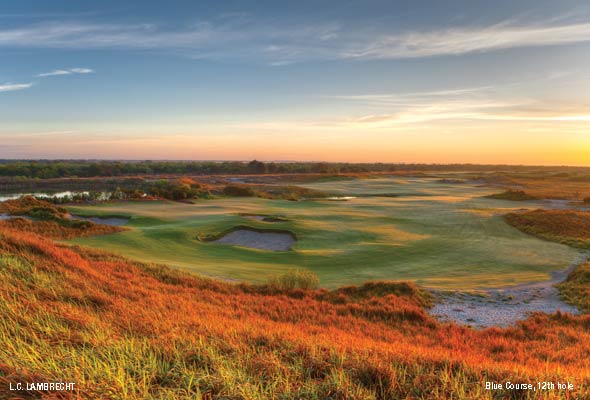 As if the stakes weren't high enough on a hole-by-hole basis in the early rounds, the semi-final and final matches switch over to alternate-shot format. The final match saw the golf photographer (and frequent LINKS contributor) L.C. Lambrecht, paired up with a former U.S. Senior Amateur champ, defeated by a father-son team from Doak's home club, Crystal Downs.
Saturday night was marked by a busy buffet dinner and some speechmaking. Don Placek outlined how participants' entry fees would be earmarked for the Eisenhower Chapter of the Evans Scholarship Program. This Colorado chapter, among many other things, supports the new Solich Caddie & Leadership Academy at CommonGround Golf Course, a Renaissance design in Aurora. This unique program is worth a mention—as a means of providing training for these high school age loopers, it will provide free caddie services to public golfers. So if you're in Denver this summer, stop by this excellent muni and enjoy a round on foot. (For more details about the Solich Academy, click here.) 
Tom Doak, for his part, offered thanks to the appropriate parties from both Mosaic and his own company, then veered off in an unanticipated direction. He described a recent trip to Nepal, during which he and a few friends visited the Himalayan Golf Club in Pokhara. The Himalayan was designed not by a professional architect but a former British Army officer, and Doak had been impressed by how many unconventional design choices had paid off. Given the situation–addressing a gathering at his latest high-profile course opening–the speech carried an interesting subtext. It served as a reminder that as much as we enjoy seeking out and experiencing the world's greatest golf courses, we should always maintain a willingness to seek out something different.