Imagine waiting almost 20 years to reach the pinnacle of your sport, and then suddenly see it happen twice in a span of three months. That was the flood of success that Mark O'Meara experienced back in 1998. After winning his first major title at the Masters, at age 41, O'Meara backed up his green jacket with the Claret Jug at the Open Championship just a few months later, during one of the most surprising years of major championship golf in recent memory.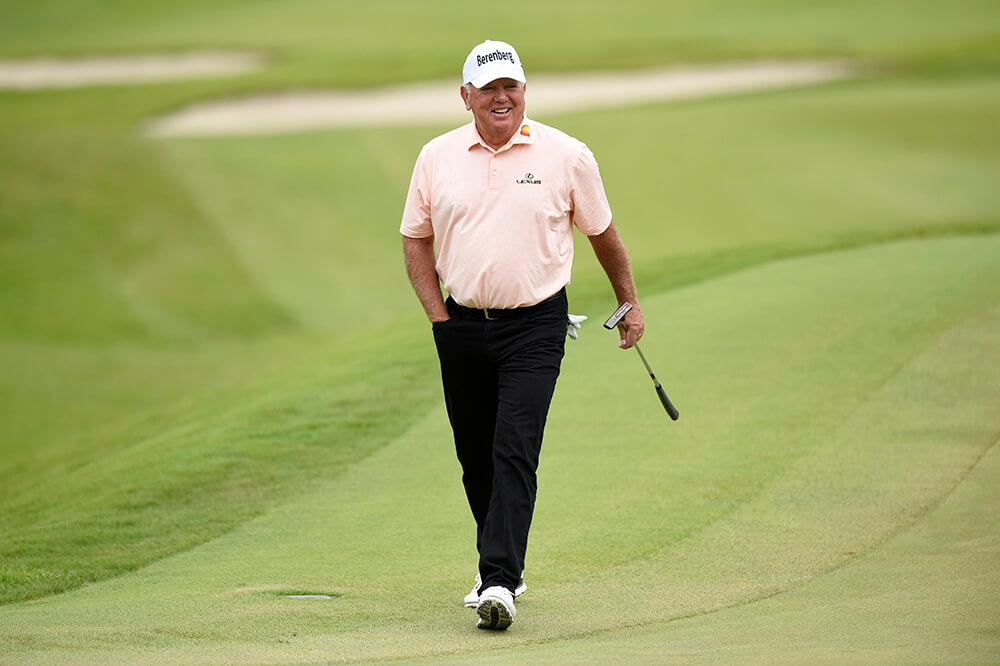 These days, the now 64-year-old O'Meara spends his time on the PGA Tour Champions, satisfying the urge for competition while also enjoying the good life with his wife, Meredith, in Park City, Utah.
Here, the always affable O'Meara talked about his hobbies off the course, his favorite playing partner on the Champions Tour, and the biggest perk that comes with being a Masters champion.
Ryan Asselta: You've lived in Orlando, Houston, and now Park City. How have you enjoyed being out in Utah?
Mark O'Meara: We love it. It's God's country out here in the mountains. I'd been to Park City many times and then I had the opportunity to design Tuhaye Golf Course which was a lot of fun to be involved in. I got re-married at the golf course 11 years ago and told Meredith someday we'll buy a lot and build a home here. And that's what's transpired over the last six to eight years. We're pretty much there full time now.
We bought this really cool lot up on the hillside that overlooks the whole front nine. It looks down at the Jordanelle Reservoir below us, and the back side of Deer Valley. We were very involved in the building process with a friend of mine, Tom Olson, and the house turned out beautiful. We're very thankful for it.
RA: Who's your favorite guy to get paired with on the PGA Tour Champions?
MO'M: I really enjoy playing with John Daly. You talk about a character. I mean, here's a man that has won two majors and I don't know how many other tournaments and is just an amazing talent. I've played with the best players in the world through my 40 years of traveling around the globe, and I've told John this before—I put him by far in the top-10 most talented players I've ever played golf with.
RA: Have you got a good John Daly story?
MO'M: Yeah! (laughs) We were playing the Regions Tradition, one of our major tournaments, and I believe it was on Saturday, maybe Sunday. I was paired with John and Tommy Armour. Now, John doesn't like to come to the range, so we hadn't seen him. We were teeing off at like 8:10 am and we see his caddy Peter with his golf bag. And I'm like, "Peter, what's the deal? Is John okay?" And he says he has no idea.
So, we go up to the tee and it's now literally less than five minutes before our tee time and John walks onto the tee. It's a par three. He hasn't hit a single warmup shot. He probably had a late night or whatever. He steps up with a six iron, hits it to seven feet, and makes the birdie. He shoots 30 on the first nine and ends up with a 64 or 65. It's amazing. The guy just has an immense amount of talent.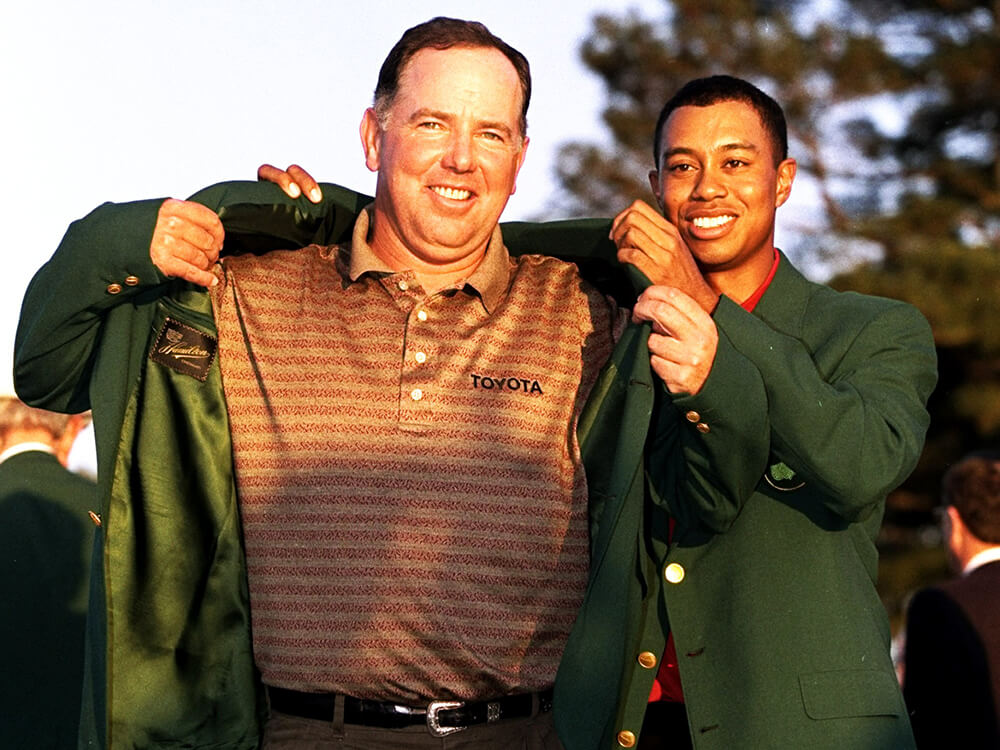 RA: 23 years ago, you won both the 1998 Masters and Open Championship. Do you hold one title above the other?
MO'M: Oh, wow that's a tough question. Not really because I'd always dreamed of winning a major and I never did up until then. Before that I was on that list of best players never to win a major. When I started in 1980 I was just trying to make a living and maybe win a tournament.
At that time in 1998, I was 41 years old and I'd won 14-times around the world. I'd been on Ryder Cup and Presidents Cup teams. It seemed like winning a major had escaped me. But to be fair, when I look back, I always thought if I ever had a chance to win a major it would be the Open Championship because of the links golf and the weather and the wind. I'd won at Pebble Beach and Kapalua, so I had enjoyed playing in tough weather.
But, to stand on the 18th green on a Sunday afternoon in April, in the final group with an 18-footer to possibly win the Masters… I have to put both titles on the same level. When that putt went in at Augusta in '98, that changed my life for sure. To have two in one year at the age of 41 years old? That was the icing on the cake, especially when no one ever expected Mark O'Meara to win the Masters that year.
RA: What's your most vivid memory from that 1998 Masters?
MO'M: There are so many good memories. When the ball caught the left side of the cup and dove in there, I was more in shock and disbelief at what had just happened. My fond memory would be having Tiger Woods, who had won his first major the year before in 1997, there in 1998. Obviously with our relationship and as tight as we were, him kind of being my little brother—having him put the green jacket on me a year after he'd won was something I'll never forget.
RA:  You made the decision to stop playing the Masters after the 2018 edition. How tough of a decision was that to make?
MO'M: It was a little tough. I think some of the people in my inner circle, my wife and some other people, thought I should keep playing. And then of course in 2019, I won on the PGA Tour Champions after having not won in eight and a half years. When I won the Cologuard Classic, a lot of people thought I should play the Masters again. But I made my decision and I was okay with it.
Augusta is a big boy golf course, and I just felt like it was time for me to walk away. I was sad, but I also felt like I didn't have anything to prove. I was 61 years old at the time and it was just right for me to stop.
RA: What's the biggest perk afforded to you as a Masters champion over the years?
MO'M: Just to know that I'm invited to come there every single year. And being a member. I understand I'm an honorary member, but knowing that I have a locker up there in the Champion's locker room with the greats that have played the game. I share a locker with Gene Sarazen. After winning the Masters in '98, I hosted the champions dinner the next year and every living Masters champion came to the dinner, including Gene.
To have the opportunity to come back and be a very small part of the Masters Tournament with the champions on Tuesday night, that's the biggest perk.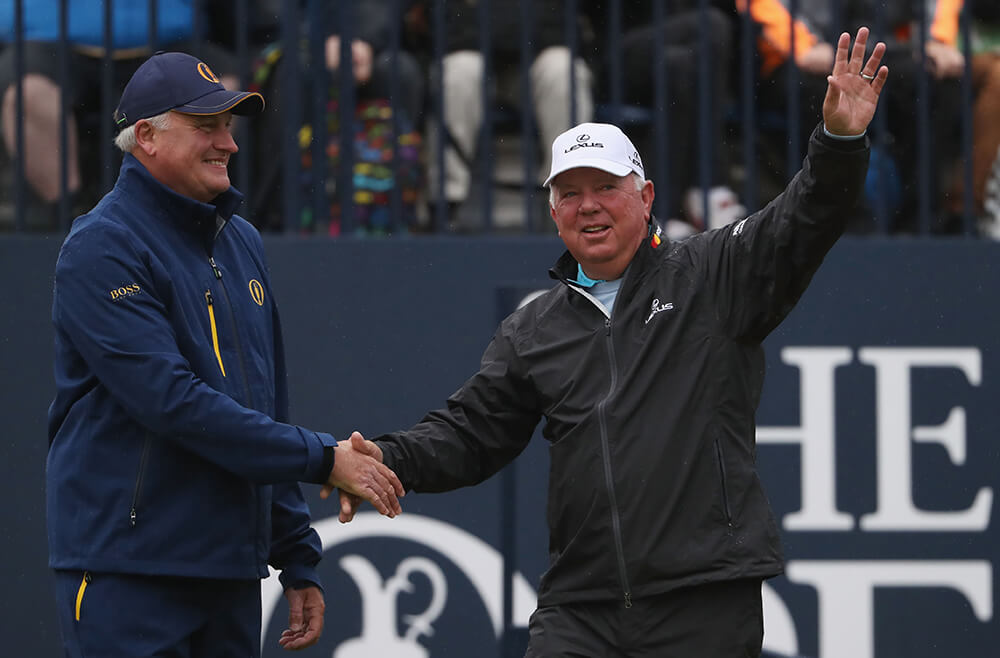 RA: You've played all over the world. If you had one golf course to play for the rest of your life, what would it be and who would be in your foursome?
MO'M: Easy answer, Pebble Beach. I've played pretty much all over the world and I've yet to find a prettier place than the Monterey Peninsula and Pebble Beach. The success I've had there…I won five times, won the California State Amateur, and the Pro-Am with my father as my partner. I just think it's the greatest place in the world.
If I had a group to play with, I'd say Mr. Palmer, Tiger Woods, and Jack Nicklaus. I grew up idolizing Jack. As I got on tour, I got to know Mr. Palmer and he became my idol. And then obviously Tiger, being who he is and what he's done, being alongside him for those 10 years that I was in his life. Those would be the people I'd want to play my last round with at Pebble.