The former Masters champion is certainly keeping busy—from captaining the Internationals to becoming CBS's lead analyst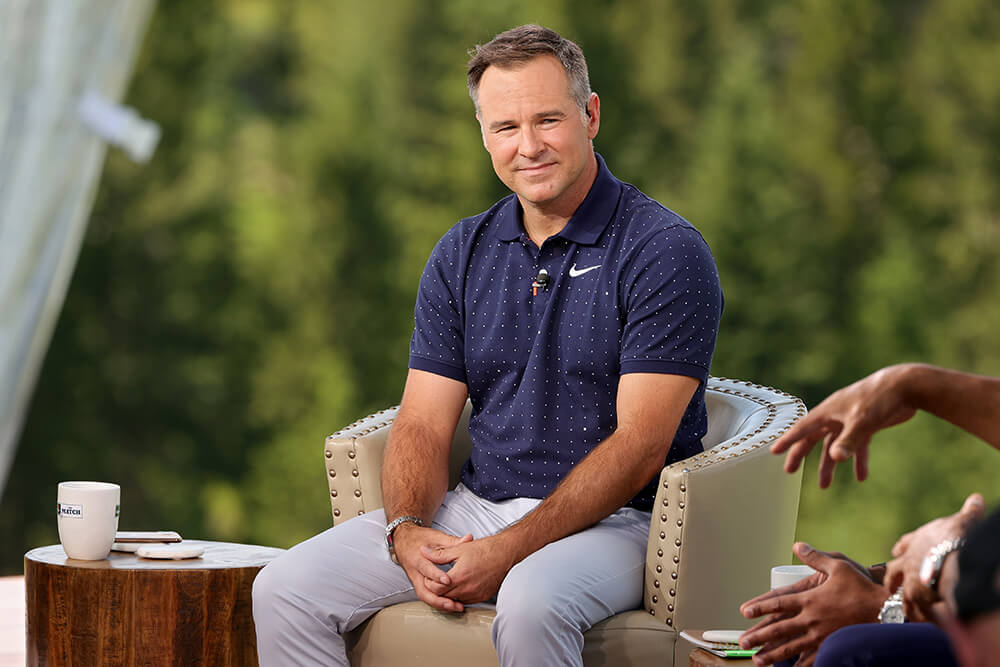 Has it been difficult to focus on one thing at a time between the Presidents Cup and CBS?
I don't think it's been that difficult to move between the two because it's all about golf. Golf is the common denominator. It's about studying the landscape of the professional game—what's happening, the trends, what the players are doing. If you're doing that, you can do both jobs.
With regards to the Presidents Cup, it's been a long process because we had the one-year delay with Covid. We've had a long period of time to be up to date with all of the planning getting ready for that end-of-September date.
For TV, you're just studying the players and trying to keep your ear to the ground. Learning what you can learn from the agents, caddies, and players and trying to see what trends are out there; something that could be of interest or entertaining to the viewer. That's the way I've always looked at this broadcasting role of mine.
What were your emotions when you got the call to be the next lead analyst at CBS?
I was obviously excited, but I must be honest, I was a little bit taken aback. About a half hour before going on air for the final round at the Canadian Open, Sean McManus called and told me the news. I can't say that I was expecting it, definitely not in that moment. When I started in TV and realized how much I love it and enjoy it, that was really the goal—to one day have an opportunity to sit next to Jim Nantz and be the lead analyst for CBS Sports. It's all of a sudden materialized much faster than I anticipated, but nonetheless I'm extremely excited and can't wait to get kicked off at the Farmers next year.
Do you feel any pressure to fill the seat of Sir Nick Faldo?
I don't know if it's pressure, but I absolutely think there's a responsibility that comes with that seat. You look at not just Sir Nick, but also Lanny Wadkins, Ken Venturi, and all of the other lead analysts that have come before. You want to do those guys proud. They held that role for long periods of time at a very high standard, so you want to make sure that continues.
But I think much the same as when you're playing golf at a high level, in my opinion it is foolish to try and emulate somebody else because then you're not being yourself; you're not being authentic. When you are being authentic, that is when you really can produce your best stuff. That really is the way I'm doing it. I'm not trying to fill Sir Nick's shoes or Ken Venturi's shoes; those guys were great in their own ways. I'm just trying to do my thing. There's obviously a reason I've been put in this position—someone likes what I'm doing, so I'm just going to continue to do that. Do all of my work and prepare as well as I can—which is exactly the way I was when I was playing—and feed off of the other members of the team. I've got a legendary broadcaster sitting next to me in Jim Nantz and an amazing team around us. For me, it will be trying to find ways to tap into all of their sweet spots so that we can all meld together and entertain the viewers as much as possible.
https://twitter.com/TrevorImmelman/status/1556380293317132290?s=20&t=Ns7EvwTFVMXkd4ffTCLQsQ
You've said being a Presidents Cup team captain is your greatest accomplishment. Why is that?
I've always had an affinity with being part of a team, and I think that's one of the reasons why I enjoy TV so much. I started the game at age five, and right from that age all I wanted to do was play golf. Immediately, I wanted to be a professional golfer and play on the PGA Tour, win on the PGA Tour, and win majors. That was what drove me as a kid. Because of that and because of the individual nature of golf, that was what I was accustomed to from the age of five to about 40.
As the team events sprinkled in with playing amateur golf and professional golf with Presidents Cup, and being an assistant in 2019, I just always loved that. I loved the experience of being with people trying to achieve a common goal. That kind of story and feeling—along with the way this Presidents Cup captaincy came about purely organically after the 2019 event with the players deciding they wanted me to be the captain and take over from Ernie Els—to me that was something that was really special and something I'll never forget.
The last couple of captains and from here on out, it will be the first time the International Team is actually in charge of choosing who their leaders are and how we want to run our team. It's a special time for us as we start to build this franchise into a real team. For those reasons, it's why I put it on top of the list. It's for something greater than just me. It came organically from my peers and people I respect.
What advice have you sought from others?
I speak to Ernie regularly; he's one of my best friends, so we keep in touch generally, anyway. I spoke to him about the Presidents Cup while he was playing in the Senior Open at Gleneagles. We're constantly in touch about it; it's something he's very interested in and passionate about. We're very thankful for the changes that he made going into 2019. He's a very special part of our team.
What can you tell us about your assistant captains, much of whom are the same from 2019?
We've kept a majority of the assistant captains in place for many different reasons. I wanted to make sure that I had every region of the world covered by a certain captain so that we could try and jump over the hurdles of culture and language barriers. I think I've got a nice blend with these guys.
Mike Weir, from Canada, was one of the players who took me under his wing when I joined the PGA Tour; he was actually my partner when I was a rookie at the 2005 Presidents Cup, so he and I have a tight bond.
We've got K.J. Choi; with the explosion of Asian golf, particularly in South Korea, it's very important to have him. He's kind of the "Godfather" of golf over there and he's an extremely stable and calming influence with the team.
Geoff Ogilvy is back; he's been an assistant captain a few times, played many times, is a major champion, and won a lot of big events. He's got an extremely high golf IQ and he's an open thinker, so I enjoy having him around. A lot of times he'll pose questions or give thoughts that maybe others haven't thought about, so he's key for us and is also extremely popular in the locker room.
The new addition for us this year is Camillo Villegas, and that's going to be great for us for a number of reasons. Number one, it looks like we're going to have a number of players from South America. We all know how popular he was when he came out on tour and how he grew the game in Colombia and all over South America. Also, the fact that he still plays on tour, so he's plugged into everything being out there and competing with these guys. I think he's a nice link between some of the older captains and these youngsters that are going to be on the team.
I think it's a cool blend of people from all over the world that have a ton of experience, not just in the Presidents Cup, but winning major championships, Players Championships, or World Golf Championship events.
You were runner-up at Quail Hollow in 2006—with your collective experience and it being a regular venue on the schedule for the members of your team, how does that help the cause?
Look—there will be no surprises for either team, for all 24 players, for that reason. We've been going there for two decades playing a PGA Tour event and a major championship in 2017 when Justin Thomas won the PGA Championship. So, guys are very familiar with it. The bermudagrass since the changes for that PGA, that's a little bit different, but still players have become accustomed in the last five or six years playing it in those conditions.
The only real wrinkle is the change in the routing, so that we can get the Green Mile earlier in the round for match play and for fans around the water there. That is a great change, in my opinion. It's going to be even more exciting because really from the 7th through the 12th now with this Presidents Cup routing, you're going to have two par fives and two drivable par fours. In match play, that provides for a lot of excitement. We're going to be seeing eagles, players trying to drive greens, and trying to go for par fives in two. It's going to be a real key part of the round.
Everything else I've seen so far—the buildout, the hospitality units, the team cabins—is going to be incredible. It's going to be an amazing experience.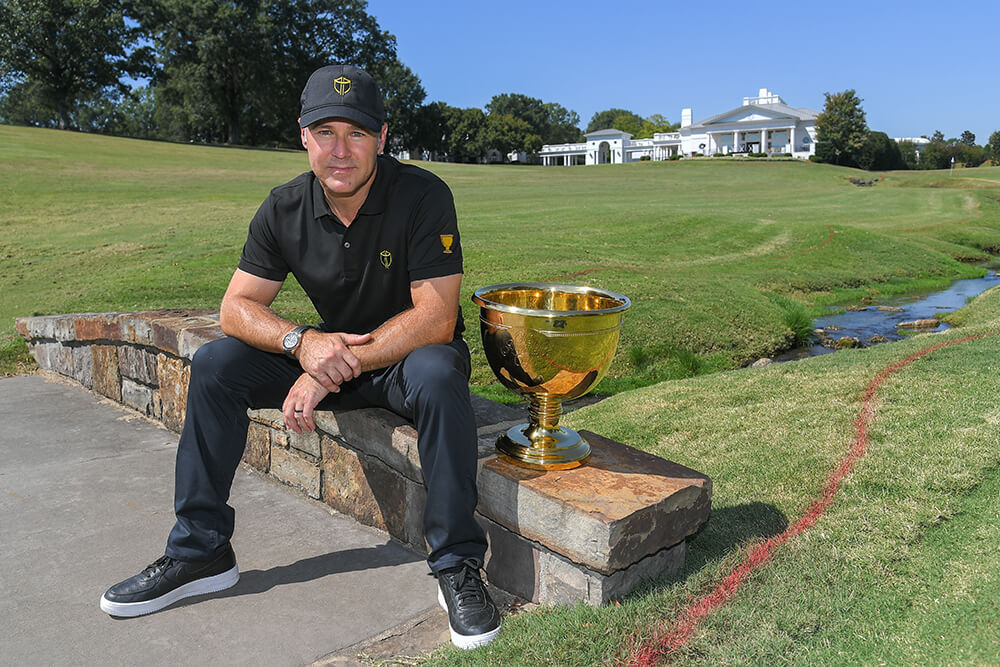 How much golf are you playing these days?
I play about two or three times a week when I'm home. I have a 16-year-old son who's a very good golfer, so he gets me out there all the time. I still thoroughly enjoy getting out there and seeing if I can still hit the shots. It's a bit frustrating at times because my mind still thinks I can do it, but my body doesn't always cooperate.
What is your favorite golf course in the world?
It's Augusta National and the Old Course for me. Such special places from a history standpoint and what they've stood for in the game. From a playing standpoint, there's so few penalty areas—not bunkers, but water—and I just find that so playable. Players of any level can get from tee to green without losing a golf ball for the most part. When you're on and around the greens, that's what separates the skill level. That's why I enjoy those old-school, old-style golf courses like that. Links golf in general I thoroughly enjoy because of the artistry needed, that you don't have to conform to a particular shot shape or form—you can use almost any club in the bag for any shot, and I get a kick out of that.
What current player reminds you most of yourself?
Collin Morikawa. I felt like I was one of the better iron players in the game and that's what I see from him. Not super long but enough distance. Elite irons, very precise, very accurate with distance control. And a little bit streaky with the putter (laughs). But also, similar stature, quite serious on the golf course in demeanor, and plays with a chip on his shoulder, which is how I felt I was.
Who has hosted the best Masters Champions dinner over the years?
Hideki Matsuyama. He blew everybody out of the water this year with incredible Japanese food. The emotion behind the evening in conjunction with that was extremely special. Before that, it was Adam Scott—he did an amazing job with surf-and-turf and Australian wines. I've joked with Scottie Scheffler that he's going to have to pull a rabbit out of a hat if he wants to supersede what Hideki did.