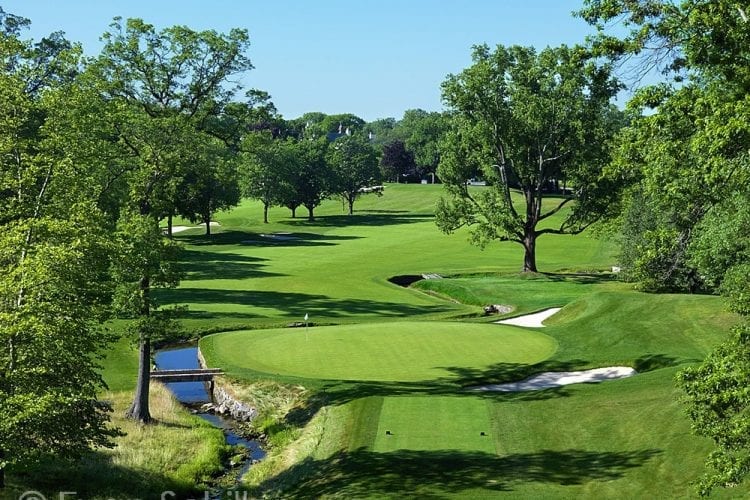 There are low-profile courses, and there are really low-profile courses. Then there's Quaker Ridge Golf Club, which has long held the reputation of being one of America's most low-key classic courses.
For those familiar with its virtues, Quaker Ridge is as well regarded and admired as nearly any course in the country. For most others, however, Quaker is cloaked in anonymity, an unknown quantity.
How good is Quaker Ridge? Says architect Pete Dye: "Quaker Ridge has some of the greatest golf holes ever seen." Echoes Herbert Warren Wind: "Few courses in the entire country have as many holes of such real character."
Quaker's modern history began around 1914, when John Duncan Dunn laid out a small course over gently rolling farmland for the Metropolitan Golf Links. Dunn expanded the course to nine holes in 1915, but the club soon ran into financial troubles. Early in 1916, a group spearheaded by William Rice Hochster purchased the existing lease and then hired A. W. Tillinghast to revise the existing nine and add nine additional holes.
Together, Tillinghast and Hochster, the club's first president and perennial green chairman until his death in 1933, further refined and revised the course over the next 10 to 15 years. Except for some minor tinkering by Robert Trent Jones and his associate Francis Duane in the 1960s and by Trent's son Rees in the early '90s, Quaker Ridge has remained the same classic test it was in 1930.
As with another subtle Tillinghast masterpiece, San Francisco Golf Club, Quaker Ridge radiates an aura of unadorned beauty, timeless grace and simple elegance. Says Quaker's head professional Rick Vershue, now in his 11th year at the club, "I get the feeling when I drive in here that this is golf as it should be. All the tall trees, the old stone and stucco clubhouse with the slate-shingled roof, the little pro shop with the same—I get a sense that I'm in a special place as soon as I drive in the gate."
Indeed, by the time you have collected your caddie an stepped onto the first tee, you are struck by the fact that there is not one single feature at the club that looks forced, artificial or out of place. The first hole, a marvelous opening par-5 of 527 yards, sets the tone for the day: It is completely tree-lined, but not in the least bit claustrophobic. The hole heads straightaway for 400 yards before buttonhooking to the right, concluding in a classic Tillinghast pear-shaped green fronted by bunkers on either side.
While holes two and three are excellent long par-4s, it holes four through seven which comprise the best stretch of holes at Quaker Ridge. Three of the four are —you guessed it—long par-4s, but each plays dramatically different.
On the tee at the 430-yard par-4 fourth, three thoughts already have come to mind. First, you have embraced the notion that Quaker Ridge exemplifies classic parkland golf. An incredible variety of trees, including oaks, maples, elms, willows, copper beech and a giant tulip poplar that guards the left side of the 11th green are seemingly everywhere, but they're so smartly placed, you never feel suffocated.
"The trees are one of our most beautiful assets here and they really come into play," says club member Beth Post, who is co-chairman of the Walker Cup committee. "If you don't keep the ball in the fairway, you're in trouble, because there's a tree blocking wherever you are."
Second, you quickly become aware (at times painfully so) that this is a superb driving course. United States golf Association Executive Director David Fays says it's one of the best driving courses he's ever seen and few would disagree. Even if the tree-lined fairways appear reasonably wide, it is deceiving. Because of the tree placement, the contouring of the terrain and the location of the pin on the greens, optimum fairway targets actually tend to be much smaller than at first glance. The temptation, therefore, is to go for a spot with say a 3-wood or long-iron, making the 6,835-yard, par-70 course (with eight par-4s measuring 425 yards or more) play even longer.
Finally, no matter how you've fared so far, you're seduced by the course's utter fairness. It all looks so straightforward. The greenside bunkers are deep but don't seem as cavernous as Winged Foot's principally because most of Winged Foot's greens are elevated, whereas most of Quaker's are linked in gently flowing fashion directly to the fairway. There are no blind shots at Quaker and only a few holes feature forced carries off the tee or into the greens. You'll hit a different club on every par-3 and use every club in your bag during the round.
It's time to emerge from your reverie, because the fourth is a daunting hole, with a lovely view from a Rees Jones-added back tee of a pond and trees on the left side. A large, rough-covered mound narrows the landing area; the golfer must decide to take the "high road" up the left side or the "low road" down the right.
Five is your basic, beautiful, downhill 185-yard par-3 over a pond to a well-bunkered green set in the trees, a comparative breather before you tackle six and seven.
The sixth is picked by many as the best hole on the course. A 446-yard par-4, six swings slightly left to right from an elevated tee, but you're hitting into terrain that slopes from right to left. Thus a fade is preferred off the tee, but slide it a shade too much and you're blocked by a large oak which stands sentinel at the corner of the dogleg. A drive pulled too strongly may find a creek which darts through the willows up the left side. Typically superb, strategic, Tillinghast bunkering awaits a wayward approach, which plays uphill.
If the sixth doesn't clean your clock, the 431-yard, par-4 seventh will. Seven veers sharply to the right then heads uphill, over a creek and cross bunkers.
The back nine is full of wonderful, challenging holes as well, especially 12 and 18, a pair of 440-yard par-4s and 13, that rarest of birds, a truly interesting long par-3 measuring 234 yards.
Nonetheless, the most memorable hole at Quaker Ridge is the 387-yard, par 4 11th. Strateg is critical at this beautiful hole. The fairway may seem generously ample, but in reality it calls for pinpoint accuracy, because if you drive it anywhere left of center on this dogleg left, you're effectively blocked out by large oaks and the aforementioned giant tulip poplar which hugs the left side. An attractive but sinister creek, which is shored up by a handsome fieldstone retaining wall, separates the nicely bunkered green from the fairway.
While its golf course is the central figure in the Quaker Ridge story, the club itself isn't without its share of history. Head pro Vershue is part of a marvelous legacy of Quaker Ridge head professionals, including Johnny Farrell (who was cohead pro with his brother Jimmy) when he won the U.S. Open in 1928, besting no less than Bobby Jones by one stroke in a 36-hole playoff. Victor Oberhammer, who attended grade school at an old one-room schoolhouse on the club grounds, later became head professional, serving in that capacity from 1939 to 1974.
Prior to this year, however, Quaker Ridge hadn't been tested in an important national tournament since the 1936 Metropolitan Open, which then ranked only behind the U.S. Open and Western Open in prestige. The field was populated with the likes of Gene Sarazen and Tommy Armour, but the event was won by an unknown Texan who worked as an assistant at New Jersey's Ridgewood Club—Byron Nelson—who made the Met Open his first significant victory as a professional.
The affinity the club's members have for the club and course is fully evident after speaking with a number of them, including current club president Michael Feidelson. "What we have is a wonderful golf course, a course that deserves a Walker Cup," says Feidelson, who went on to relate a story about a man who moved away from the region but chose not to relinquish his membership. The man told Feidelson, "I couldn't sleep at night knowing I would no longer be a member at Quaker Ridge."
Many members could join other clubs in the Met area, but don't. The prevailing feeling, says Feidelson, is "As long as I can belong to Quaker Ridge, I don't need to belong anywhere else." Given Quaker Ridge's low-key atmosphere, emphasis on tradition and superb collection of golf holes (plus some schnecken pastry at the halfway house that's to die for), it's easy—very easy—to understand how the club inspires such sentiments.