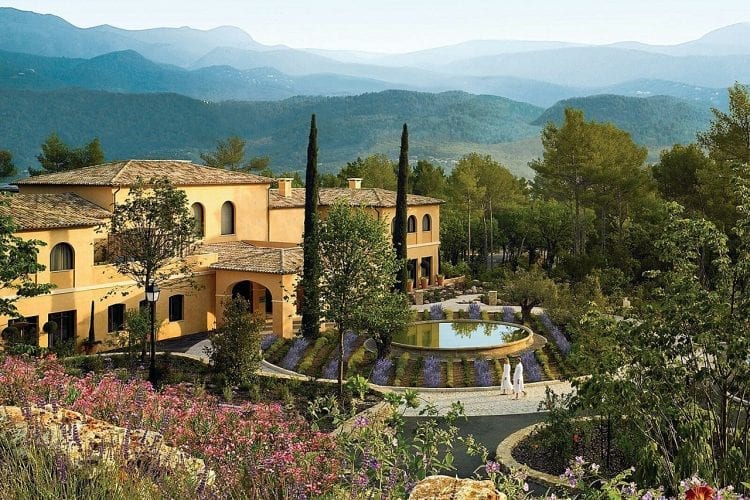 When dining in the clubhouse at Pont Royal, one is obliged to meet the head chef, Thierry Candaele, a barrel-chested Frenchman with curly gray hair and abundant bonhomie. In the Gallic fashion he glides from table to table, doling out multilingual pleasantries, accepting well-erned compliments and making sure that all is just so.
But at our table something is amiss. With a quick scowl Candaele eyes our vin de pays and lets loose with a wave of apologies. He snatches the bottle away, returns with an upgrade and issues one last apology before moving to the next table of guests.
The wine he replaced? Only a Chateauneuf-du-Pape, one of the world's most celebrated appellations.
Welcome to Provence, where the good life is so pervasive it's basically taken for granted. Only in the Provence region, extending north from coastl hubs Marseille, Toulon and Nice, does one come to expect this sort of finer touch.
The south of France is, of course, one of the world's great resort regions, with endless beaches, Roman ruins, peerless cuisine, gracious accommodations large and small, and clubhouse chefs going out of their way to ensure you're drinking the best vintages possible.
The golf isn't bad, either. The region of France possesses more than a dozen superb golf venues, all in relatively close proximity to one another. Pont Royal, for starters, is a first-rate parkland design situated in Mallemort, equal distances from both Avignon and Aix-en-Provence.
Designed by Seve Ballesteros, Pont Royal gallops over lush, dramatic terrain, skirting water hazards and topiary gardens by turn. The Pont Royal layout is just part of a unique, eponymous resort designed to look and feel like a typical Provençal hill town, complete with pink-washed stone walls, terra cotta roof tiles, narrow walking lanes and small shops selling local wines, breads and cheeses. There are modern niceties as well: several enormous pools, Seve's 18 holes, the lovely Hotel du Golf overlooking the 9th and 15th greens, and a clubhouse with stunning fare, thanks to Candaele.
A more typical resort experience can be had at the new Four Seasons Resort Provence at Terre Blanche, just west of Aix in the Var region. With its 45 villas, this address combines Four Seasons luxury with 36 superb holes from English architect Dave Thomas, designer of The Belfry. (Don't hold that against him; the courses here are excellent.) Both tracks, Le Chateau and Le Riou, were cut from a mountainous pine forest. For those who prefer their golf a la carte, options abound, thanks to the Golf Pass Provence (www.golfpass-provence.com), a Myrtle Beach-type program whereby travelers choose a package of courses for one reduced price. If your trip is based near Avignon, an ancient walled city on the Rhone and home to popes during their Medieval exile from Rome, Pont Royal is the must-play, followed closely by Grand Avignon and Golf de Servanes near St. Remy, where Van Gogh painted his irises.
Should you concentrate on the Var, don't miss Golf de Barbaroux, a sterling Pete and P.B. Dye creation carved from wild terrain. Neither should you miss a round at Dolce Frégate Golf Club, a sumptuous Ron Fream 18 in St. Cyr-sur-Mer.
Between rounds, it's nearly impossible to travel between points of interest in Provence without passing an award-winning vineyard. Stop in and sample their wares for yourself. Dégustations, or tasting sessions, are great fun, quite enlightening and most often free. Since your friends back home won't sit still for a slide show, you'll have to impress them instead with personally vetted wine selections from your vineyard visits. Or perhaps a bottle of the world's finest virgin olive oil, or maybe an olive tapenade—two more world-class gourmet products for which the vineyards of Provence are justifiably famous.
Like the experience itself, even the souvenirs are a reminder of the good life.