For well over two decades, many homeowners have arrived at the Mountain Air community in the Blue Ridge Mountains of North Carolina by plane, landing their personal propeller aircraft—Pipers, Cessnas, and Cirruses—at the highest private runway east of the Mississippi. At an elevation of 4,600 feet, the paved airstrip is steps from the retreat's country club and sits between several holes of a ruggedly dramatic golf course that boasts stunning 50-mile views and crisp, clean…mountain air.
The runway is a unique feature of Mountain Air, which is within three hours of most locations in the eastern U.S. and draws members—and small-plane enthusiasts—from near and far.
But what about those of us without a pilots' license, who would gladly welcome the convenience of a private flight—but from the back of the plane?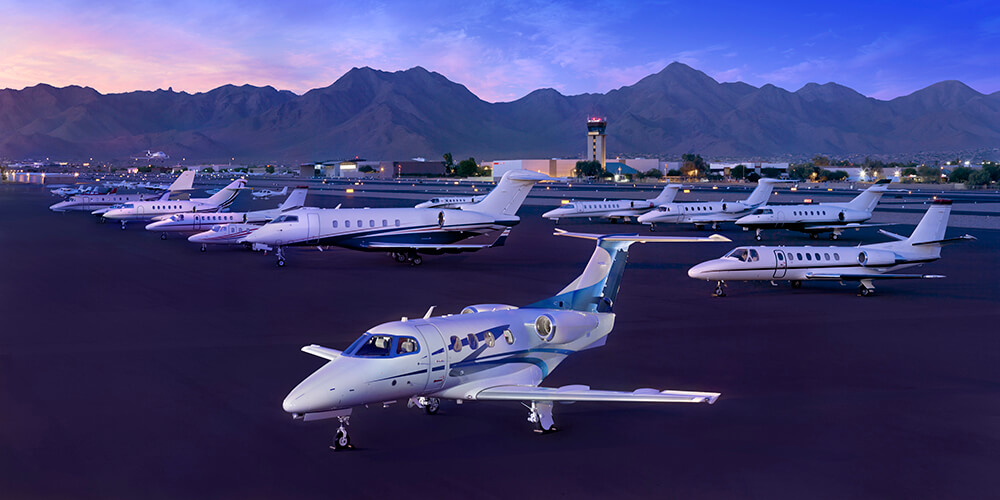 That's not an issue for a growing number of residents at upscale golf communities across the country who are turning to private aviation as their preferred mode of transportation.
Thanks to the fractional-ownership market and "jet card" programs, private air travel has become a much more appealing and viable option, especially for those who have homes in getaway destinations in the Rockies or other out-of-the-way locations.
And it's not limited to hard-to-reach places. Hawaii, Palm Springs, Las Vegas, Lake Tahoe, Scottsdale, Cabo, Napa Valley, the Carolinas, parts of Texas, even the Caribbean: Talk to the right people at high-end golf communities or the fixed-based operators (FBOs) who service private planes at airports in those areas and you'll hear more of the same. While pricey, these options are a far cry from owning and maintaining your own private jet.
As upscale golf communities get further afield from major cities, more homeowners are seeking the convenience, comfort, privacy, and time savings that private aviation affords. More than 5,000 U.S. airports are accessible to private aircraft, while only 500 are served by commercial airlines.
"We're seeing more and more private jets coming in and more of our members using fractional services," says Joe Carter, Vice President of Real Estate at Red Ledges, a private golf community near Park City, Utah (profiled on page 22). "When our members fly into Heber (Valley Airport), they can be in the gate of the community within seven minutes and there's no traffic. It's easy access. And you don't have to deal with an international airport like Salt Lake City."
Kevin Hinkle played a key role growing the airlift capabilities at Montana's busiest airport, Bozeman Yellowstone International, first as chief financial officer of the Yellowstone Club and now as CFO for Lone Mountain Land Company. As a member of the area's air services committee, he negotiated a deal with XO Jet that provides discount, ad hoc flights for homeowners at Lone Mountain's golf communities, Spanish Peaks and Moonlight Basin.
"It's been really successful," says Hinkle, who completed the deal in 2014. "Our members are all very well aware of it and they use it often, particularly during non-peak weeks or during peak weeks from smaller markets. If they don't want to own their own aircraft or a fractional share and instead just pay-as-you-go, it's a good way to do that."
Private aviation partnerships are becoming more common at high-end communities. Timbers Resorts has aligned with Sentient Jet, helping its members travel to golf properties in Kauai, Maui, Scottsdale, Palm Beach, the Sonoma wine country, and Kiawah, S.C., with ease. "Our owners and members understand the convenience of rightsizing ownership when it comes to their lifestyle investments," says Timbers CEO Greg Spencer.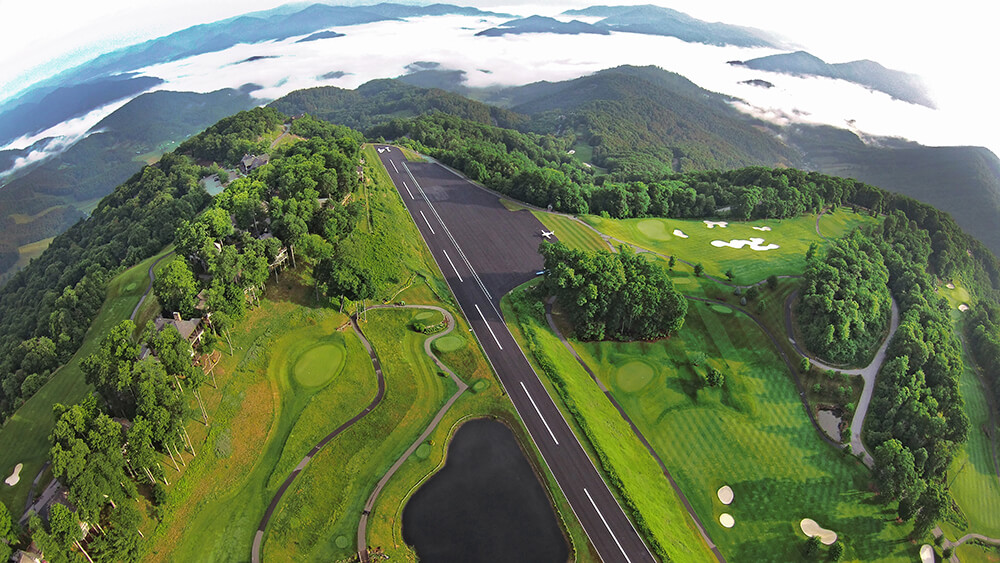 There's a reason NetJets has been the official jet provider of the PGA Tour since 2014 and counts Dustin Johnson, Jordan Spieth, and Justin Thomas among its professional ambassadors. The golf demographic is an appealing market when it comes to brand exposure for companies like NetJets, a global leader in fractional ownership of private aircraft. Acquired by Warren Buffett and Berkshire Hathaway in 1998, NetJets maintains the world's largest private aircraft fleet with more than 700 jets.
Fractional owners purchase a portion or share of an aircraft, which allots them a specific number of hours they're able to fly, splitting the costs to purchase, lease, or operate a jet among multiple owners. Pricing varies by the type of jet and the size of the share purchased or leased. Fractional owners enjoy the access and convenience similar to owning one's own plane, while reducing the challenges and time commitments. With NetJets, owners typically purchase shares in 25- hour increments, with a minimum of 50 hours to start; they're able to upgrade or downgrade to any other jet in the fleet.
NetJets is also active in the jet card market, in which customers prepay for a certain number of hours of private flight. Companies like Flexjet, JetSuite, Jets.com, Jet Linx Aviation, and Sentient Jet are other prominent players. A 25-hour Sentient card for flexible access—guaranteed availability within 10 hours—to light aircraft like the eight-passenger Bombardier Learjet 75 starts at $137,975. For a three-hour full flight, that comes to just north of $2,000 per passenger, comparable to costs throughout the industry.
In 2017, a study by Private Jet Card Comparisons showed that over the course of almost a full season, Tour players would have saved nearly five full days of travel time—119 hours—if they'd used private aviation. Those who live in golf communities can similarly benefit, enjoying non-stop flights, no security lines, minimal airport time, and a wider pool of available airports.
The advantages of private aviation extend much further: plush cabin interiors, a wealth of in-flight amenities, state-of-the-art entertainment systems, heightened privacy, elevated safety standards, and simple conveniences like bringing along a pet or a case of fine wine.
Another consideration in the private aviation market is flying charter, whether it's a pay-as-you-fly model or a membership program like Wheels Up, in which members pay an initiation fee and then select flights—private or shared—based on real-time pricing and inventory. Vernon Aviation, a charter-on-demand operator that recently opened a new base of operations at Scottsdale (Arizona) Airport, has hourly flight rates in the neighborhood of $1,650.
James Pera, Vernon Aviation's business manager, says demand is high and that the company is filling a growing niche for flights of between one to three hours from golf-rich Scottsdale to the surrounding western states, including popular destinations like Las Vegas, Park City, and Telluride and Durango in Colorado. He noted that its eight-passenger Pilatus PC-12 turboprop aircraft can easily fit golf bags.
"When people think about private aircraft charters, the first vision that typically comes to mind is the large business jet," Pera explains. "They immediately assume that they can't afford it. Once educated, our clients are pleasantly surprised to find out that there are various price points, aircraft, and options for all budgets. The business owners really grin when they find out it's a tax write-off."
Vernon operates out of one of two FBOs at Scottsdale Airport, which offers ease of access, airside vehicle access, no ground delays, and daily U.S. Customs service. Due to demand, a third FBO with a state-of-the-art terminal and a 30,000-square-foot hangar is scheduled to open in late 2020 or early 2021.
Galaxy FBO opened six years ago at Conroe North Houston Regional Airport and has continued to see a steady increase in private air travel, with golf one of the primary drivers, according to Bryan DeVerse, Galaxy's business development manager. Among the area's high-end getaways is Bluejack National, a private, resort-style community in the rolling hills of Montgomery, Texas, that features both an 18-hole course and a 10-hole short course both designed by Tiger Woods. Almost one-third of the members are national (over 250 miles away), from Chicago to California and the Carolinas.
Yet some of the biggest private aviation hotspots are outside the continental U.S.
The Cabo San Lucas private airport in Mexico is booming, with golf communities such as Querencia, Quivira Los Cabos, and Maravilla Los Cabos popular destinations for American travelers.
"Travel time from door to door is significantly less than other alternatives," says Brian Gooding, Quivira's Director of Sales. "It allows our owners to spend more quality time with family and friends."
In his 18 years on Hawaii's Big Island, Rob Kildow has seen the proliferation of private air travel. The director of residential sales at Hualalai Resort, he said many residents of the 865-acre gated community on the Kona coast not only fly private to Hawaii from the West Coast, but they may take similar flights to have dinner in Honolulu, spend a day in Maui, or play golf on Lanai.
"There used to be a few planes. Now they're stacked like pick-up sticks," says Kildow, who notes that overflow traffic at the Kona International airport forces some planes to the airport in Hilo.
"Fractional ownership and similar programs are what's really driving it," Kildow adds. "Sure, I know people who own their own planes. But far more do this. And it's only going to keep growing."