No matter how well traveled the Frugal Golfer thinks he is, chances are he has yet to visit Lake Charles, La., an industrial center and gaming destination, a three-hour drive due west of New Orleans, with a handful of courses worth traveling some distance to play. But since it is fairly new to the golf-package world, arranging a trip might take a little work.
Two mega-casino resorts—Golden Nugget and L'Auberge, situated on Contraband Bayou, a mile south of the lake for which the city is named—both possess excellent golf courses but tend not to offer golf packages because golf is primarily regarded as an extra amenity for those who come to gamble. So, arrange a multi-day trip by visiting each course's website to book tee times, then use travel sites to book your stay: We found rooms at the Golden Nugget with a rack rate of $359 going for $140 in December.
Peak season and prices are in summer when the humidity and 90-degree temperatures may be a little high for some. We recommend going in spring or fall when temps hover around 75 and green fees and room rates are similarly more comfortable.
Where to Play
• Todd Eckenrode's Country Club at the Golden Nugget gave Lake Charles the golfer's final stamp of approval. Officially opened in May 2016, CCGN has a number of holes on the water that have a genuine Scottish look about them. Expect to pay $250–$300 for a course this good in other parts of the country, but just $159 gets you on—$129 if you're staying at the Golden Nugget.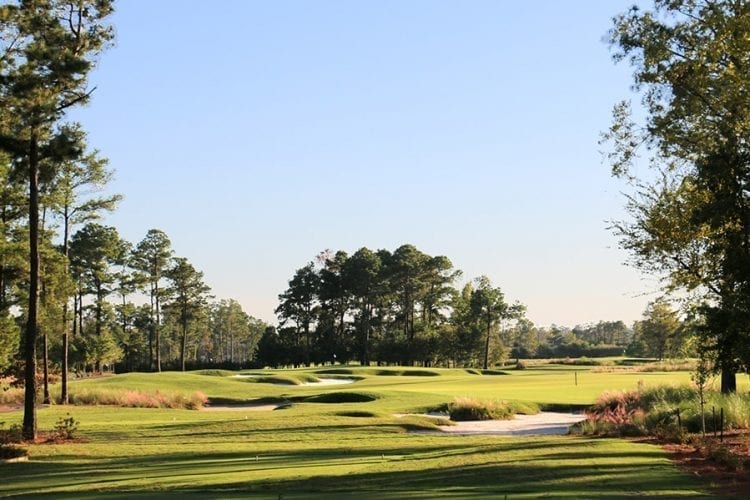 • Before CCGN, the reputation of the Lake Charles golf scene relied heavily on Tom Fazio's Contraband Bayou, which was available only to guests of L'Auberge when the casino-resort opened in May 2005. Now fully public, the course has reached its considerable potential following a 2010 renovation that finally cleared all the remaining tree stumps that Hurricane Rita left behind in 2005, upgraded the bunkers, and saw Champion Bermuda replace TifDwarf on the greens. And if you thought Golden Nugget was good value, you'll be amazed to learn that a round at Contraband Bayou never costs more than $109: There aren't many Fazio courses you can play on summer weekends for that.
Play three or four rounds at Golden Nugget and Contraband Bayou and you'd probably leave Lake Charles satisfied, but there are a couple more quality tracks in the area it would be a shame to miss.
• Rocky Roquemore's highly acclaimed Gray Plantation, about six miles southwest of town, opened in 1999 and costs only $59 during summer. After a gentle start, the course comes alive at the short 6th, which borders a stretch of the Calcasieu Ship Channel. And the risk/reward par five that follows might be the most memorable hole of the trip.
• The green fee keeps dropping as you venture a few miles north to the National Golf Club of Louisiana, a grand name for a course with a $48 peak green fee. Texas architect Dave Bennett's excellent routing on what he called a "600-acre swamp" takes you through beautiful pine woodland and around no fewer than 14 lakes.
Where to Stay
• The Golden Nugget (with 740 rooms) and even bigger L'Auberge (995 rooms) both offer luxury accommodations, plenty of amenities (save a little time to relax at the ultra-hip H2O Pool and Bar at the Golden Nugget), and several excellent restaurants. Yes, they're big, brash, and busy. But they're excellent and, as noted above, can be quite affordable.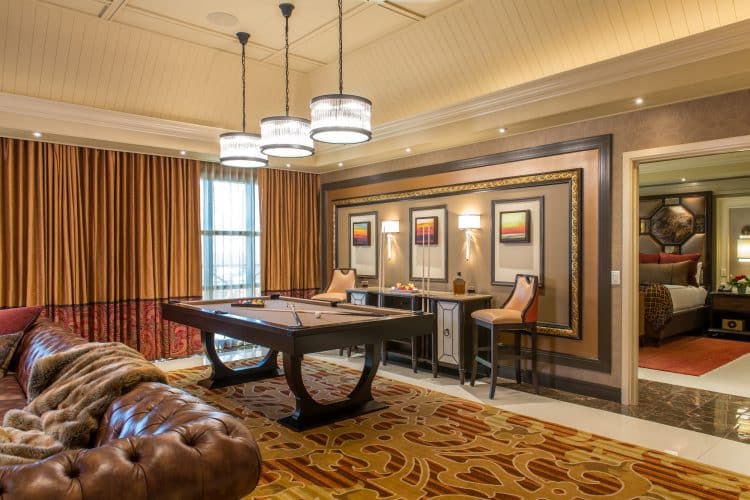 Where to Eat
• With 11 restaurants in the Golden Nugget and seven in L'Auberge, you're sure to find something you like at your hotel. But if you want to venture into the city, try the excellent 1910 Restaurant and Wine Bar on Ryan St., or enjoy what could be the finest sandwich of your life (no, seriously) at Darrell's on West College.