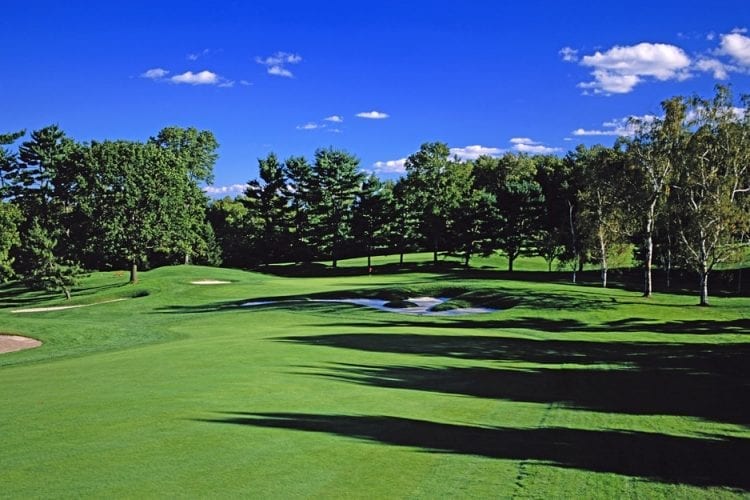 Scotsman Tom Bendelow, whose 1898 layout survives in part at Plainfield Country Club, bore the unfair burden of this dismissive catchphrase supposedly describing his course-design methodology. The Plainfield we're most familiar with today is a tough-but-fair Donald Ross design, but its link to the pre-Ross era only adds to its historical significance.
Most tradition-minded golfers are familiar with Planfield Country Club, a New Jersey golf institution. Its Ross course is one of the legendary designer's best, site of 1978 U.S. Amateur won by John Cook, as well as the 1987 U.S. Women's Open, a weather-plagued marathon that didn't end until Laura Davies defeated JoAnne Carner and Ayako Okamoto in an 18-hole Tuesday playoff.
But Plainfield's history extends well before Ross' arrival. Like many older American clubs, Plainfield originally did not feature golf establishment. It opened in 1890 as the Hillside Tennis Club, adding a nine-hole golf course five years later.
Three years later the club hired Scotsman Tom Bendelow to lay out a full 18-hole course. In the early years of American golf, Bendelow was a prolific architect with more than 600 design credits, leading to his "18 stakes on a Sunday afternoon" label, one dismissing his work style.
In large part, Bendelow earned this unfair reputation by simply using the prevailing approach of his day. Many early courses were quickly built by the staking method: Here's the tee, pound in a stake; march out 200 yards and stake a cross bunker; and farther along, mark where the putting green should go. This rudimentary method of design fell short of artistry but met the needs of golfers new to the game. But the "Sunday afternoon" charge was definitely false: Bendelow was a devoutly religious man who refused to work on Sundays.
Bendelow's course opened at 5,239 yards, which was sufficient until the rubber-cored Haskell made its way into the golfer's arsenal in the early 1900s. In 1916 the club purchased 60 acres of rolling farmland on the southeastern edge of club property and hired Ross to add yardage to the Bendelow layout.
Salesman that he was, Ross had a better idea: Build a new course with him at the design helm. The new course opened in September 1921. Today, the Bendelow course is known as Plainfield West, a nine-hole, semi-private facility that the club makes available for public play.
Ross' course is a marvel of uneven lines. In fact, on those few occasions during a round when a player does find himself on level ground, it's almost unnerving. The greens slide, twist and turn, and many slope from back to front and feature sharp dropoffs at the back.
The finishing three holes are a great test of one's game and physical condition. The 554-yard 16th, runs straight away, but is full dangers: out of bounds, cross bunkers, the immense, treacherous, two-tiered green.
The 17th hole is a dogleg right that reads only 423 yards on the card, but in reality plays at least 25­–35 yards longer because the second shot is all uphill and typically plays into the prevailing wind. Plainfield's 384-yard closing hole twists to the left. The common theme of white stakes to the right and four cross bunkers in the drive zone continues, and many members say the final green is the hardest on the course.
Bobby Thomson, who hit "shot heard 'round the world," to send the New York Giants to the 1951 World Series, has been a member at Plainfield since the early 1970s. Thomson almost chuckles when asked if he prefers to be called Bobby or Bob. "Well, I really do like Bob better, but everyone calls me Bobby." When it's explained to him that his feeling was the same as Robert Tyre Jones Jr., he's clearly moved by the comparison. "Now you are talking about somebody," he says. "I just hit a home run."
Obviously one who respects golf's great history and traditions, Thomson is in the right place at Plainfield Country Club.