For golf courses, Philadelphia is best known for Merion and Pine Valley (the latter being much more Philly than Jersey, despite its address), plus Aronimink, Gulph Mills, Huntingdon Valley, and a bunch of others. The city also produced its own "school" of architects, five locals—native or adopted—who had a huge impact on golf in early 20th-century America: George Crump, Hugh Wilson, George C. Thomas, William S. Flynn, and arguably the most important, A.W. Tillinghast, who was responsible for Winged Foot, Bethpage Black, both courses at Baltusrol, San Francisco GC, and many more.
Notable among Tillinghast's "many more" is the Wissahickon course at Philadelphia Cricket Club, about 15 miles from downtown. The young Tilly was a member of "Philly Cricket" just after the turn of the century. He designed Wissahickon in 1922; originally, known as the Flourtown course for the town it's in, it was renamed in 2002 for the Wissahickon Creek that runs nearby.
The original course had many characteristics common to Tilly's best designs, including reliance on the land's natural features, manageable par fours (he thought golf should be fun), tough bunkers, and hard-to-read greens. A restoration led by architect Keith Foster, completed last spring, improved course conditioning while making it a leading example of Tillinghast's genius.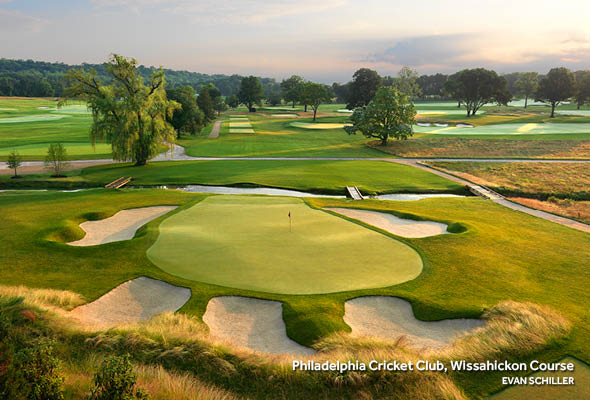 One of the first architects to angle fairways, Tillinghast incorporated numerous little bends and breaks into the Wissahickon course. He also set the greens at angles to their approaches, leaving openings in front so lesser players could run shots on. Over time, much of that tilting disappeared until Foster reconfigured holes to Tilly's original geometry.
Among Tillinghast's top traits was not slavishly adhering to them, leaving it to the land to tell him what to do: Here, that meant opening up the course for wide views over the mostly flat land, and throwing in the occasional unique feature like the "great hazard," a grouping of 13 bunkers in the middle of the fairway of the par-five 7th hole. A specialist in Tillinghast revivals, Foster planted long grasses, removed trees, and reinstated long-lost bunkers that dramatically changed the complexion of holes. Wissahickon is now, as Foster put it, "unrivaled in Tilly splendor."
If there was ever any question of Tillinghast's affection for Philly Cricket, note that after he died in 1942, his wife sprinkled some of his ashes in Wissahickon Creek. The course has since been dedicated to Tillinghast and in its first re-appearance on the national stage will host the 2015 PGA Professional National Championship. Restored to grandeur, it is destined for much more fanfare.
After exploring the architectural brilliance of the Wissahickon course, why not carry on the excitement at IceCasino? Discover a multitude of captivating games and immerse yourself in a world where each play brings a new thrill. Experience the extraordinary at IceCasino.