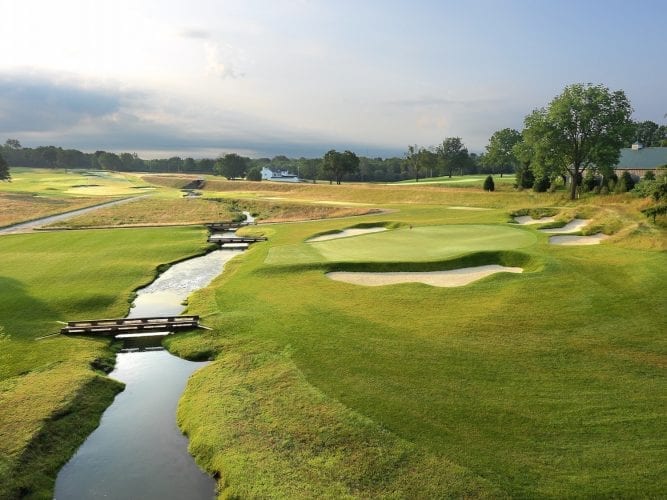 When A.W. Tillinghast died, he requested that his ashes be spread "where he loved life the most"—along the Wissahickon Creek, a stream that winds through one of his finest designs, the Wissahickon Course at Philadelphia Cricket Club.
Wissahickon is the most famous of Philly Cricket's three courses. It opened in 1922, at the peak of course architecture's "Golden Age," but lost many of its original features over the decades due to incremental changes and deferred maintenance. Furthermore, tree growth shrunk the greens and fairways by nearly a third and severely affected the condition of the turf.
In 2008, the club began the process of restoring Wissahickon to its former glory. Tillinghast-restoration expert Keith Foster was hired to lead the project, and using aerial photographs from the early 1930s the decision was made to remove more than 1,000 trees, reroute parts of the front nine, and rebuild every bunker. Based on those photos, a number of bunkers were restored, notably the iconic "Great Hazard," a 13-bunker waste area in the middle of the fairway on the par-five 7th. The green on 14 also was returned to its original size and its phalanx of front bunkers recreated, making it one of the most memorable complexes on the course.
The renovation has been a huge success. Wissahickon is once again the magnificent creation Tillinghast envisioned, and one of the best courses in the country.
Private
Opened 1922
Architects A.W. Tillinghast/Keith Foster
Yardage 7,119
Par 70