France's famed southeastern corner offers great golf—and beaucoup more
There are many places where emerging from baggage claim with an overstuffed golf travel bag won't earn you a second glance. L'Aéroport de Marseille Provence is not one of them. This corner of la France is known for many things, but not for attracting legions of golfers. To my fellow Provence-bound travelers, that bag might as well have contained 14 colossal baguettes. The golf here can be exceedingly good, though—and there's lots of it. What's more, few places in the world offer a better menu of après-golf activities.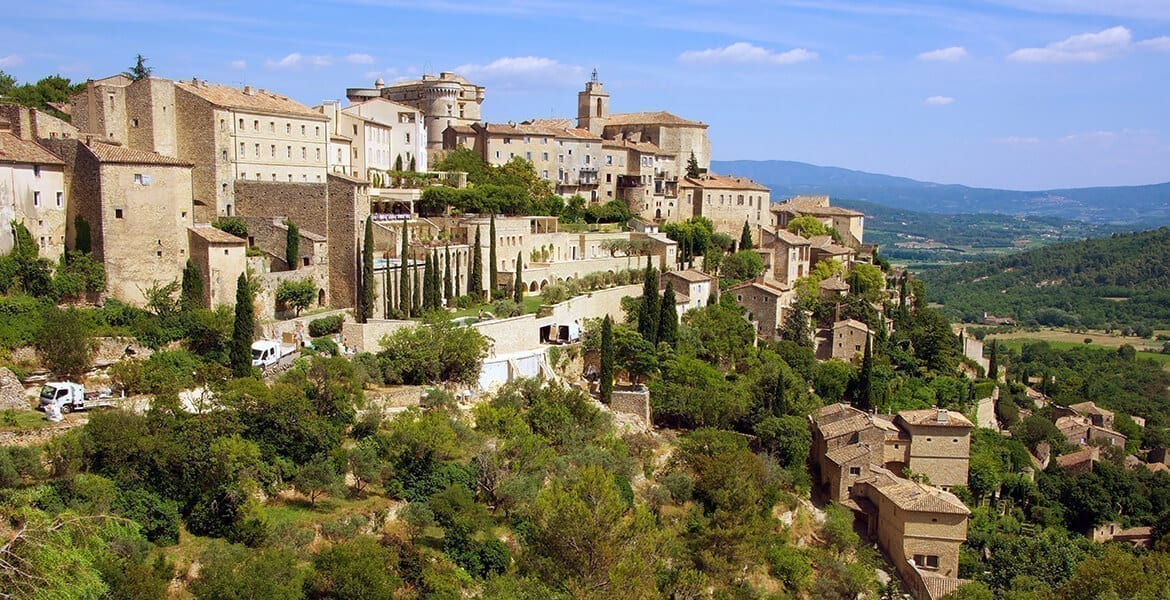 The Provence-Alpes-Côte d'Azur region (PACA) exerts a magnetic pull on tourists. It occupies the far southeastern corner of France, stretching from the Rhone River Valley to the foothills of the Alps to the chic, seaside towns of the French Riviera. The soft, warm light here has an almost ethereal quality, attracting artists like Van Gogh, Cézanne, and Picasso to live and work in the region.
Oenophiles flock here to sample the area's deliciously dry rosé wines, and to visit the world-famous vineyards in the Côtes du Rhone region—especially those in the Châteauneuf-du-Pape and Hermitage districts.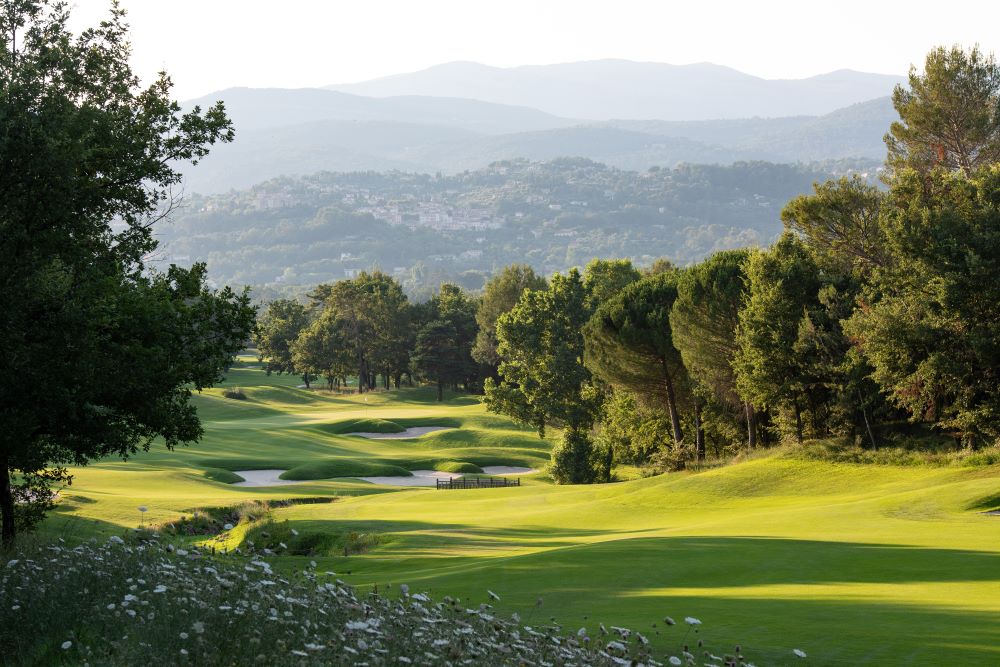 For history buffs, a year in the area wouldn't be enough. Marseille is France's oldest city; the Phoenicians and Greeks first brought classical culture there more than 2,600 years ago. Throughout the region, spectacular remnants of Rome's influence still stand. And in Avignon, the magnificent Palais des Papes was home to the Catholic Church's Papal Fathers for most of the 14th Century.
Others come to Provence for its gastronomy. Whether you're indulging in the sensational bouillabaisse at the three-Michelin-star Le Petit Nice in Marseille or sharing a mountainside picnic comprised of fresh olives, breads, fruits, and cheeses from one of the lively local markets, the food is undeniably heavenly. And unmistakably French.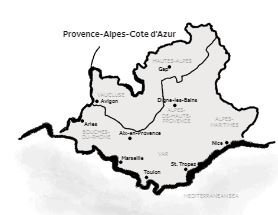 It might be heretical to say this too loudly within earshot of the Palais, but the golf in Provence takes a back seat to none of this. From the Alps to the Mediterranean, the variety of settings for golf here constitutes a glutton's buffet. Each of the PACA region's six départements offers good golf. But be forewarned: Playing here isn't a run-and-gun affair. They take their time—including at the turn, when a two-hour lunch featuring multiple bottles of a local rosé is often de rigeur.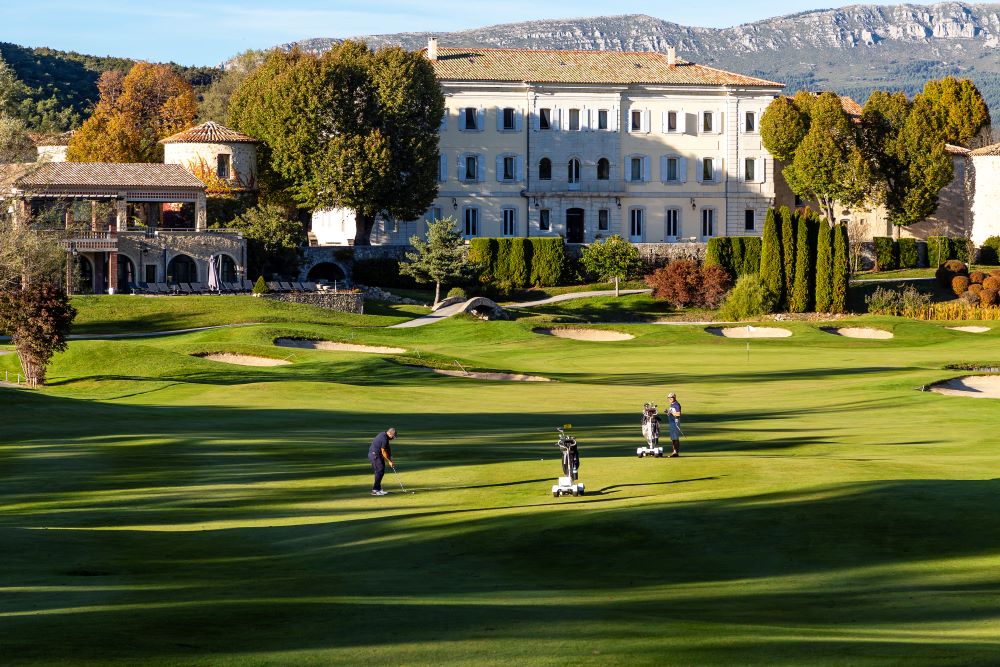 Vaucluse: Avignon is a cosmopolitan walled city with one foot in the past and the other beneath a café table. The town's main street, Avenue de la République, is lined with sidewalk bistros, making it the perfect 19th hole for nearby courses.
Golf du Grand Avignon is a flat course that weaves around several small lakes (one of which also serves as the club's driving range, using floating balls). The first thing you'll notice is that the property's trees and bushes have all been creatively trimmed and sculpted. Picture Versailles with flags and tee markers. The par-five opener, with its tee shot straight over a lake, is a knee-knocking start. And it's just one of many shots you'll have to play over water here.
Pont Royal, designed by Seve Ballesteros, features a nice mix of tight, tree-lined holes and broader but longer ones. On the par-four 1st hole here, you have to avoid two center-fairway trees and feather your approach to a green tucked behind another tree and a bunker. The par-three 11th plays from one hilltop to another across a densely vegetated ravine, with the green protected by a steep dropoff on the left. Pont Royal has a high-desert feel—and high drama on just about every hole.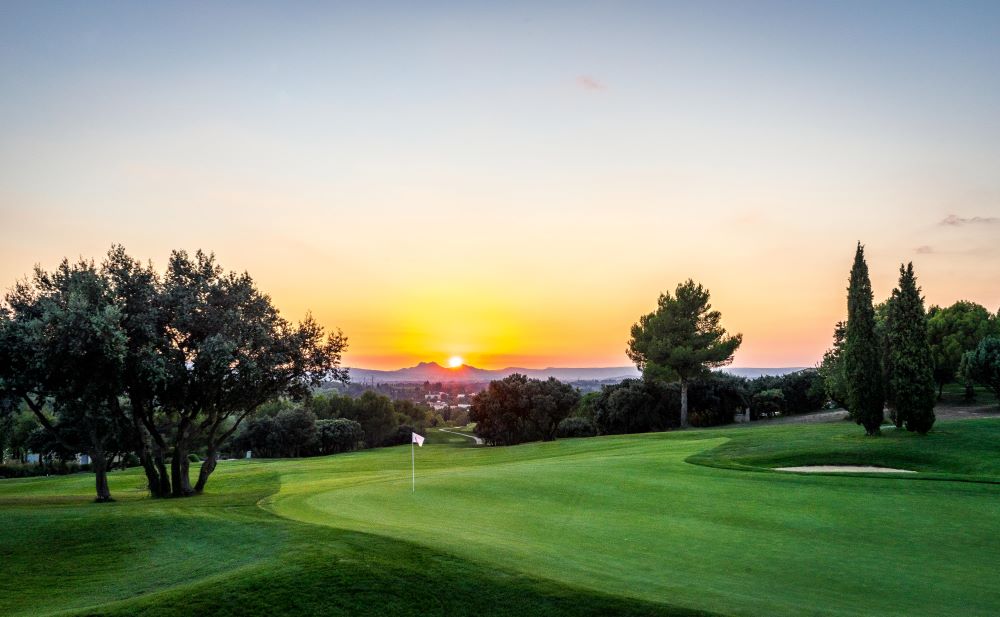 Hautes-Alpes & Alpes-de-Haute Provence: In these neighboring départements, which take you up into the semi-mountainous foothills of the Alps, the air is drier and the temperatures cooler. This is the land of dramatic plateaus, ski resorts, mineral baths, and endless fields of fragrant lavender. Two courses are worth visiting.
Digne les Bains is a tight track through tall pines and oaks. The course is part of the Provence National Geological Preserve, and your 18-hole nature expedition will be witnessed by vultures and royal kites circling overhead. The course at Gap-Bayard is high-elevation holiday golf, but very good holiday golf, offering mesmerizing views of snow-covered mountains. Elevation changes abound here; the finishing hole could double as a ski slope.
Bouches-du-Rhône: This area is known for its charming rural towns, like Les Baux-de-Provence, perched in precarious fashion high on a rocky outcropping. Here, in the Alpilles Mountains, wine and olives are the stars. But there's enjoyable golf in Mouries at Golf de Servanes (with its authentic, 18th-century clubhouse facilities), and at Chateau L'Arc, where you can stay in the grand bastideof painter Bernard Buffet—and play holes as diverse as Buffet's palette. Visits to teeming Marseille and the bustling squares of Aix-en-Provence are a must.
Var: A visit to Var is a feast for the senses. It's here you'll find the Sainte-Baume and Esterel Massif, along with 300 kilometers of beaches, including one of the world's most famous at St. Tropez. There's good golf everywhere, beginning in the south, near Toulon, at the Dolce Frégate resort. With sparkling views of the Med from many holes, the 6,792-yard championship track here is a stunner. The water doesn't come into play, but it's a constant character in the drama.
North of Toulon near Brignoles is the Pete and P.B. Dye gem Barbaroux, where the front nine carries you high onto an arid, desert-like plateau before you sweep back down to flatter ground on the inward half. The 9th hole here, with its 80-yard-long green, is eminently four-puttable.
A short jaunt west will take you to Sainte-Baume, home of the Domaine de Châteauneuf, a grand country house where Napoleon Bonaparte's family once lived. Set in the shadow of the 1,000-meter Massif de la Sainte Baume, this relatively short and open course meanders all around the Domaine, with enough hazards to provide everyone with his or her own Waterloo.
Chateau de Taulane, about an hour northwest of Cannes, is a charming resort anchored by an 18th-century château offering luxe accommodations, a spa, and superb dining. Against a tranquil, mountainous backdrop, Gary Player created a twisty valley layout that features seven lakes and meanders through old-growth stands of sentinel pines. The holes that conclude both of the testing nines here and usher you back up to the cheery confines of the clubhouse are standouts.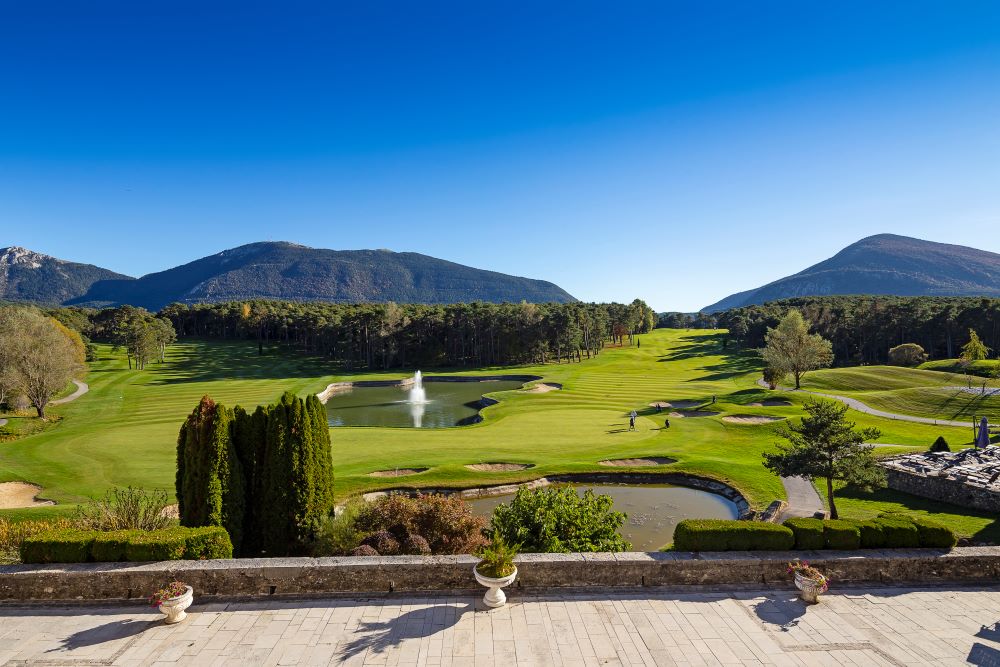 Another must-play is the course at Les Domaines de Saint Endréol Golf & Spa Resort in La Motte. Set in rolling hills along the banks of the Endre River under the watchful eye of the red sandstone Rocher de Roquebrune, the course is full of surprises. The signature par-three 13th, with its downhill shot to a peninsula green and a vista featuring endless olive groves, is worth the trip alone.
We can't leave Var without mentioning its best course—and also the hardest to get on. Le Golf de Vidauban (formerly Prince de Provence) is an exclusive private club founded in 1999 by Robert Trent Jones Sr., who fell in love with the site and later enlisted his son, RTJ II, to assist him in its design. If you're lucky enough to snag an invite, you'll play brilliant, strategic holes accented by rock outcroppings, parasol pines, and plane trees—and you may even encounter donkeys. The terrific, uphill par-three 11th is just one of 18 reasons why many people consider this course to be the finest not just in Provence but on the European continent.
Alpes Maritimes: The last few stops on our tour are all just to the north of Cannes. The Terre Blanche Resort is a five-star oasis featuring forests, lakes, waterfalls, ravines—and two highly rated courses, Le Château and Le Riou. Both feature vast, white-sand bunkers and multiple lakes and ponds—and have recently been regrassed with Bermuda Grass Riviera. The hillside Le Riou course has hosted a Ladies European Tour event, while the Château has welcomed European Senior Tour players. Sean Connery originally purchased this property, but it was the current owner, Dietmar Hopp, who created the fabulous resort that Terre Blanche is today.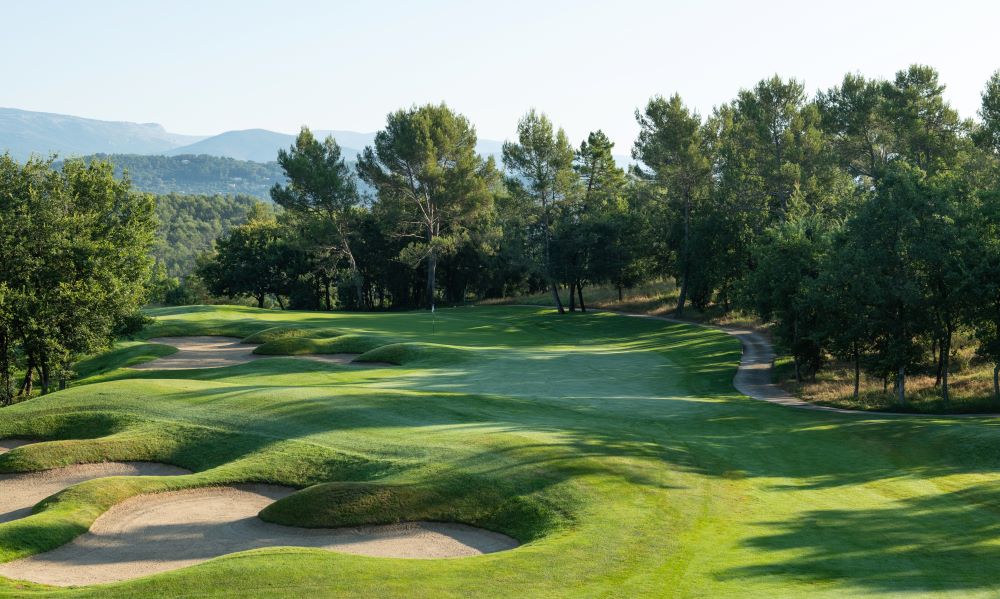 Royal Mougins, a few minutes west of Mougins, is a Robert von Hagge creation that's private except for hotel guests. Again, the terrain is hilly, freckled with lakes and streams, and magically scenic. The gargantuan double green shared by the lakeside 3rd and 18th holes is just one of the striking, memorable features.
Finally, there's Golf de Cannes-Mougins, just a short drive inland from the Cannes Promenade and site for years of the European Tour's Cannes Open. The club dates back to 1923, when its Harry Colt parkland design debuted, but the course's most recent iteration is from Mackenzie & Ebert. Flatter than most other Provence courses, it features wide fairways and fast greens. Cannes-Mougins is the best course in the area: no tricks, no gimmicks, just an outstanding track that, like Provence in general, always charms. And never disappoints.