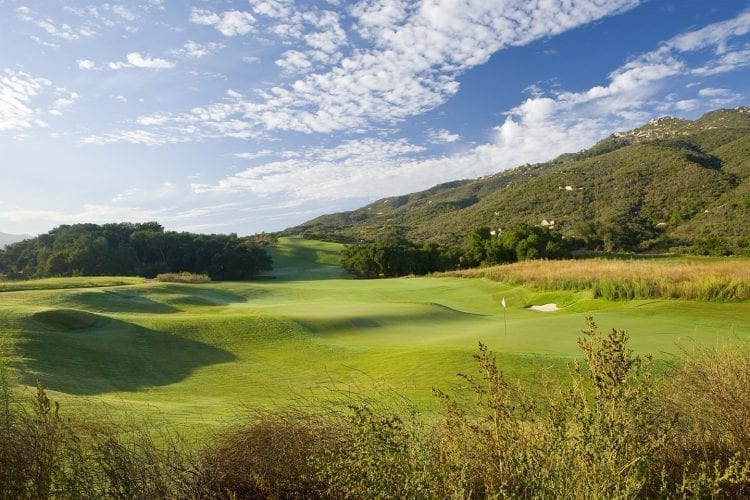 Combining a great golf resort and wine tasting in California usually meant Napa or Santa Barbara, but since the Journey at Pechanga opened in August, you can add Temecula, located in an inland valley between Los Angeles and San Diego and home to 22 wineries, into the mix.
The six-year old Pechanga Resort & Casino is the largest gaming operation in the California with 522 guest rooms and suites, eight restaurants, spa and entertainment. Now some of the gambling can take place beyond the casino floor on the new 7,219-yard course, which features some great risk-reward holes like the 311-yard 10th, as well as dramatic elevation changes.
There's no better example of the extreme terrain than the 488-yard 6th, which drops 175 feet from tee to fairway and then another 100 feet to the green. Believe it or not, long hitters can actually drive the green if they catch the speed slot.
But perhaps the most striking element of the Arthur Hills/Steve Forrest design is the lack of homes anywhere, which is no small feat given the suburban sprawl surrounding the resort. Occupying Native American land on the side of a boulder-strewn mountain, the course contains cultural exhibits that relate the story of the Pechanga Band of Luiseno Indians. Restored thatch-like dwellings
called kiicha huts are visible from some of the holes along with protected areas of former village life.
Your journey begins at a 62,000-square-foot clubhouse and takes you over rustic wooden bridges, dry washes and through stands of stately California oaks. And after winning all the bets on the 18th, there may be no better way to recount the round than with a glass of local red.