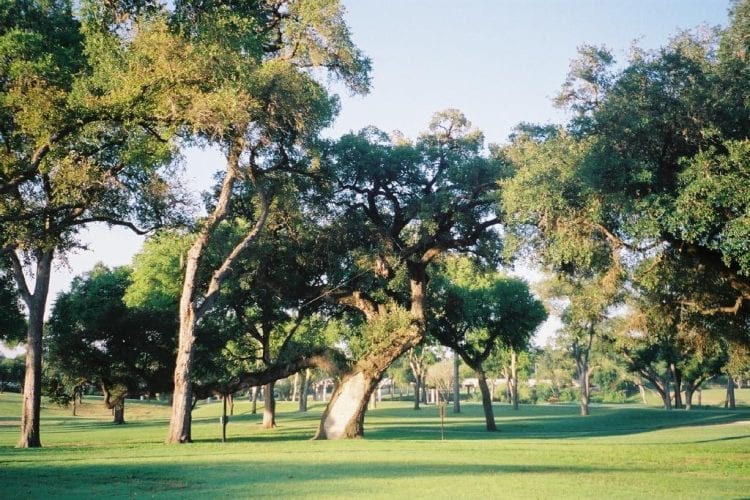 If your name is Arnold Palmer, even your failures can give a place a reputation. At San Antonio's Pecan Valley Golf Club, it's been more than three decades since Palmer's second-place finish to Julius Boros in the 1968 PGA Championship, but locals still talk about the King's dollar-short heroics like it was yesterday.
Boros, at age 48, became the oldest winner of a major championship that July day, yet it was Palmer's 230-yard 3-wood approach on the final hole that had the galleries buzzing. After a badly hooked tee ball into the rough, Arnie's second shot stopped 12 feet from the hole, but the birdie putt curled away at the last instant. Boros then came along and made a courageous up-and-down to finish one stroke ahead of Palmer and Bob Charles, saddling Palmer with the second of three runner-up showings he would have at the PGA, the only major he never won.
Even without its intriguing tournament background, Pecan Valley is a worthwhile entry on the list of America's great courses. The club was conceived in 1962, when local developer E.J. Burke commissioned Press Maxwell to design a private course among a series of new upscale apartments located six miles south of the Alamo City.
As Pecan Valley polished its image as San Antonio's premier golf club, Burke successfully petitioned the PGA of America to bring its championship there, making it just the second course in Texas to host a major, after Colonial Country Club in Fort Worth.
But as San Antonio began to expand northward, the neighborhood around Pecan Valley declined and eventually the golf course, which opened its doors to the public in the early '70s, fell into similar disrepair. Still, beneath the scruffy exterior was a scenic and strategic layout. American Golf took over in 1989 and made minor adjustments, but it wasn't until the USGA awarded it the 2001 Public Links Championship that the club committed to a complete restoration.
Built in the Salado Valley, a battleground for Mexican troops and Texas revolutionary forces in the early 1800s, the golf course occupies 200 acres of rolling terrain marked by groves of pecan and oak trees and the meandering Salado Creek, which comes into play on eight holes.
Long doglegs, thoughtful bunkering and the seemingly ever-present creek make this a true shotmaker's course. After a relatively benign, downhill opening par 4, hindered only by a prominent tree that juts into the left side of the tee-shot landing area, the course becomes stern at the 453-yard 2nd, which bends slightly from right to left to a huge, two-tiered green with a deep bunker on the right. As you'll find at nearly every hole, the green front is open to accept a run-up shot, a Maxwell nod to the classics of early 20th-century American golf architecture.
The dogleg-left par-5 13th begins next to a massive, 800-year-old tree named "Burnt Oak," designated a Texas Historic Landmark. The 418-yard 18th plays left to right and uphill, with the creek crossing diagonally between 170 and 200 yards from home—just close enough to clear, but far enough away to catch anything slightly mis-hit. A plaque commemorating Palmer's heroic shot stands in the left rough, from which you can view the elevated, two-level green and marvel at Arnie's flair for the dramatic.