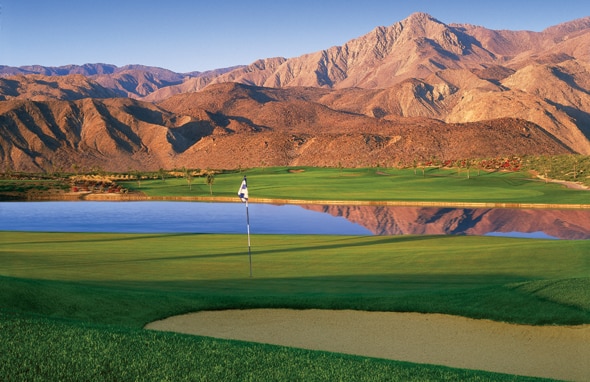 I just had to see Frank's house before leaving Palm Springs. The map said it was close to O'Donnell's nine-holer, the first course ever built in the desert, back in 1925.  Armed with a self-guided star map and a handful of Rat Pack CDs, I was plotting the perfect conclusion to my retro golf weekend 100 miles southeast of L.A. "There it is," said my wife, pulling over on busy Alejo Street. "Sinatra's first home in Palm Springs."
You can keep your Ray Romanos and the foggy Monterey coast. Give me Hoagy, Dino, Gleason and Indian Wells in the spring. Give me skinny ties and Tiparillos, and Arnie lapping the field at the 1960 Palm Springs Classic—back before Bob Hope lent his name to the event. Give me cactus-green polyester, winter tans and balls that couldn't out-roll O'Hare's runways. Give me a pack of desert rats who liked their golf the same as the flowering jasmine that carpets the Coachella Valley every spring: dry and sweet, with the day's golf capped off by a prime rib so red it would rival their sunburned cheeks. "That's desert cool," I announced, peering down Frank's driveway at the gorgeous mid-century modernist home. "That's retro, baby."
Frank Bogert, Palm Springs' mayor from 1958 to 1966, remembers when golf arrived in the dunes of Riverside County. "Tennis and horses were the big draw," Bogert says. "I was traveling the country to promote my dude ranch and everyone kept asking why there was no 18-hole course in Palm Springs." Bogert got in touch with Johnny Dawson (a top amateur of the era), and "got an 18-holer built on chewing gum and loans from an insurance company."
Designed by Lawrence Hughes, Thunderbird Country Club, with its red fescue grass (later changed to rye/Bermuda), was where golf-crazed celebrities first came to nest. Hope and Crosby bought lots bordering the course. Tamarisk Country Club, Indian Wells and Eldorado soon followed. "You can thank Thunderbird for golf carts," Bogert adds. "We had a member from Texas with a bum leg who got permission from the board of directors to use a gasoline-powered thing that four guys had to sit on to keep steady. He brought in a doctor's note to convince the board he really needed it."
The Valley has changed a bit since Thunderbird's heyday. Golf carts are a multi-million-dollar industry and they're sold throughout the mini-malls that now blanket Highway 111. There are more than 450 miles of fairways and 113 courses, one course for every mile-and-a-half of land area. Cathedral City, Coachella, Desert Hot Springs, Indian Wells, Indio, La Quinta, Palm Desert, Palm Springs and Rancho Mirage are nine distinct cities housing more than a quarter of a million people. (The rumor that all 320,000 inhabitants play PGA West on weekends is, so far, unsubstantiated.)
Yet the past also lingers in the desert. Lounging poolside at the Hotel Mojave, the day before my round at the Michael Hurdzan/Dana Fry-designed Desert Willow, I expected Gable and Lombard to jog out for a swim. The Mojave's canopied citrus trees and two dozen 1940s-themed guest rooms yield the same breathtaking views of the Santa Rosa and San Jacinto Mountains that have graced vintage golf photos for the last half-century. Jigsaw-cut into a wispy, azure sky, their clean lines echo the retro-modern design craze that has taken hold of the Valley.
"Albert Frey was the most noted architect of desert modernism," explains Jay Ramstead, general manager of Palm Springs' Orbit In. "We have a room with an outdoor shower that looks up at the mountain house where Frey lived."
My wife had ogled the rows of desert-modern furniture stores lining Palm Canyon Drive. Shopkeepers there said 1960s-inspired motor hotels, like the Tiki-themed Caliente Tropics Resort, were doing turn-away business. Ramstead explained that Orbit In's Oasis and Hideaway properties were restored four years ago with furniture pieces from famed retro designers Charles Eames, Harry Bertoia and George Nelson. "Our most requested room is the Rat Pack Suite," he says with a smile. "Guests say it reminds them of their parents' home from the 1960s."
Connecting with my inner baby-boomer was job number one at Desert Willow's Firecliff Course in Palm Desert. The mile-long drive to the clubhouse sweeps past native desert Acacias and Chuperosa shrubs, setting the tone for a challenging track. The Frank Sinatra Celebrity tournament is played from Firecliff's 7,056-yard back tees, on greens that run 9.5 on the stimpmeter. Tight, contoured Bermuda fairways and more than 100 bunkers make birdies (and perhaps pars) at Firecliff as scarce as the smoke trees are plentiful. With steep green fees for a city-owned course ($165 in high season), the experience needs to replicate a private club, and the Desert Willow staff surpasses expectations.
Opened in February 2003, Trilogy at La Quinta is another natural-terrain throwback replete with generous fairways and true-rolling greens. The rye/Bermuda grass course features six sets of tees, if you include the 7,068-yard tips from where the heavily marketed Skins Game is contested. Trilogy is a fun, playable track. With only 58 bunkers and little OB, its main defense is the red fountain shrub grass that lines fairways. A leisurely course routing allows for the build-out of 1,200 retirement homes. But with less than 10 percent of the lots filled, Trilogy currently meanders quietly through 160 acres of La Quinta's southeastern cove, with spectacularly unrestricted desert views. The par-3 sixth is back-dropped by the Santa Rosa Club, Trilogy's version of retro heaven. Complete with cyber café, grand living room and outdoor firepit, the structure is an oasis of desert modernism, and a stylish capper to my breezy three-and-a-half-hour round.
"Aren't you going to play PGA West or a Pete Dye course at La Quinta?" my wife asked innocently. "Those aren't desert cool," I sniffed. "What is?" she persisted. Desert Dunes, the Robert Trent Jones Jr. layout on the windy side of Interstate 10 in Desert Hot Springs, and the fun-to-walk Billy Bell course at Tahquitz Creek in Palm Springs, would qualify. The Arthur Hills layout at Heritage Palms is a new course with an old desert feel. "You want to avoid the programmed feeling of the big resorts"—that's what Jack McCann advised me earlier in the weekend. McCann, a former PGA Tour caddie and two-time college all-American, is a frequent visitor to the Coachella Valley. We bumped into McCann and his wife, who were doing a little house-hunting in the area.
There's nothing programmed about Arnold Palmer's Restaurant in La Quinta. Locals routinely clear out tables in the homey piano bar for some serious retro dance action. For the ultimate in '60s-era golf memories, I asked for a table in the Masters or U.S. Open dining rooms, where vintage sports magazine covers compete for wall space with the club Hogan gave Arnie to drive the first hole at Cherry Hills in 1960. Boasting a superb comfort-food menu, a lighted nine-hole putting course and an unbelievable collection of golf memorabilia, Arnold Palmer's Restaurant may be the best night out in the Coachella Valley. Especially when the King himself drops in—four to five nights a week when he's in town.
As a restaurateur Arnie still has a way to go to match Mel Haber, whose Melvyn's establishment has been a Palm Springs landmark for 30 years. Haber bought us drinks in the bar and recounted Ol' Blue Eyes ("Mr. S.," as Haber calls him) having his pre-wedding party and nearly punching out two paparazzi at Melvyn's.
It seems everyone has a Mr. S. story when you're on a Palm Springs weekend. I visited Johnny Costa's Ristorante, where owner and chef Vince Costa spun tales about his father cooking for the head desert rat. "The Purple Room at Club Trinidad was the Rat Pack hangout in the '60s," Costa says. "When my dad left to open his own restaurant in Desert Hot Springs, the chef called one night to say Sinatra was furious because the linguini and clams were terrible. My dad carefully explained, over the phone, how to prepare linguini and clams the way Frank liked it. The chef from the Trinidad couldn't stop thanking him."
My own desert Sinatra story? Peering through the gates of his first home in Palm Springs, I saw an Ermine-white 1958 Chrysler 300D, the famed "forward look" which exemplified the fast, clean lines of that decade. It had gleaming sidewalls and chrome-striped tailfins. How desert cool is that?