To punch up your next

meal—or

dinner party

—keep

the wine

in the cellar

and pair the

food

with

liquor

 
Scotch on the rocks. It didn't matter what he was going to eat: That's all my former boss—an acclaimed food writer—drank when he went out for dinner.  
At the time, I thought it was a cop-out, an excuse not to deal with the challenge of navigating a wine list. After all, isn't wine what sophisticated diners are supposed to drink?  
But he was onto something. By choosing a drink he knew and loved, he was freeing up his attention to apply it to other things like the food and his guests. He was taking some of the guesswork out of the process, too, choosing an accompaniment designed to be consistent from year to year (unlike wine) and that needed no fuss at the table. He sipped it slowly and made it last, likely imbibing less alcohol by the end of the meal than diners working their way through bottles of wine. And in the process, he found that it handled an amazing array of flavors, from aperitif through dessert. 
Plus, I've found another bonus: It's a fast way to shake up a dinner party. There's a bit of a shock, the frisson of doing something that feels a little illicit, followed by the pleasure of discovering that it can actually work. And for spirits hounds, it's a terrific way to explore your favorite drink in different lights.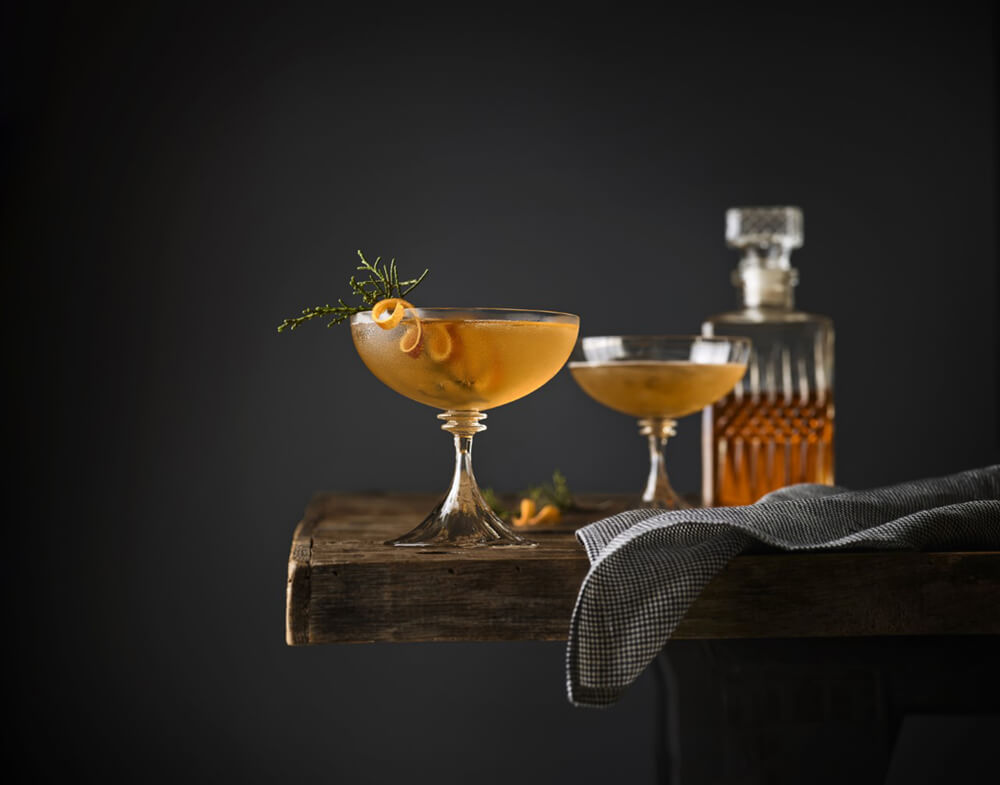 Another advocate is Jonathan Pogash, who hosts spirits dinners at the annual "Tales of the Cocktail" festival in New Orleans, and his dad, Jeffrey, who's been creating spirits dinners since the 1990s, when he represented several Scotches for Möet Hennessy. The duo—who also host a podcast called "The Cocktail Guru"—heartily endorse this sort of experimentation. "Spirits can work with any style of food. We've done dinners with traditional New Orleans cuisine, Italian, Mediterranean," Jonathan says. His latest paired spirits with six courses of Filipino cuisine.  
If there's a challenge to pairing spirits with food, it's alcohol strength. A shot of hard liquor (1.5 ounces) contains as much alcohol as the average 12-ounce beer (5% alcohol) or a 5-ounce glass of wine (12% alcohol). So pace yourself. Have plenty of water and ice within easy reach so guests can adjust their drinks to taste and refresh their water glasses as needed. 
"And keep it simple," adds Jonathan. "If you want to feature a cocktail, start with the classics and then play around from there." But sticking with different expressions of the same spirit can be just as fascinating. Here are some tips to get you started. 
Whiskey
When Jeffrey put together his first-ever spirits dinner in 1995, he followed the adage "what grows together goes together" to create his menu. "Since seafood is an important element of the cuisine of Scotland, it seemed like a natural fit," he says. And it is: Oysters, diver scallops, crab, and lobster all work fantastically well with Scotch, playing off the spirit's saline, iodine tinge.  
He contrasts Scotch to Cognac, which is also brown, but, because it is fruit-based, is richer. "It does better with richer foods," he says. "Anything fatty or earthy—duck, foie gras, venison, anything with a mushroom sauce."  
Bourbon and corn-based whiskies tend to fall between the two in terms of richness, with a gentle corn fruitiness and vanilla sweetness. This makes them especially friendly with all sorts of foods, especially those that combine elements of sweet, nutty, smoky, and earthy: think smoked almonds and bacon-wrapped dates, country hams, and Bourbon-infused baked beans. "Bourbons with a high rye content hold up a little better with food," advises Jonathan, as the rye gives it a little more cut and definition. 
Vodka
Search out vodkas with real flavor, Jonathan advises, and taste before you decide on pairings. Caviar is a classic match, as is steak, at least when the vodka is in a Martini bolstered by a blue-cheese-stuffed olive. But the spirit's translucent flavors are especially handy with delicate flavors, allowing the subtle nuances of both food and drink to shine. Sushi and sashimi make a great place to start.  
Or oysters on the half shell, suggests Harry Martin, Jr. of LA's Loft & Bear, which makes a flavorful vodka. "The combination of oysters, horseradish, cocktail sauce, and a Loft & Bear cocktail is like having an edible Bloody Mary," he says.  
Gin
From the classic juniper-forward gin to new styles accenting a wild array of citrus, florals, herbs, and spices, the possibilities are near endless. Let the style suggest the pairing. Citrusy versions like Tanqueray Rangpur or Martin Miller's can be especially refreshing with seafood or anything that benefits from a splash of lime (fish tacos, anyone?). Super-herbal gins such as The Botanist, Hendricks, or Gin Mare tend to do best with simple foods, like salt-roasted fish or an herb–and–olive-strewn white pizza. A gin such as Bombay Sapphire East, with its lemongrass and black-peppercorn spice, is fun to play off of salt-and-pepper shrimp or an Indian-style yellow curry. There are even wood-aged gins that have the weight and depth to match richer dishes, like grilled tuna steaks, and fruited gins that can add spirit to dessert. 
Mezcal
"With mezcal and Tequila, you have so many varieties of agave, each with different flavor profiles," says Jonathan. "And then you have the regions—highlands, midlands, lowlands. It's similar to Scotch: It comes down to the earth you taste. Are there more grass notes or berry notes? Is it like licking a cigar or is it a nuanced background of char?"  
Mexican cuisine is the obvious go-to for an agave-spirit dinner, but Thai, Vietnamese, or any cuisine with lots of citrus, herbs, spice, and umami works well. A clean, light blanco Tequila can match the delicacy of a fresh tuna tartare, while a funkier artisan mezcal can stand up to the herbs and heat of Thai-style salads or Vietnamese-style pork chops. Darker, smokier aged versions can be served as you might a Scotch, with shellfish or lean red meat. 
Rum
As in wine, sweetness is your friend when it comes to pairing with food, and rum, which is made from sugar cane, is one of the most food-friendly spirits. White (unaged) versions are generally best presented in a cocktail, where citrus juice can add a punch of flavor and acid—amendments making it especially good with fish (think Mojito and grilled shrimp, or a Caribbean-style jerk fish). Dark rums have plenty of deep, fruity, brown-sugar flavors to match richer dishes like roast meats, sweet potatoes, and squashes, especially if there's a sweet element like brown sugar or fruit involved (a splash of the rum you're pairing it with never hurts, either). And they sing with caramel-rich desserts like bananas foster or pineapple cake.  
"Don't forget Tiki cocktails," Jeffrey adds, referring to fruity rum drinks such as Mai Tais, Scorpions, and Zombies. "These were created to pair with what tiki restaurants called Polynesian food but is based on Chinese food." Spicy-sweet dishes of any sort work well. For convenience, whip up a batch of cocktails ahead of time, premixing everything but the citrus juices: Add those just before serving so they keep their vibrancy.   
Just be sure to keep a tight hand on the pitcher, or dinner could end up being a distant memory.