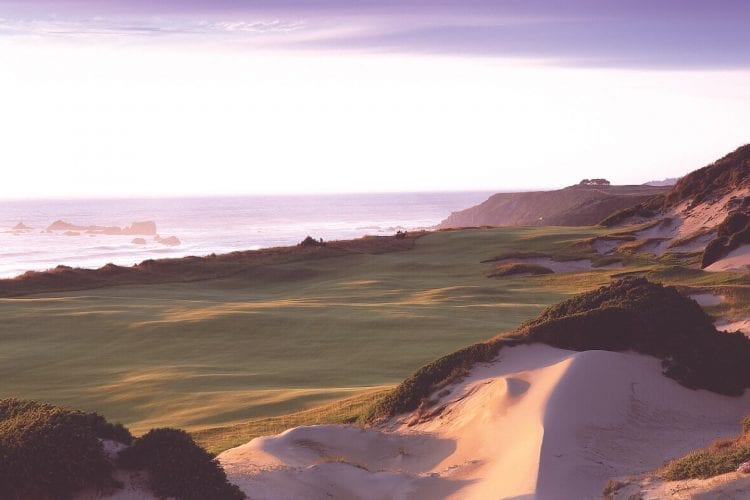 When it comes to golf course architecture, opinions run rampant and absolutes are few. That said, there is no debating the single Most Important Decision in the annals of American course design. It happened in 1917, when Samuel F.B. Morse tore up a subdivision plan for the waterfront acreage where Pebble Beach Golf Links now sits.
Morse's spiritual descendant, Mike Keiser, took a similarly enlightened path at Bandon Dunes Resort on the Oregon coast. Ignore the short-term business plan; try to build a little something for the ages.
In lieu of publicity, Keiser let himself reach higher—toward the lofty realm of myth. His original Bandon Dunes 18 attained that starry status, and now there's another course alongside it: Pacific Dunes.
"I've been to a lot of great golf courses and I'm amazed at how few really sing," says Keiser, a soft-spoken visionary who amassed a fortune in the recycled greeting card business before turning to golf. "Most of the truly wonderful courses—outside of Scotland and Ireland—are expensive or inaccessible. But the spirit of golf abides with the public golfer. I wanted to build a great golf course for the avid public golfer that would truly sing."
Keiser entrusted the first layout to an architect David MacLay Kidd, who had never even designed a golf course on his own before. For Pacific Dunes, Keiser chose Tom Doak, author of two books on course design, architect of a dozen carefully crafted layouts, and widely unpopular in the business for his outspoken criticisms of other course designers.
Although the new course resides adjacent to Bandon Dunes, it's entirely different, not only in architectural style but in topography, as well. While seven holes play along the ocean, a number of inland holes journey in and around humongous dunes clad in gorse and beach grasses.
Dunes define this course the way they distinguish Pete Dye's work at Whistling Straits. (Doak, along with his extraordinarily talented shaper Jim Urbina, trained under Dye.) But Bandon's dunes weren't trucked in from Idaho; they've lain here for centuries, bearing the brunt of countless winds and storms.
If Bandon Dunes keens the woof and whorl of a true Scottish links, Pacificis its Irish cousin: deep and rich as the perfect pint of Guinness, sweet as Irish cream, lively as a fiddle jig played in the back room of a warm tavern.
The course opens amid pines and inland dunes. The sinuous 1st fairway rises in cresting green humps, then folds down toward a flattish green tucked into a dune that flows like a lava dome. Movements throughout the course are liquid—alternately as sweeping and forceful as whitewater and as slow as Yorkshire pudding.
On the first two holes, drives toward the left side of the fairway allow clear views of the greens, an early reminder that accurate positioning will remain important throughout the round. By the 3rd hole, the topography spills wide to reveal a sylvan valley marked by bunkers anchored in the emerald rivers of fairway that flow to and from the sea.
The 4th, the first oceanside hole, frolics for 460 yards along cliffs 100 feet above crashing surf to a green that totters on the precipice, as if one more golf ball might send the whole thing tumbling to the beach below. At the 316-yard 6th, the fairway licks between high mounds to a narrow, elevated green that drops steeply on both sides.
The back nine begins with two oceanside par 3s—205 yards threaded downhill toward the Pacific, then 145 yards along seaside bluffs to a green camouflaged in dune-colored grasses. Number 13 may be Pac Dunes' best hole. Here you tee off across cliffs toward a green that lies 440 treacherous yards away. At the 345-yard, risk-reward 16th, green moguls roll like some fantastically skewed ski run. The finishing hole, which can play as long as 660 yards, is a puzzlement of angles and prodigious bunkers defending both fairway and green.