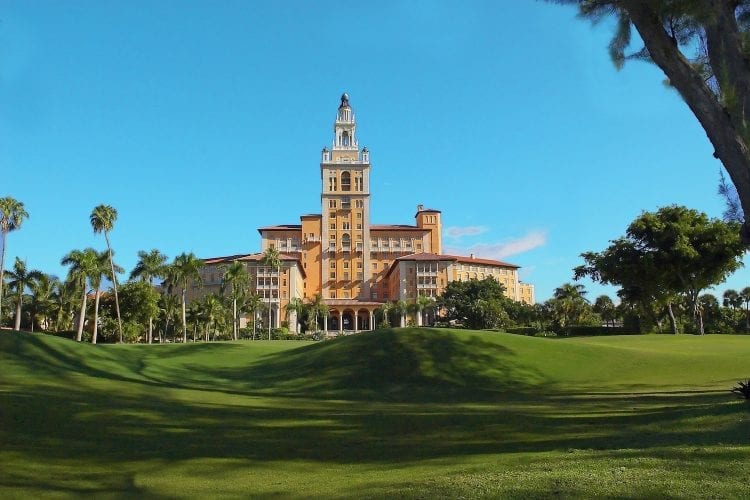 So you're planning a golf vacation to Florida. Which gleaming mega-resort will you visit? Some tile-roofed citadel with a half-dozen restaurants, 500 seaside guest rooms and three perfectly manicured golf courses?
You could sift through a stack of slick brochures and easily locate such a destination. But perhaps you'd rather return to an era when life and golf were simpler; a time when golf in Florida was more like a walk in the park than a monorail ride at the Magic Kingdom.
Miraculously, such sweet havens still exist. Nearly 70 courses built at the dawn of the 20th century have survived the glitzing of Florida, and two-thirds of them are open to the public. Some are nestled in orange-blossom backwoods, while others offer peaceful respite amid urban sprawl. All overflow with tradition and charm.
Our old-world Florida golf tour begins in suburban Jacksonville. Here in 1925, during the peak of a land boom that triggered an explosion of golf-course development, Donald Ross designed Hyde Park Golf Club as an alternate course for the elite membership of Old Florida Country Club. This sleepy little facility, dense with mature oaks dripping Spanish moss, eventually opened its doors to the public.
Except for missing some bunkers that were removed during the belt-tightening Depression years, Hyde Park remains remarkably authentic. True to Ross form, the smallish, inverted-saucer greens tilt back to front and the finishing holes make you work especially hard for par. The 6,468-yard layout is made tougher by nine ponds that swallow botched shots and gentle doglegs that ask for draws or fades.
Forty miles south of Jacksonville lies America's oldest city, St. Augustine, founded by the Spanish in 1565. Here another Donald Ross treasure, this one of 1916 vintage, stirs reflection. Located at the Ponce de Leon Hotel, this consummately traditional, 6,823-yard layout was the notion of railroad tycoon Henry Flagler, who virtually launched Florida's reputation as a vacation playground by building a string of lavish hotels along its east coast.
The course was built on the outskirts of town and became a popular stop on the Grapefruit Circuit, the Florida leg of the nascent PGA and LPGA tours. Babe Zaharias, Louise Suggs, Gene Sarazen and Byron Nelson were a few of the big names that lit up the leader board during those early years.
Today, golf is the main attraction at an attractive hotel and conference center of modest scale. (The original hotel is now Flagler College.) The showstopper is the par-3 5th hole, which plays over a reedy creek to a bulkheaded green backdropped by a seemingly infinite stretch of marsh. Byron Nelson made an ace on this hole in 1937.
From St. Augustine, it's about a 90-minute drive to Howey-in-the-Hills, a tiny hamlet in the lake-laced citrus country of Central Florida. This community sprung up in 1916 when a financier named William J. Howey purchased 60,000 acres with the intent of establishing the world's largest citrus empire. His dream crashed along with the stock market in 1929, but the course built by Scottish architect Charles E. Clarke eventually became part of the Spanish Colonial-style Mission Inn Golf and Tennis Resort.
Elevation changes of up to 85 feet define the challenge at the 6,923-yard El Campeón, which dips, twists and turns through a landscape that is the antithesis of palmy, flat, white-sand Florida. In addition to abundant downhill and sidehill lies, players must also contend with stands of pines, oaks and cedars as impenetrable as stone walls, and putting surfaces that slant from front to back, posing all kinds of sticky problems. But the vistas from elevated tees, combined with the intoxicating perfume of orange blossoms, cast a euphoric spell over the bogey-embattled.
Thirty-five miles to the south, in Lake Wales, is Lekarica Golf & Country Inn, formerly known as Highland Park, a residential enclave developed in the 1890s by a zealous entrepreneur named Irwin Yarnell. The developer eventually went bust, but his beloved Highland Park became Florida's first golf community when the architectural team of Stiles & Van Kleek designed 18 holes on the property in the mid 1920s. During World War II, a labor shortage resulted in six holes being removed and replaced with orange trees. The Highland Park Club remained a curious 12-hole layout until 1994, when an investment group purchased it and restored the missing holes to original specs.
Despite an ownership and name change, Lekarica is unmistakably Old Florida. Step onto your screened balcony any morning and let a plume of orange-blossom fragrance overwhelm you as you gaze over gentle hills cloaked in that signature Florida fruit. Snuggled in a valley are the golf course and a cottage-like clubhouse. At first glance, the 6,116-yard track looks like a pushover, but a tour around it reveals surprising elevation changes, doglegs and narrow fairways.
Moving on, we reach Florida's west coast and Clearwater, where the historic Belleview Biltmore is still an imposing grande dame after 105 years. The floors of this rambling Victorian structure creak, and vestiges like keyholes, transom windows and wide corridors (designed to accommodate hoop skirts) impart a pleasant, time-warp effect.
When railroad magnate Henry Plant erected the Biltmore—now the oldest wooden hotel in America—he had no plans for golf. But his untimely death in 1899 left the property to his equally ambitious son Morton, who in 1915 hired Ross to craft two courses. Ten years later, Ross added a third course, which today is the only one still connected to the Biltmore.
The 6,614-yard layout recently underwent a masterfully subtle facelift by Sarasota-based architect Chip Powell. The greens still invite bump-and-run shots, and the cross bunkering and rectangular tees that Ross favored have been faithfully enhanced.
This sentimental journey ends at the Bobby Jones Golf Complex in Sarasota, where 18 of the 45 holes are pure Ross. In 1927 America's leading amateur golfer lent his name to what remains this city's only municipal links. To play all 18 holes of Ross' work here, you must tee it up on two venues—the back nines of the British and American courses.
Sarasota has a long history with the Ringling Brothers Circus and today is home to the John and Mable Ringling Museum of Art, an impressive complex that includes a circus museum and Cà d'Zan, John Ringling's sprawling, 32-room mansion.
In the early days, the parcel of land across the street from the Jones Complex served as winter headquarters for the circus. Wild animals inhabited enclosures and open fields, and more than a few backswings were interrupted by a lion's roar or a gorilla rattling its cage. Back then, Florida was a frontier for the novel and exotic, and golf was just a babe in the woods.