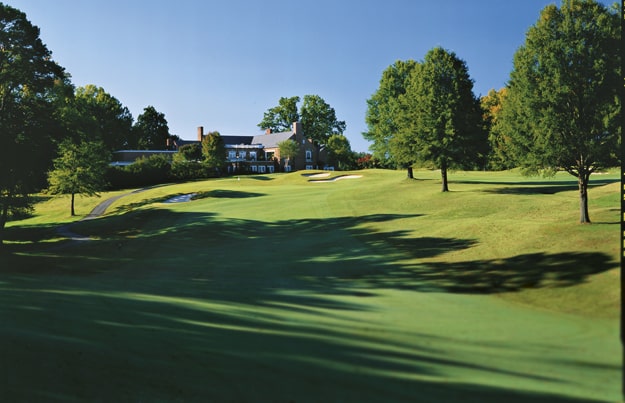 Unless you happen to live in the Piedmont Triad of North Carolina or follow Wake Forest University's golf program, you've probably not heard of the Old Town Club. Quietly traditional down to its very name, this Perry Maxwell design is anonymous to most but revered by all who know it.
Among those in the know is Tom Doak, who placed Old Town alongside Cypress Point and Pine Valley in the "worth groveling to play" list in his Confidential Guide to Golf Courses.
Its entrance is subtly marked; for that matter, so is the 1st tee, situated just steps from the clubhouse door. "If it weren't for these two tee markers, golfers would never know this was a tee," says Kris Spence, a golf course restoration specialist from nearby Greensboro.
The club's spirit of tradition continues to reveal itself throughout the 6,907-yard layout. Wooden flagsticks and cast-iron cups are throwbacks to yesteryear. Old stone walls—relics from the property's previous incarnation as a horse farm—rise here and there on the course like ancient ruins
This relaxed, golf-first atmosphere has been in place since the club's beginnings in 1938. That year a handful of Forsyth Country Club members met to vent about the rapidly expanding membership that was crowding their beloved Donald Ross design. The movement for a new facility was led by Charlie Babcock, who, along with his wife, Mary Reynolds Babcock of the Reynolds tobacco family, donated 170 acres. Clifford Roberts, co-founder of Augusta National Golf Club, played a significant role in Old Town's early history. He had just employed Maxwell to toughen up holes 7 and 10 at ANGC and, delighted with the results, recommended that Babcock commission Maxwell to design his employer's new course.
The Babcocks allowed Maxwell the luxury of essentially handpicking the site from a vast expanse of fallow farmland. The landforms Maxwell found he left undisturbed, incorporating the site's natural ridges, knolls, swales and ravines into his design. "Many an acre of magnificent land has been utterly destroyed by the steam shovel throwing up billows of earth," Maxwell said of his minimalist approach.
Old Town's broad fairways are marked by varying degrees of slope, which generate many awkward lies on approach shots. But it's the green undulations, affectionately known as "Maxwell's rolls," that typically wreak the most havoc on scorecards. Architect Bill Coore says these greens are the most intricate in the Maxwell repertoire: "It was the artistic little bumps and rises here and there, which looked like someone just pushed them up from underneath with an air hose, that created their intimacy."
In 2002 Old Town engaged Bobby Weed to restore the integrity of Maxwell's design. The Florida-based architect implemented a modest tree-management program and expanded fairways to their original widths.
Weed lengthened nine holes to bring their intended landing areas and shot values back into play. Case in point: the 422-yard, par-4 7th, where golfers once again challenge three cross bunkers to gain the ideal approach angle. Likewise, Weed extended the 448-yard 18th to recapture a distinct upslope in the landing zone.
Thanks to its proximity to Wake Forest, Old Town has been an ideal proving ground for the Demon Deacons' storied golf program. The course groomed a distinguished list of Wake golfers, including Curtis Strange, Lanny Wadkins and Laura Diaz. "Old Town offers so many varied challenges," says Wadkins, "it is the best course for training serious young golfers."
Over the years, Old Town has mostly avoided hosting non-member events. The Purvis Ferree Cup, an annual four-ball competition that boasts a national field, is the main exception, and in recent years the club has hosted a U.S. Open qualifier and a USGA Senior Amateur qualifier. But that's about as high-profile as it gets for an institution that's perfectly secure in its legacy as a bastion of tradition and subtlety.