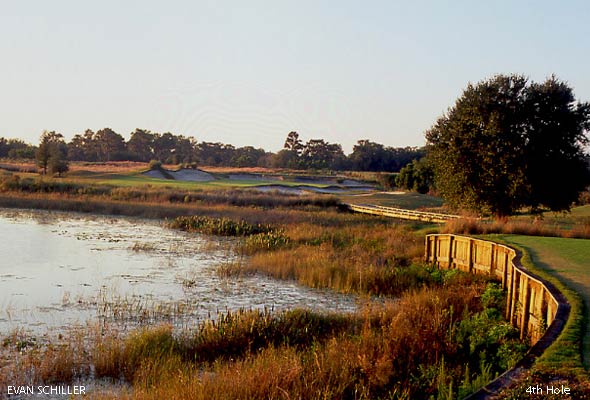 In 1994 Outback Steakhouse founders Chris Sullivan, Bob Basham and Bob Merritt decided to move ahead with their dream of building a national golf club in their hometown of Tampa, Florida. After securing a 312-acre sandy site just 15 minutes from the Tampa airport, Steve Smyers built a course on a pure, undisturbed sanctuary where members and guests can get away from the hectic pace of life to enjoy friendly competition, the camaraderie of golfers from diverse backgrounds and the free exchange of ideas.
In addition to a sandy base and convenient location, the property is blessed with several natural lakes, freshwater marshes, oak and pine woodlands, sub-tropical vegetation, subtle elevation changes and most importantly, coastal breezes that are an integral part of the playing experience.
Smyers designed Old Memorial with alternate routes of play and classical, risk/reward options on nearly all of its 18 holes. Strategy and variety are the hallmarks of the gently rolling layout, with each hole moving in a different direction than the previous one. In addition, there is great variety and balance in the shape and length of the holes.
The par 4s best display Smyers' creativity and skilled use of risk/reward design. Strategy and placement are paramount, and the execution of a repertoire of full and controlled shots are essential. Although many of the fairways are relatively generous, locating the best angle to the pin is critical. A poorly placed tee shot will invariably result in an awkward approach to the green and an errant approach shot often leaves a difficult bump-and-run, lob or bunker shot to a firm, sloping putting surface. Clearly, the mastery of the fine art of scoring is a requirement for posting a good number at Old Memorial.
Generally speaking, the more the golfer challenges a hazard, the greater the reward for a well-played shot. The beauty of strategic, and heroic, risk/reward design is that every golfer is presented with a choice. The high-handicapper can enjoy the course by playing the less dangerous route, while the accomplished player is continually challenged to elevate his game to a higher level.
Along with a mixture of subtle and bold contours, Old Memorial's primary design feature is its bunkering. Large and beautifully sculpted, the bunkers have sand faces with long grass fingers that give them the appearance of a series of smaller bunkers. Unlike water hazards, bunkers are often just a quarter or half-shot penalty and recovery is always possible. Smyers' bunkers are dramatic, sweeping, hollows of sand that intimidate, deceive, direct play and frame the course's landing areas and greens. Often, they make holes look more difficult than they really are.
The spirit of golf is alive and well at Old Memorial Golf Club. Its founding fathers can take pride in what they have created, and its privileged members can experience the joy and satisfaction of playing golf the way it was meant to be played. After all, the joy is in the journey, not the destination.