A hundred years ago, at about the same time that Henry Flagler was inventing southeast Florida, a young millionaire named Barron Gift Collier was working similar wonders on the other side of the peninsula—acquiring land, building hotels and railroads, and generally putting southwest Florida on the map. By 1920, Collier was the largest landowner in the state with 1.3 million acres.
Two generations later, his grandson Miles used 267 of those acres to create the Old Collier Golf Club, which opened in 2001. The term "hidden gem" is overused, but nothing better describes this private, idyllic enclave, tucked—a la Pine Valley—behind guarded gates yet only a stone's throw from the urban sprawl of Naples. Likewise, the Tom Fazio course bears a more than passing resemblance to George Crump's masterpiece, its generous fairways threading artfully through corridors of pines and oaks while competing for the golfer's attention with vast waste areas carpeted in bright white sand.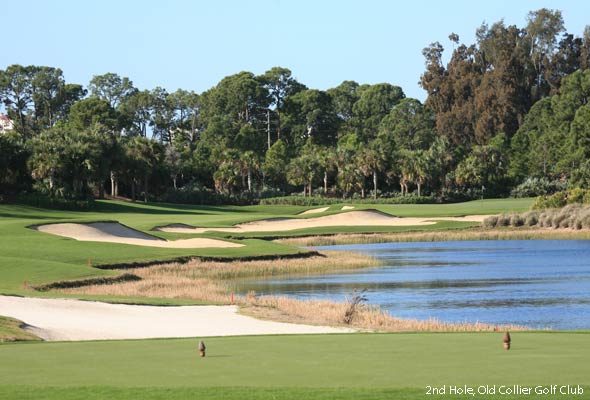 The raw terrain was dead flat, but Fazio introduced plenty of undulation while creating several mini-lakes that bring water into play on more than half the holes. Seldom, however, is there a forced carry. The greens, while well bunkered, generally allow a running approach. Indeed so firm and taut is the turf that a Texas wedge may be used as freely as on a Scottish links.
Should a player require advice on such a shot, he need only ask the fellow (or lady) walking beside him. Old Collier is justly proud of its caddie program, staffed with veterans imported from St. Andrews, Carnoustie, Gleneagles, Kingsbarns, and Turnberry. And these caddies—each shouldering just one bag—don't just recite yardage and read putts, they keep the player's scorecard, including fairways hit, greens in regulation, and putts.
Another distinction is the club's commitment to the environment. Old Collier helped develop the salt-tolerant turfgrass called Seashore Paspalum and was the first club in the continental U.S. to use it from tee to green. Care was also taken to preserve and create habitat for wildlife. More than one hundred different species have been observed here, everything from bluebirds to bald eagles, red foxes to gopher tortoises. For its efforts the club has been recognized by Audubon International as the first course in the world to be designated a Gold Signature Sanctuary.