Golf is a numbers game and that's particularly true with the Ryder Cup. Through 87 years and 40 competitions, the event has produced a lot of stats, which the PGA of America has diligently tracked. We've combed through them all to bring you some of the more interesting Ryder Cup records as we begin day one at the 41st Ryder Cup at Hazeltine National Golf Club.
Largest Winning Margins:
USA: 23.5–8.5 Champions Golf Club, 1967; Europe: 18.5–9.5 Oakland Hills Country Club, 2004; The K Club, 2006.
Total Team Points Won (since 1979 when Continental Europe joined GB&I)
USA: 67 foursomes, 66 four-ball, 133 singles, 246 total; Europe: 77 foursomes, 79 four-ball, 102.5 singles, 258 total.
Most Overall Points Won
USA: Billy Casper 23.5, Europe: Faldo 25.
Most Appearances
USA: Phil Mickelson 11, 1995–2016; Europe: Sir Nick Faldo 11, 1977–1997.
Most Overall Matches Played
USA: Mickelson 41, Europe: Faldo 46.
Largest Winning Margin (18-hole Foursomes)
7 and 6: Hale Irwin/Tom Kite over Ken Brown and Des Smyth, 1979; Paul Azinger and Mark O'Meara over Faldo and David Gilford, 1991; and Keegan Bradley and Mickelson over Lee Westwood and Luke Donald, 2012.
Largest Winning Margin (18-hole Four-Balls)
7 and 5: Lee Trevino and Jerry Pate over Faldo and Sam Torrance, 1981.
Largest Winning Margin (18-hole Singles)'
8 and 7: Kite over Howard Clark, 1989; Fred Couples over Ian Woosnam, 1997.
Most Successful Partners
USA: Arnold Palmer/Gardner Dickinson—5 matches, 5 wins; Europe: Seve Ballesteros/José María Olazábal—15 matches, 11 wins, 2 losses, 2 halves.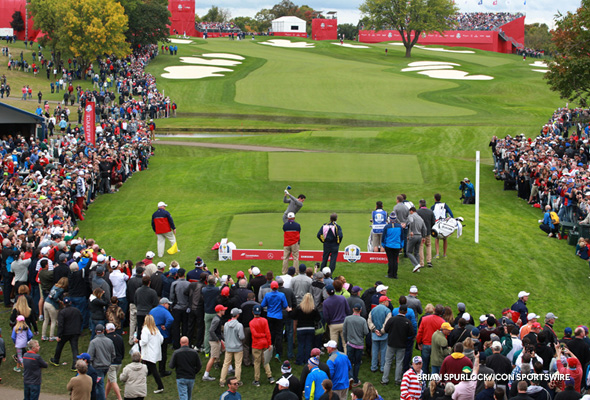 In Single Ryder Cup
USA: Larry Nelson/Lanny Wadkins 4 for 4, 1979; Europe (3.5 for 4): Faldo/Woosnam, 1987; Ballesteros/Olazábal, 1989 and 1991; Sergio Garcia and Jesper Parnevik, 1999.
Most Consecutive Matches Won
USA: 9 Gardner Dickinson, 1969 and 1971, and Larry Nelson, 1979 and '81; Europe: 7 Ian Poulter, 2010 and 2012.
Longest Gap Between Appearances
USA: Don January 12 years, 1965–1977; Europe: Christy O'Connor Jr. 14 years, 1975–1989.
Oldest Players
USA: Raymond Floyd 51, 1993; Europe: Ted Ray 50, 1927.
Youngest Players
USA: Horton Smith 21 and 4 days, 1929; Europe: Garcia 19 and 258 days.
Rookies to Gain Most Points
USA: Dickinson (1967) and Larry Nelson (1979) 5, Europe: Paul Way (1983), Garcia (1999), and Paul Lawrie (1999) 3.5
________________
Do you think any new records will be set at Hazeltine this weekend? Let us know in the comments below!