A lot was going on in 1923. Despite Prohibition, the "Roaring Twenties" were in full swing. Calvin Coolidge became the 30th president. Hank Williams was born, along with Charlton Heston and George Patton. The iconic Hollywood sign made its Tinseltown debut. And the New York Yankees played their first game at Yankee Stadium, just months before winning their first World Series. The year was a big one for golf, too, with dozens of new courses opening all across America.
Interest in golf was exploding at the time. Francis Ouimet's upset victory in the 1913 U.S. Open had helped light the fire, and the headlines about Bobby Jones's first U.S. Open win further stoked the flames. History isn't always 100 percent clear on when shots were first struck at some of America's fledgling courses, but here's a partial list of the courses that evidence suggests should be looking to celebrate their centennial years in 2023.
Winged Foot Golf Club (West and East Courses)—Mamaroneck, N.Y.
When a handful of members of the New York Athletic Club decided that New York needed another golf club, they didn't fool around. The new club, with its winged foot of Mercury logo reminiscent of the Athletic Club's, hired A.W. Tillinghast to design not just one, but two "man-sized" courses—and chose Clifford C. Wendehack to create its expansive Tudor-style clubhouse. It took just six years for the USGA to stage its first Open on the club's West Course. The two Winged Foot courses have now hosted six Opens, along with two Women's Opens, a Senior Open, two U.S. Amateurs, a PGA Championship, and a Walker Cup. It's one of America's premier clubs, with two top-100 courses that don't have a weak hole between them.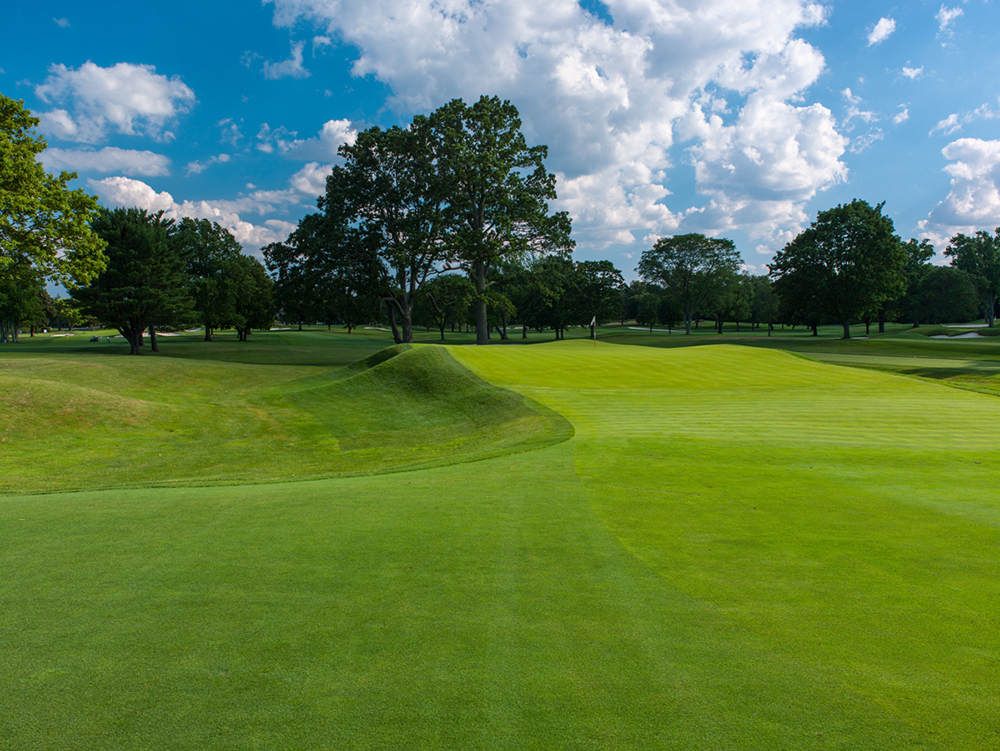 Cherry Hills Country Club—Denver, Colo.
Cherry Hills C.C. was founded by a group of prominent members of Denver Country Club who wanted a golf club without all the other country club amenities of the day, like swimming or tennis (or polo). They hired William Flynn to do the design work, and in 1938 the club hosted its first U.S. Open—the first time any club west of the Mississippi had been so honored. Six other USGA events have been staged there since then, along with one PGA Championship and the 2014 BMW Championship, part of the PGA Tour's FedEx Cup playoffs. It was at Cherry Hills that Arnold Palmer famously drove the first green in the final round of the 1960 U.S. Open and staged a heroic comeback, coming from seven strokes back of the lead to win and in the process pipping 20-year-old amateur Jack Nicklaus by two shots at the end.
Chicago Golf Club—Wheaton, Ill.
Chicago G.C. was one of the original five founding clubs of the USGA in 1894. Two years earlier, Charles Blair Macdonald had created the club's original course, but the course we know today was originally a Seth Raynor "redesign" that first opened for play in 1923. Five years later, the U.S. Walker Cup team crushed their GB&I opponents there 11–1. Another Walker Cup (2005) and the 2018 U.S. Women's Open won by Laura Davies were also contested at Chicago G.C., which is still considered one of America's finest Golden Age courses.
By request, the Punchbowl 12th at the Chicago Golf Club. Founded by C.B. Macdonald in 1893, CGC is one of the five original members of the USGA. Seth Raynor designed the present course in 1923. As close as American golf gets to playing the game on a living museum. #farandsure pic.twitter.com/6fPnPc0JRK

— LinksGems Golf Photos (@LinksGems) June 8, 2020
Oakland Hills Country Club (North Course)—Detroit, Mich.
The South Course at Oakland Hills (aka "The Monster") gets most of the attention. It has hosted U.S. Opens, PGA Championships, and more—including a Ryder Cup in 2004. But the North Course, originally a Donald Ross design like its sibling, was also put into service during the 2002 and 2016 U.S. Amateurs. Shorter and tighter than the South, with just two par fives, it's a good test in its own right—especially after the tweaking it's received over the years from Robert Trent Jones Sr., Rees Jones, and Arthur Hills.
While not nearly as famous as it's South sibling, the North course at Oakland Hills, #13 on my #TweederTop40in2021, is certainly no slouch. This Donald Ross design may have lost some original luster, but its bones are gorgeous w/ superb bunkering & fun greens. Loved the Par-4's!! pic.twitter.com/v3podEEhh4

— Bryan Tweed (@BryanTweed16) December 8, 2021
The Omni Homestead Resort (Cascades Course)—Hot Springs, Va.
At the Homestead Resort in the mountains of western Virginia, it was again William Flynn who was called on to do the design duties. Slammin' Sam Snead learned how to play golf here amidst the hilly terrain crisscrossed by mountain streams. Gorgeous views abound as you play this course, such as the panoramic one that greets players when they arrive at the 4th tee. The Cascades is a strategic course that doesn't call for driver as much as you might think when you step onto its tees. The closing hole, a picturesque par three over water with bunkers front-right and left, is a fun end to a challenging day in nature.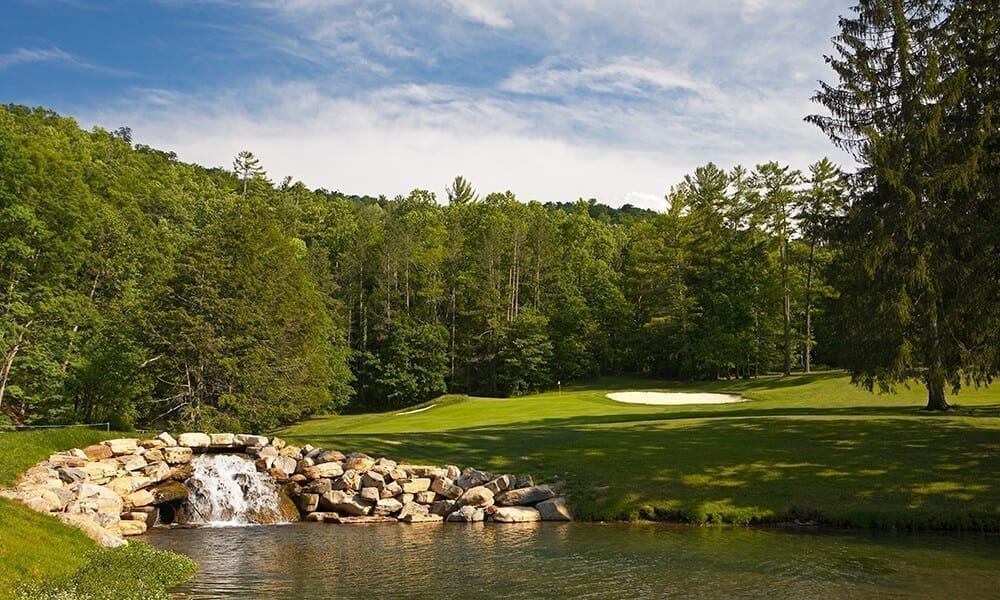 Miami Beach Golf Club (formerly Bayshore Golf Club)—Miami Beach, Fla.
Miami Beach G.C. was originally part of a Florida development called Alton Beach. The city later took over the property, and hired Arthur Hills/Steve Forrest & Assoc. to undertake a complete renovation of the course, at which point it was given its current name. Since 2011, the course has co-hosted the prestigious South Beach International Amateur. A 25-year-old Gary Player won the Sunshine Open Invitational, a PGA Tour event, at the course in 1961. He received $3,500 in winnings.
The Kittansett Club—Marion, Mass.
The word Kittansett stems from two native American words meaning "by the sea," and the club's location at the tip of Butler Point overlooking Buzzard's Bay near Cape Cod is certainly that. The vision was to create a seaside course similar to those of Great Britain and Ireland. William Flynn was again at work here on terrain that was initially mostly tall grasses dotted with glacial boulders. In 1953, the Walker Cup matches were held here, with the U.S. team defeating the team from GB&I nine to three. In the 1990s, and again in 2003, 2014, and 2019, the club's design consultant, Gil Hanse, used original drawings by Flynn to restore much of the course, an effort which included the removal of hundreds of trees and the redesign of nearly all the greens and bunkers to match Flynn's original design. It's now a much more open course, with great views of the sea, and is arguably New England's premier seaside golf experience.
Lake Merced Golf Club—Daly City, Calif.
Lake Merced was founded in 1922 by seven eager locals, and within months had signed up 150 members—such was the interest in golf at that time. The club hired a Scotsman, Willie Locke, to design the course (completed in 1923), which they wanted to be a stern test for the best players of the day. Subsequent updates from Alister MacKenzie to the bunkers and areas around the greens, with more work later from Rees Jones, Robert Muir Graves, and more recently Gil Hanse, gave us the course we have now, which features two new holes along with a Himalayas-style putting course. The San Francisco Open Match Play Championships held here featured players like Walter Hagen, Byron Nelson, Ben Hogan, and many others. Starting in 1941, the club added a women's match play event, which was won that year by Babe Zaharias. It has also been the site of USGA championships, The Northern California Junior, and for several years, an LPGA Tour event.
Timaquana Country Club—Jacksonville, Fla.
The Timaquan tribe of native Americans made their home on the banks of the St. John River, and that's where the original members of Timaquana C.C. decided to create their little slice of heaven—replate with a Donald Ross-designed golf course and plantation-style clubhouse overlooking the river. In the years since, it's continuously been tweaked and updated, and today the club's luxury amenities go far beyond its strong golf course, which has hosted many championships including the U.S. Senior Amateur. PGA Tour player David Duval learned how to play golf here under the tutelage of his father, Bobby, who served as the club pro.
Typical Donald Ross right there. #lovegolf #GolfArt #kevinmurraygolfphotography #banditgolfproductions #adventuresingolf #golfphotographer #timuquanacountryclub pic.twitter.com/nJKJaqdR7e

— Kevin Patrick Murray (@kevinmurraygolf) August 28, 2022
Warren G. Harding Memorial Golf Course (formerly Griffith Park Course No. 2)—Los Angeles, Calif.
Since 1896, Griffith Park has been a popular outdoor playground for Angelenos of all ages. It's been home to the Los Angeles Zoo, the Autry Museum of the American West, the Griffith Observatory, and the famous Hollywood sign. Located at the eastern end of the Santa Monica mountains, it's also where locals can go to play golf, including on the Harding course, which debuted in 1923 and was later renamed in honor of the popular President Harding. The course was George Thomas's first work as an unpaid amateur designer; he'd later go on to design The Riviera Country Club, Bel Air Country Club, and may other notable courses. The course isn't long and is beginner-friendly, but calls for strategy, especially off the tee. And for a muni that offers very reasonably priced tee times, its kikuyu grass playing surfaces are normally kept in commendable condition—especially given the number of rounds that are played there annually.
Other Courses Turning 100
Blowing Rock Country Club (formerly Green Park-Norwood Golf Course)—Blowing Rock, N.C.
Brae Burn Golf Club—Plymouth, Mich.
Brentwood Golf Course (formerly Jacksonville Muny)—Jacksonville, Fla.
Burning Tree Club—Bethesda, Md.
Carroll Park Golf Course—Baltimore, Md.
Carter Country Club (formerly Farnum Hill Golf & Country Club)—Lebanon, N.H.
Chippanee Golf Club—Bristol, Conn.
Cocheco Country Club—Dover, N.H.
Coral Gables Country Club (formerly Coral Gables Golf & Country Club)—Coral Gables, Fla.
Crestmont Country Club (formerly Newark Athletic Club)—West Orange, N.J.
Daytona Beach Golf Course (South Course)—Daytona Beach, Fla.
Dearborn Hills Golf Course, Dearborn—Mich.
Dubsdread Golf Course—Orlando, Fla.
Dubuque Golf & Country Club—Dubuque, Iowa
DuPont Country Club—Wilmington, Del.
Eaton Country Club, Eaton—Colo.
Edina Country Club—Edina, Minn.
Emerald Hill—Sterling, Ill.
Fircrest Golf Club—Fircrest, Wash.
Green Brook Country Club—North Caldwell, N.J.
Greenville Country Club—Greenville, N.C.
Helfrich Hills Golf Course—Evansville, Ill.
High Point Country Club (Emerywood Course)—High Point, N.C.
Hillendale Country Club—Phoenix, Ariz.
Hood River Golf & Country Club—Hood River, Ore.
Indian River Golf Club—Indian River, Mich.
Manchester Country Club—Bedford, N.H.
Millbrook Club—Greenwich, Conn.
Mill River Country Club—Stratford, Conn.
Minnewaska Golf Club—Glenwood, Minn.
Monroe Golf Club—Pittsford, N.Y.
Ojai Valley Inn—Ojai, Calif.
Owosso Country Club—Owosso, Mich.
Rackham Golf Course—Detroit, Mich.
Rose City Golf Course—Portland, Ore.
Rouge Park Golf Course—Detroit, Mich.
Saukie Golf Course—Rock Island, Ill.
Clair Golf Club—St. Clair, Mich.
Sunnehanna Country Club—Johnstown, Pa.
Tekoa Country Club—Westfield, Mass.
Timpanogos Golf Club (formerly East Bay Golf Club)—Provo, Utah
Twin Hills Golf & Country Club—Oklahoma City, Okla.
Wenatchee Golf & Country Club—East Wenatchee, Wash.
Weston Golf Club—Weston, Mass.
Willow Springs Golf Course—San Antonio, Texas
Wyandot Country Club (Formerly Elks Country Club)—Worthington, Ohio
York Golf & Tennis Club (formerly York Country Club)—York, Maine