North and South Carolina share a name, a border, even a golf hole (Farmstead Golf Links's 767-yard, par-six 18th, where you tee off in the South and putt out in the North). Many people lump the two states into one geographic region, as in "the Carolinas." Even James Taylor didn't bother to differentiate when he sang Carolina In My Mind.
Sure, it's easy to get the two states confused. Both have gorgeous coastlines, sweet tea, and citizens who say "y'all." But the states are different in a number of ways: The North has more than double the population (9.8 million to 4.7), all the pro sports teams, and a major technology sector; the South has the most charming and historic city (Charleston), better college football, and alligators.
But perhaps the biggest difference is their respective golf. The North's best courses and clubs are largely centered in the Sandhills and mountains, while the South's are found along the coast in the Lowcountry. With the Carolinas hosting two of the last seven majors—the 2012 PGA Championship at Kiawah Island and this month's U.S. Open at Pinehurst—it's time to ask: Which state has better golf?
Start by posing that question to the man who's built more top golf courses in both states than anyone—Tom Fazio. "I'm not sure one is better than the other," he says diplomatically. "The environments are so special yet so different." When pressed, Fazio admits to loving the Lowcountry look with the moss-draped oaks, the changing colors of the marsh, and the spectacular wildlife. "It's hard to beat during the ideal temperatures." But where does he make his home? In the mountains of North Carolina.
To find a winner, we need to compare the states' best golf destinations, communities, and clubs, starting with their top resorts and major championship hosts: Kiawah and Pinehurst.
Located just south of Charleston on the Atlantic, Kiawah Island Golf Resort features five courses, most notably the Ocean Course (top photo), which hosted the 1991 Ryder Cup, the fabled "War By The Shore." Pinehurst, on the other hand, has eight courses—the most of any resort in the U.S.—routed through the piney Sandhills of central North Carolina. Between the two headliners, most golfers probably would choose the Ocean Course over No. 2 (pictured below) because of the seaside views, but Pinehurst has the stronger bench. None of Kiawah's other courses, though excellent—particularly the Jack Nicklaus-designed Turtle Point, with three holes along the beach—rank highly in top-in-state lists, while three of Pinehurst's other courses do (Nos. 4, 7, and 8).
Round one goes to the North.
"I think North Carolina has more classic, traditional courses and more history," says Bob Farren, Pinehurst's longtime director of grounds and golf course maintenance. "Of course, I'm biased, but Pinehurst's origins with Donald Ross, Richard Tufts, and the USGA are pretty significant. Then there's all our tournament history, starting with the North & South Open, where Hogan first won, and Sam Snead's dominance at the Greater Greensboro Open."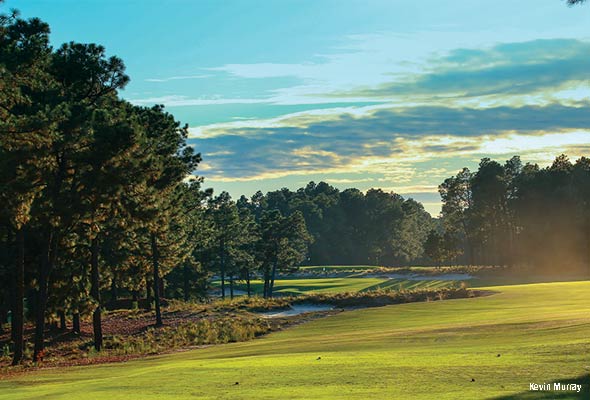 South Carolina has good golf history, too. Its oldest club, Palmetto Golf Club, dates back to 1892; the RBC Heritage at Harbour Town Golf Links on Hilton Head is nearing its 50th anniversary; and there's good evidence that the first golf played on American shores was in downtown Charleston in 1786, if not earlier: There's record of 432 balls and 96 clubs arriving in Charleston from Leith, Scotland, in 1743.
Comparing large, multi-course golf destinations, there's no equivocation: South Carolina chalks up an easy win in round two, particularly with its more tropical weather. Hilton Head Island off the state's southern coast (with 20-plus courses) and Myrtle Beach on the northern coast (100-plus courses) make for a formidable tag team. And golf in Myrtle Beach isn't just about cheap green fees: The Grand Strand boasts some of the state's finest courses, including the Dunes Golf & Beach Club, Tidewater Golf Club & Plantation, and Caledonia Golf & Fish Club.
After Pinehurst, North Carolina really doesn't have a golf mecca, which is a little odd considering the geographic possibilities and larger population. Yes, there's a cluster of good courses just over the border from Myrtle Beach, especially Tiger's Eye and Leopard's Chase, both at Ocean Ridge Plantation, as well as the incredibly scenic Rivers Edge. But they probably wouldn't exist if not for the dozens of tracks to the south.
Give the North some points for having a few very fine one-course resorts, all with captivating Donald Ross designs. A positively presidential layout (in 2010, President Obama became the 10th chief executive to visit) anchors the Omni Grove Park Inn in Asheville, while also in the Blue Ridge Mountains to the northeast is Eseeola Lodge at Linville Golf Club, a top-ranked course with small, severe greens. Four miles from Pinehurst sits a pair of highly regarded Ross courses, one on each side of the street: Pine Needles Lodge, Peggy Kirk Bell's place that has hosted three U.S. Women's Opens, and Mid Pines Inn, which was just restored to its sandy- scrub best.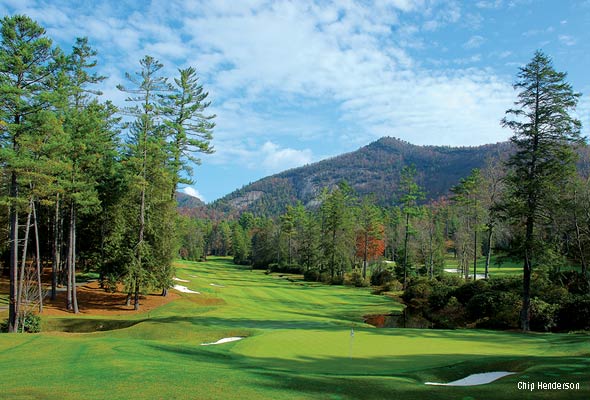 The Sandhills also has quite a few excellent stand-alone, public-access courses like the Dormie Club, a sensational Coore/ Crenshaw design that opened as a private club in 2010 and served as something of a test case for their No. 2 restoration; Tobacco Road, an original and thought-provoking Mike Strantz design; and Southern Pines, another Ross throwback gem. Not to be overlooked are all the wonderful college courses near Raleigh-Durham—Duke, N.C. State, Wake Forest, and U.N.C.
Both states have golf communities and private courses in quantity and quality. Along the I-278 corridor leading to Hilton Head are at least half-a-dozen communities, including Berkeley Hall and Belfair Plantation, each with two pristine Tom Fazio layouts, and Colleton River Plantation, which has a highly ranked combination of courses, one each from Nicklaus and Pete Dye. At nearby Palmetto Bluff, Nicklaus designed another stunner, May River, which is open to guests of the Inn at Palmetto Bluff, one of the world's top boutique hotels (about to undergo a $100 million renovation). The two best communities on Hilton Head, Long Cove and Wexford, are next to each other on the south end of the island. Just a ferry ride away is Haig Point.
There are many more top choices up the coast toward Charleston, such as the island communities of Spring, Dataw, Kiawah, and Daniel. In the western part of the state are six of the seven Cliffs Communities, where members have access to all seven courses, including the just opened Mountain Park by Gary Player and others by Tom Fazio and Nicklaus. The offerings are pretty diverse: three courses are on a lake, two are in the mountains, and two are
valley layouts.
The one Cliffs Community in North Carolina is in the mountains near Asheville, which is where you'll find many of the state's leading golf preserves, like Wade Hampton (pictured above), which has a majestic Tom Fazio design often referred to as the world's best mountain course. Other properties of note include Mountaintop Golf & Lake Club, Grandfather Golf & Country Club, and Elk River.
But, it's tough to beat South Carolina, which has so many more communities and better, year-round weather, particularly along the coast. Round three to the South.
Where the North excels is in stand-alone private clubs, driven by the state's strong eco-nomy: the textile and furniture industries in the High Point/Winston-Salem area, the Research Triangle of Raleigh-Durham, and big banking in Charlotte. Though the South has a few really good private clubs (Sage Valley near Aiken, Secession in Beaufort, and Yeamans Hall near Charleston), most of the best are real-estate plays or second clubs. The North has more traditional clubs with healthier, more active membership rolls, ones like Quail Hollow, Charlotte Country Club, and Sedgefield. Round four to the North.
And the winner is? North Carolina by a nose based on total points. While it's tough to beat the South for the number of public-access courses, the North has the overwhelming advantage of diversity and excellence, particularly in the Sandhills, which offers firm, fast conditions and allows designers more creative leeway. The South Carolina Lowcountry is rich in wetlands and wildlife, but the silty soil is truly a tough row to hoe.
Pinehurst's sandy terrain reminded Ross of the great links courses found in his native Scotland. Bobby Jones called it "the St. Andrews" of America (see cover story gatefold on page 49). You can't get any better than that. Although South Carolina comes pretty close.