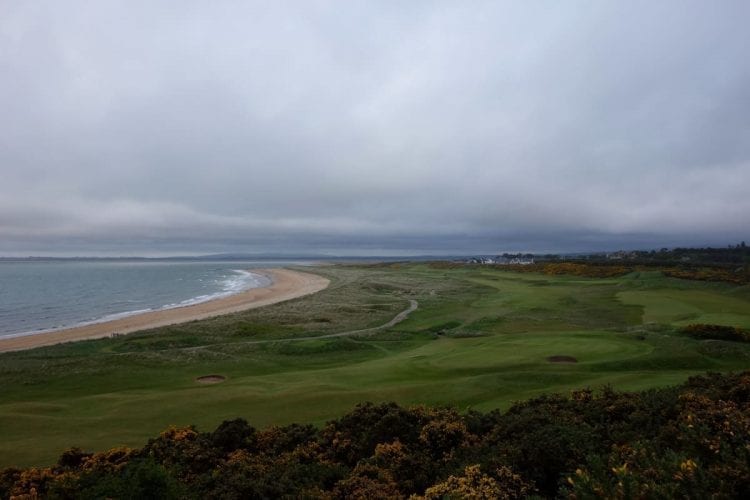 This is a series of articles about the North Coast 500, a 500-mile road trip through the Scottish Highlands. Associate Editor Graylyn Loomis is making the journey and will be posting here every day of the trip. Follow along on the website and on LINKS social media as he drives ever-further into rural Scotland! Click here to view the post from Day 1.
___________
The only stop on the North Coast 500 that I've visited before is Dornoch. It was only a two round, one-day stop, but even that was enough to make me really like the place. Now that I've been here a second time, that "like" has turned into love.
Links House Dornoch
The drive from Skibo Castle to Dornoch was a short and uneventful one and upon arrival I checked into Links House Dornoch. As mentioned in yesterday's post, it is owned by an American – Todd Warnock – who fell in love with the town in the early 2000s. Links House has now been open three years and it has quickly become one of the best places to stay in town. Being able to see Royal Dornoch's first tee from your bedroom certainly doesn't hurt its popularity.
In the last 18 months Todd also purchased the adjacent property and built a six new bedrooms that include a "penthouse" suite with views across the Dornoch Firth.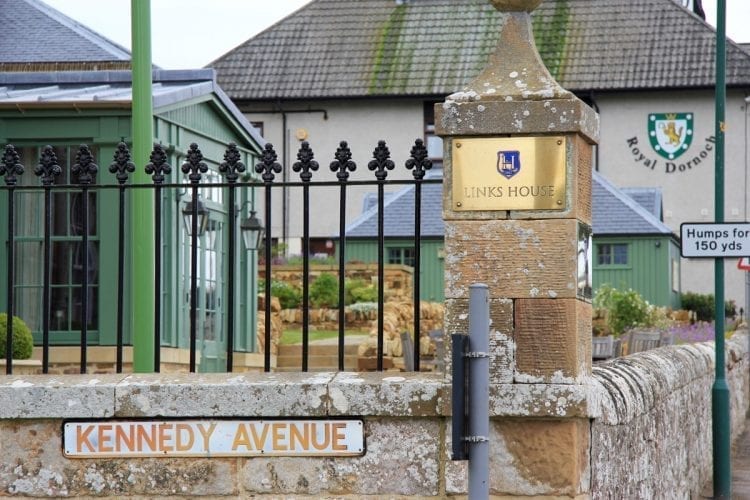 The story of how he discovered and built the property is an interesting one, but it's his attitude toward the Highlands that I most connect with. The walls of Links House are not covered with golf paintings and golf memorabilia. Instead, you'll find fly fishing rods, paintings of the Highlands, Scottish maps, and the like. All of the rooms are named after the main salmon fishing rivers in Scotland. If you ask Todd about the lack of golf, he explains that he wants to emphasize everything that the Highlands has to offer – not just golf. He hates the tour buses that bring golfers into Royal Dornoch to play 18 and then hurriedly take them back south. I commiserate.
I share Todd's passion for getting golfers to experience Scotland beyond just the courses. After all, that's the main point of this trip and sharing all of the details with you guys!
Royal Dornoch
I snuck out last night for a twilight round on Royal Dornoch's Championship Course. I teed off at 7PM and at that time of night, Dornoch has to be one of the most peaceful places on earth. It's a perfect place for golf, but also for some peaceful reflection on life.
When I woke up early this morning for my 7:20AM tee time, the rain had arrived. I teed off with a local member and it rained for all 18 holes. With my set of Galvin Greens on my back I couldn't have been any happier (or drier). The course is in terrific shape and because of a dry May and wet early June, you get the firm and fast conditions with the rich green color of spring.
Look out for more about the course in my feature in the fall issue of LINKS.
Dornoch the Town
I'm all for staying in a clubhouse after the round for a few pints, but if you're in Dornoch, make time to walk around the town as well! There are charming shops everywhere and tons of interesting history.
A new addition since my last visit (and where I'm typing as we speak) is the Carnegie Courthouse. It's a building that you have to pass to get to Royal Dornoch, and it sat empty for years before it was turned into a visitor center, tea room, and whisky-tasting shop. I can attest that it's a perfect spot for lunch and it's another place to soak in the history of Dornoch. Above the deli bar is a large mural painted to show what the courtroom would have looked like when it was in use. The patrons in the mural are important Dornoch/Scottish/historical figures and the keen-eyed golfers among you will spots Old Tom Morris and Donald Ross among others. I didn't realize it until looking at the key for the mural, but Todd Warnock and his wife are the proprietors and you'll find them in the mural as well.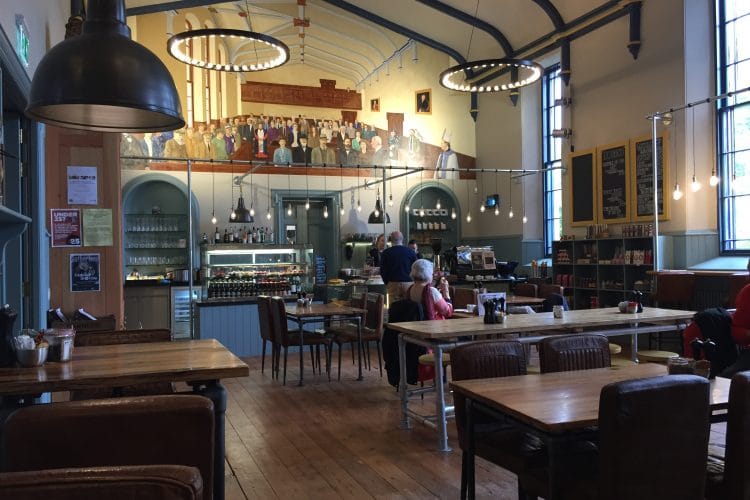 I also spent some time this afternoon at the Dornoch Castle Hotel and Dornoch Distillery. They are owned by the same people and they are offering yet another reason to spend time in Dornoch. The hotel has one of the best whisky bars in the world, so it's fitting that they are distilling small batches of gin and whisky out back!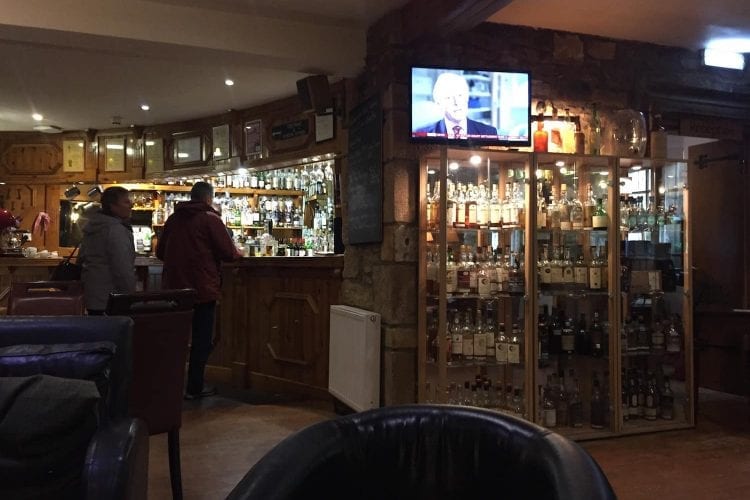 They launched the distillery through a crowdfunding campaign and the recipe for their gin botanicals was actually chosen through the feedback gathered from many of those supporters. As for the hotel, its history dates back to the 16th century. Each room is different, there is beautiful stonework everywhere, and they specialize in offering groups bespoke stays in Dornoch. Even if you're not a whisky drinker it is worth visiting for lunch and a picture of their collection. I was about to drive to Brora so couldn't partake too much, but I had a dram of 43-year-old single malt from Invergordon that had the signature Highland smoothness.
My drive today was a short 30 minutes to Brora. It was raining sideways most of the way, but I did manage to get a picture or two from viewpoint along the way. Tomorrow I will play Brora and Golspie. Keep following along and leave me a comment below with any thoughts!