Tom Doak's design firm is called Renaissance Golf Design and it not only describes his thought-provoking, minimalist designs with their rugged beauty, but it also describes the man himself. He's a real iconoclast whose course reviews are must reads for any architecture aficionado. (See his unvarnished critiques in The Confidential Guide to Golf Courses, the cult classic that he recently turned into a five-volume set.)
His designs spring from having seen and studied nearly every great course in the world—more than 1,000 in all. His top courses, like Pacific Dunes, Cape Kidnappers, and Streamsong Blue, rival anything his idols, Alister MacKenzie and Pete Dye, have created. But many are saying his most recent course to open, Tara Iti on the North Island of New Zealand, is his best one yet. It's a true links course, although Doak had to remove about 175 acres of trees to make it so. The sand dunes had been planted with a commercial pine forest many years ago and was so thick with trees that rumor has it that Doak had to use a flashlight to walk the property.
"Let's just say it's a good thing I can read a topo map, or I might not have gotten out of there," he says. "After clearing the trees, we planted 70 acres of fescue, a first for New Zealand. We were there in February and I have to say it was the best playing surface I've ever played on."
His other course to open recently is The Loop at Forest Dunes Golf Club in his home state of Michigan, the first course in America built to be played forward and backward. "The main reaction so far is that the courses are SO different that most people can't believe they're on the same ground and have a hard time remembering how a certain green played in the other direction the day before. It's off the charts in variety and it also has a very bouncy, linksy playing surface. So far there is a bit of preference for one routing over the other—and interestingly, backwards of the way I thought it would come out."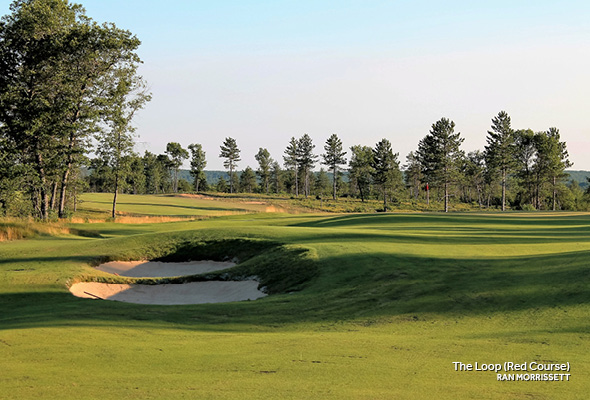 Although Doak didn't work on it, his associates at Renaissance Golf, Eric Iverson, Don Placek, and Brian Schneider (with a little help from Brian Slawnik), just completed another course in Michigan, Stoatin Brae, at Gull Lake View Golf Club & Resort near Kalamazoo that is set to open later this summer. "I really like the looks of the course," says Doak. "It sits up on a plateau, a former orchard site that was cleared of trees a few years ago, so it's very open, with long views off both sides. The green contouring is really good, with some greens in bowls and others crowned off to the sides, but nothing excessive."
Doak's attention is now focused on building a course for a new resort and real estate development called Tropicalia on the north shore of the Dominican Republic about an hour west of Punta Cana. "The course is a mile away from the beach, up in the hills, which is very different than anything else in the D.R. It will be a core golf course, with very little development around it, on nice undulating land with two streams cutting across it, and a number of big trees. I think it'll be the sort of course you want to play every day."
He's also working on his first par-three courses, one at Ballyneal, a private course in Colorado he designed, and another at Bandon Dunes, which will be the second one there after Coore & Crenshaw's. "I've talked to a bunch of people who said Bandon Preserve was their favorite course at the resort, because it's so informal, you can play in bigger groups, and it's so compact and easy to walk. Mike [Keiser, the owner] is finding that he needs more and more things to do for the growing number of golfers who don't feel up to playing 36 holes a day, and the Preserve, like the Punchbowl [the putting course], has been a good middle ground. The trick is finding the right balance between fun and difficulty. If we built 10 par threes as hard as the par three holes at Pacific Dunes, I think most people would find that too much."
He will also be spending some time in Los Angeles over the coming months remodeling Bel-Air Country Club, the celebrity enclave above UCLA. "We are still in the process of presenting our ideas to the membership, but my initial approach to everything there is to ask why we can't put it back to the way George Thomas built it. I've always been amazed at the audacity of that routing through the canyons, and the variety of spaces you play through. We'd like to open up the course so you can see more of it at once, and take out some of the bunkering which has nearly doubled over the years. Those great bunkers that Thomas built were sculptural elements meant to be appreciated on their own, not part of a pattern with three others!"
Whoever the client is, one thing's for sure, they won't get a cookie-cutter course from Doak. "Some architects repeat themselves often. Their clients say they liked Course X, can you build me one just like it? It's easy to say yes and just keep doing the same thing over and over. It's much harder to say that this site is different, and I'm not certain just what your course should look like, until we get working on it. But that's what makes the work so interesting—not knowing quite where you are going, and trusting the course to reveal itself as you go. I'd rather quit than keep building the same course over again, but I haven't run out of ideas so far."
_______________
Which of these courses do you want to play the most? Let us know in the comments below.