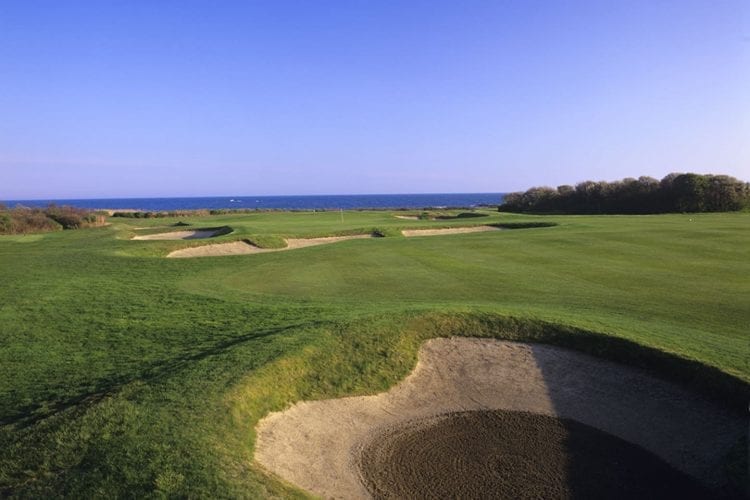 No American city has a better golf pedigree than Newport. The first U.S. Open and Amateur were played at Newport Country Club, one of the five founding clubs of the U.S. Golf Association. But the town is better known for sailing—it hosted the America's Cup from 1930 to 1983—and as the summer playground of the Vanderbilts, Astors and their ilk. Fall is a perfect time to visit. The crowds are gone and the sailing, not to mention the golf, are ideal.
GOLF
If you can't get on Newport C.C., Newport National Golf Club is aworthy alternative. The Arthur Hills design uses deep, grass-faced bunkers and firm aprons to create a challenge. Head west to
Exeter Country Club, a Geoffrey Cornish parkland course, and Fenner Hill Golf Club, a layout that demands precise irons. Thirty-five miles up Narragansett Bay in Providence is Triggs Memorial Golf Course, a restored 1932 Donald Ross muni.
ACCOMMODATIONS
Castle Hill Inn & Resort offers a restored mansion and beachside cabanas to go with spectacular sunset views. The Hotel Viking is a Roaring '20s landmark that recently underwent a $7 million renovation. The Chanler at Cliff Walk is true to its name, sitting above the crashing surf. Or stay at an historic inn, such as the Francis Malbone House.
DINING
Castle Hill and Chanler offer formal dining that takes advantage of local, seasonal ingredients. 22 Bowen's Wine Bar & Grille is a first-rate steakhouse. The Red Parrot offers a Caribbean flavor. For the best burgers, locals head to the Caddy Shack at the Jamestown nine-holer just across the bridge from Newport.
ACTIVITIES
Walking is de rigueur in Newport. Stroll and shop along narrow colonial thoroughfares like Thames Street and waterfront facilities like Bowen's Wharf. For a trek that's both more scenic and strenuous, take the 3.5-mile Cliff Walk, with the rocky coast on one side and Newport's famed Mansions on the other. You can also visit the International Tennis Hall of Fame or sail out with 12 Meter Charters on an America's Cup boat.