Here's what we know about Augusta National's ambitious 13th tee: pretty much everything—minus one elusive detail
Not long ago, players would turn up Masters week and get asked about course changes. Some reported phantom revisions, insisting the club had tweaked and tugged away at the design when no such thing occurred. The Lords of Augusta must have chuckled quietly over their peach cobbler and brandy.
But such myth-building is now rare heading into tournament week. The club welcomes invited players to make early scouting trips and members no longer fear the Chairman's wrath for merely explaining course updates as any good host would do. Also, local reporters monitor discreet land purchases and permit applications filed under the club's innocuous sounding LLCs. Most dramatic of all—and likely to the chagrin of the dead-and-gone Lords looking down from Big Augusta in The Sky—a local flight school operator regularly posts aerial-image updates to social media.
This explains how we know there have been more expensive Augusta National projects than the new 13th tee installed last summer, but none with quite the ramifications as this change to Amen Corner.
In recent years, the club has bought dozens of homes west of the course and helped to fund the shift of a centuries-old road just to reposition the 5th tee by 50 or so yards. Augusta National has spent $41 million to buy shopping centers across Washington Road to move tournament infrastructure, and spent windfalls from Masters-themed garden gnomes and bucket caps to create a jaw-dropping tunnel system. But nothing compares to the scalpel taken to the most beloved patient of all after Chairman Fred Ridley agreed to opening up Amen Corner's curtain of flora in a bid to restore risk-taking at the world's most famous par five.
While gaining 35 yards and re-introducing the do-or-die decision was the project's centerpiece, there were other benefits to justify the millions invested. The club added a new service road to cut down on vehicles driving through the property during tournament and everyday play. Furthermore, by acquiring some two acres of Augusta Country Club for a reported $27 million, the Lords of Augusta created enough buffer to ensure the occasional country clubber's ball won't come flying onto the 12th green while Tiger Woods is playing the Masters. Yes, that happened.
Ridley could have punted on this big-ticket project, hoping that the USGA and R&A would make a meaningful dent in the unfathomable launch angles that allow the longest players to drive over the 13th's towering pines. But the multi-year process to reach 2023's unveiling began in earnest by paying for and dictating a redesign of Augusta Country Club's 8th and 9th holes. With 2020's first phase of work came a large stone border wall, lighting, security cameras, and plenty of tree planting. This was followed by a service road wrapping around Amen Corner and connecting to the eastern property edge via a new bridge.
The aerial photography showed how an obvious location was created for an extended 13th tee. But in the meantime, Augusta National unveiled a new 5th tee after years of preparing for that massive project. And prior to the 2022 Masters, a repositioned 11th tee was pushed farther back than 2002's renovation. Also, the Hootie Johnson era tree-planting mistake was reduced to just three remaining pines down the right side, opening up patron views and eliminating buzz-killing wedge-outs. For all of the attention given to those significant projects, Ridley still faced more questions about the 13th's start date. The widespread curiosity spoke to the significance of how much the reachable par five had changed and whether thrilling risk-taking might return.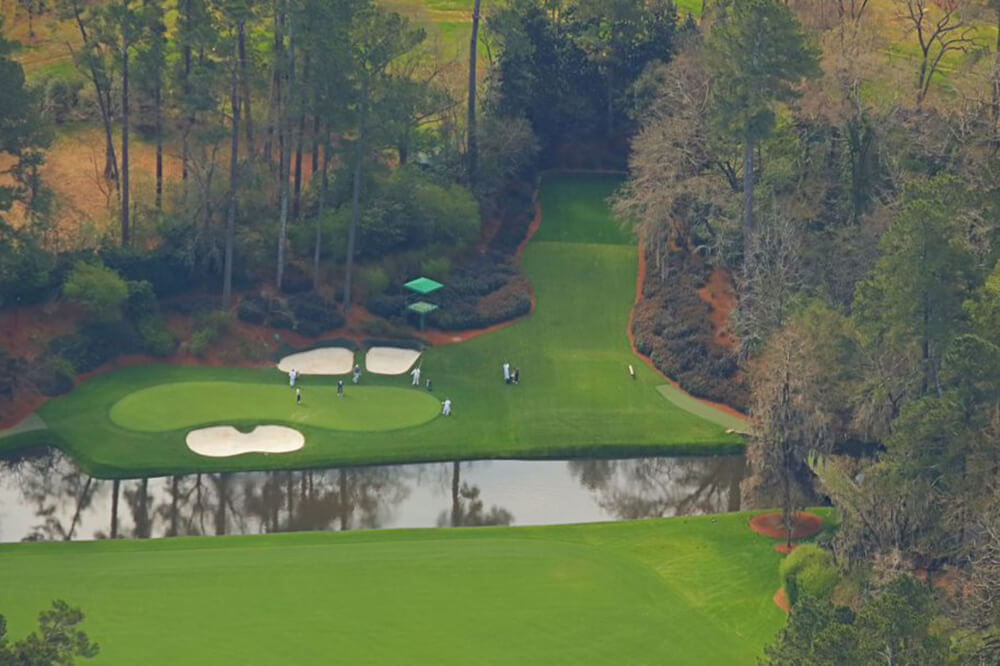 Recent auction purchases speak to just how much the dynamics of Amen Corner have become a national trust worthy of landmark status and eye-popping cash outlays for ephemera. Items found in MacKenzie associate Wendell Miller's collection—and since auctioned—included a 13th hole drawing created for a 1932 annual, with the obvious intent of hyping memberships at the height of the depression. And while the rendering looks more like a surveyor's attempt at MacKenzie's style than the architect's handiwork, the auctioned piece featured the Good Doctor's handwritten remarks about the future 12th and 13th holes. This helped it sell for a tidy $48,883. A few months later, an image of Bobby Jones testing out the future Amen Corner as Miller, MacKenzie, Clifford Roberts, and Colonel Bob Jones (Bobby's father) looked on went for $22,131.
The beloved hole started life as the 4th before Augusta National's nines were switched. The architects reported only mildly softening of the landing area slope that remains far more severe than television implies. The original putting surface was going to be bunkerless until MacKenzie ultimately slipped in some "scab" bunkers amid the azaleas. Much larger white faces of sand now frame a green that long ago lost a dynamic front hole location from MacKenzie's original. After a few years of play, a portion of the now cumbersomely branded "tributary of Rae's Creek" was filled in by Roberts for member play. In more recent years, the club has softened a rear drainage swale created by Jack Nicklaus in the early '80s and, prior to the 2022 Masters, rebuilt the green to ensure that key pin placements remained playable under Stimpmeter speeds pushing 14.
Otherwise, the 13th is the par five its architects imagined except for the loss of watching players agonizingly fret about going for the green, followed by the exhale of seeing long shots land safely on dry land. Pain and suffering experienced by pre-1990s Masters participants surfaced only when they underestimated wind, picked the wrong club, mismanaged the severe fairway stance, or dared to thread one through pines from those fluffy beds of straw seemingly designed to compensate for the demise of drama. Phil Mickelson and Jordan Spieth delivered two of the more memorable shots from the pine straw, but not since Nick Faldo fretted for several minutes in 1996 has a tough decision added to the back-nine fun. And even then, Faldo's conundrum was prompted more by his angst with the lie and what club to use, not whether he would go for the green.
Based on his late-in-life writings, Jones would have been horrified by this state of affairs. But credit Ridley, the only outstanding golfer to serve as Chairman, with understanding what's at stake. He's the first since Roberts to even utter MacKenzie's name and has made it his mission to restore key design details. The former U.S. Amateur champion-turned-lawyer has studied Jones's Golf Is My Game, in which the co-architect and club co-founder summarized the evolution of each hole. Two words from this description have been seized upon and will be wheeled out to critics belittling the sight of more players laying up on the now 545-yard hole.
"The player is first tempted to dare the creek on his tee shot by playing in close to the corner," Jones wrote before delivering this kicker. "Whatever the position may be reached with the tee shot, the second shot as well entails a momentous decision [emphasis added] whether or not to try for the green."
Jones also summed up why the 13th became such a focal point.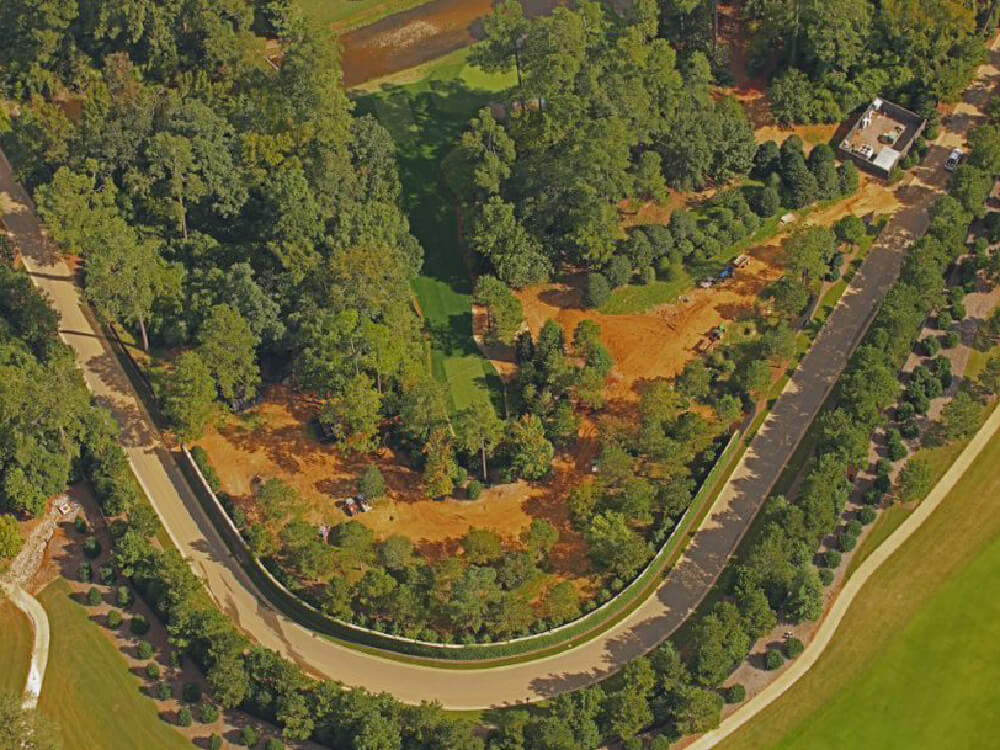 "Several tournaments have been obviously won and lost on holes twelve and thirteen," he wrote. "Others, upon careful analysis, will be seen to have been won or lost here, even though the decision may not have been obvious at the time."
Jones lamented the idea of adding tees to courses at great expense. So it's not difficult to imagine what he would say to the governing bodies for having put the club in a position where such a costly expansion became necessary to restore the most captivating element of Augusta National. Nor could he or his privacy-loving co-founder Roberts have imagined that millions around the globe would already know how the project unfolded, all thanks to flight school and aerial-imaging specialist David Dobbins. The founder of Eureka Earth regularly flies over the course with his camera after taking off from nearby Daniel Field. It was Dobbins who documented multiple summertime projects, including July 2022 photos showing the first stages of the 13th-tee project. He even flies high above during Masters week to capture surreal tournament scenes.
Thanks to Dobbins, we know some older pines were carefully boxed and moved while a few met their maker. During one flyover, he captured images of the installation of a hydronics heating and cooling system under the new tee area. Crews were seen constructing a stone wall to set the tee into a rise, mirroring the look of 2002's 510-yard tee extension. Eureka Earth's 10,600 followers also witnessed the installation of a massive drain line underneath the 13th fairway last summer, and have since seen the finished work open for play as if nothing happened.
Early 13th-tee reviews trickled in at the end of last year with warnings that the fall conditions made for different dynamics than springtime's warmth. Players like Kevin Kisner and Tony Finau have predicted more lay-ups but less difference than expected, perhaps thanks to the new tee's slight increase in elevation.
For a secretive project where so much is already known, veteran Masters watchers know the biggest unanswered question will not come until the late afternoon hours of April 9th. That's when the leaders will make the turn for Sunday's final nine and we'll finally find out if the "momentous decision" has made its triumphant return to Augusta National.
Thank you for supporting our journalism. If you prefer to read in print, you can also find this article in the Spring 2023 issue of LINKS Magazine. Click here for more information.