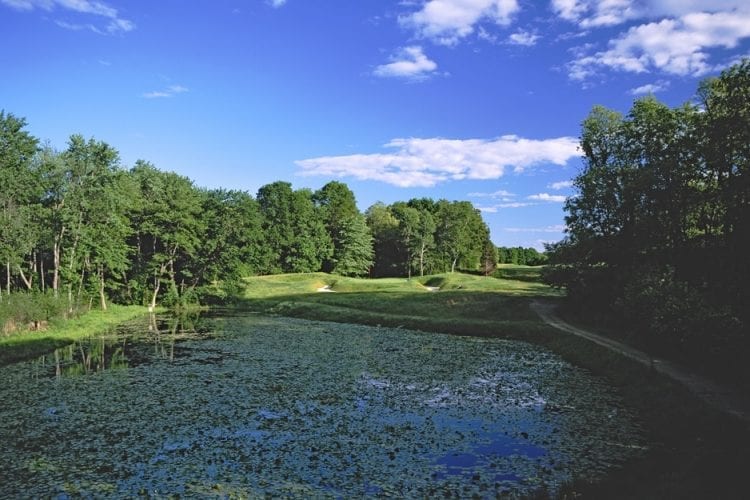 Myopia Hunt Club wastes no time displaying its distinct and venerable virtues. A long entryway carries the visitor past Gidney Field, the oldest polo grounds in America, then alongside a private stable and kennel before reaching the front of the club's elegant, yellow-clapboard clubhouse.
There is room to breathe on this property less than 20 miles north of Boston, and the course features you initially glimpse seem like exhibits in a museum of early-American course architecture. Given the vintage look and feel of the buildings, it would not be surprising to spot Herbert C. "Papa" Leeds rocking on the creaky front porch, cigar and scotch in hand, discussing a golf game with his cronies—a vision from the days when the club hosted four of the first 14 U.S. Opens.
When Myopia was established in 1875, there wasn't a single organized golf club in America. Its 30 founding members had staked out enough land in South Hamilton, Massachusetts, to pursue their equestrian pleasures. But in 1894, after seeing golf at The Country Club in nearby Brookline, Myopia leaders appointed a golf committee. R.M. Appleton laid out nine holes; the first tournament was held June 18, 1894, and Leeds, a former baseball player at Harvard, was the winner.
Leeds went on to the rudimentary nine holes at Myopia, then added nine more, and by the turn of the century his control over the golf program was complete.
It is fitting that a Harvard baseball player would do so much to nurture golf at the club, given its name, taken from a barnstorming baseball team organized by another former Harvard player, W.D. Sanborn. The squad called themselves the Myopia Club because five of the players wore glasses.The 6,335-yard layout Leeds devised included four-foot-tall mounds, dozens of seemingly bottomless bunkers, lightning-fast putting surfaces, blind shots, substantial carries, deep declivities, gnarly rough, plateaued greens, and a pond and paddock to avoid. Not one of the 30 pros in the 1901 Open broke 80, and Willie Anderson's victorious four-day total of 331 still stands as the highest winning score ever. Leeds was pleased.
Leeds—no less an autocrat than H.C. Fownes, his contemporary at Oakmont—would rule Myopia for more than 30 years. When he died in September 1930, the club's golf culture eroded. By the time the Depression and World War II had passed, golf had nearly fallen off the charts in South Hamilton, not to resume its central place at Myopia for decades.
When Bill Safrin was hired as head professional in 1980, he found that only 4,500 rounds had been recorded in 1979. Safrin jump-started the golf program. As participation increased, the members took a renewed pride in their classic golf course.
There is absolutely nothing formulaic about Myopia Hunt's design, no cookie-cutter holes or textbook routings. The first hole is a short uphill climb to a blind green, the second a 487-yard downhill par 5 with a generous fairway. Par 4s range from 260 to 446 yards, and there's not a single hole that reaches 500 yards.
It is an immensely enjoyable layout, rife with singular holes that you will find nowhere else in America, weaving past ancient stone walls, crossing open meadows and concluding at sequestered greens. At 6,539 yards the course is not the stout challenge it once was, but play it with hickory clubs as Leeds and his pals did and you'll have all the mustard you can handle.
Today Myopia Hunt Club has some 370 members, about 200 of them regular golfers. The people who basically saved the club in the 1980s are the senior members who hold offices and direct Myopia's progress today, so the future is in good hands.
The club still honors its patriarch as well. "We bring back his memory with our Herbert Corey Leeds Senior Four-Ball," Safrin says. "And that brings the attention to Leeds and what he was like. We tell the stories."
There are plenty to tell, each one contributing to a legacy that is bound firmly to American golf history and unique to Myopia.
Par: 72
Yardage: 6,539
Year founded: 1894
Architect: Herbert C. Leeds