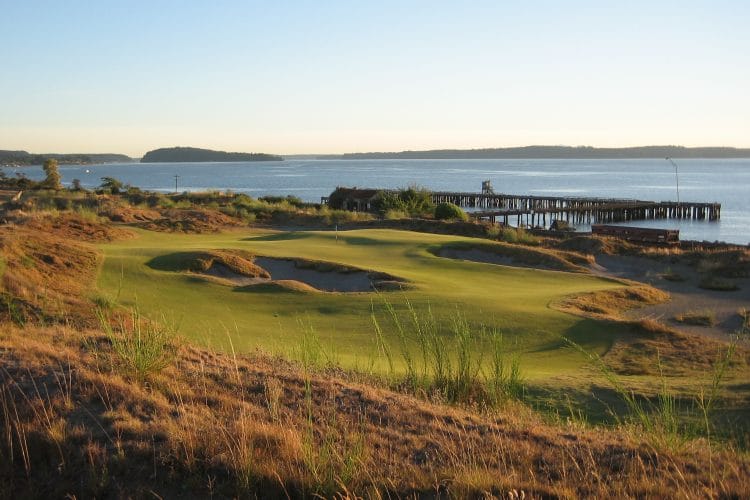 My spiritual guide for Chambers Bay was Pine Valley, where I've been a member since I was 18 (I'm now 74). The idea of using contoured tees, for instance, came from Pine Valley's Short Course, where there are no flat tees because the club wanted to replicate approach shots from the main course. Good course design is about introducing options, and shaping a tee to create different lies allows for a variety of shots. Plus, if you can get players second-guessing their decisions, you're into their backswings.
There's no water on the course at Chambers, but the 15th is a beautiful hole with water in the background. It was inspired by the 14th hole at Pine Valley, a lovely downhill par three across a lake to a green surrounded by sand. The 15th usually plays between 100 and 165 yards but USGA Executive Director Mike Davis added a new back tee at around 225. I'm not particularly comfortable with it because the green isn't set to receive a shot coming in high and fast. The hard, fescue surface, which is about a 50-foot drop from the U.S. Open tee, is set up for a short iron.
Here's the story on the Lone Fir: When I did a site visit with Davis and John Ladenburg, the Pierce County executive responsible for transforming Chambers from a quarry into a course, Mike said, "Bob, for a true links, you can't have any trees. That tree should go, don't you think?" To which John replied, "There's a lot of things I can do in this county as chief executive, but they would probably fire me if I remove that tree. This is the Pacific Northwest. We're known for our trees and this is the only one left." The tree is iconic because it's etched against Puget Sound.
That's the aesthetic. In terms of the shotmaking, there are two fingers of turf to the front-right of the green that flow down into sandy waste, so the safe shot is to the back-left. Even if you tug it a bit you'll get a favorable kick from some shouldering hummocks; but a dead pull or hook may find a pot bunker. The green, which is about 60 feet deep and 80 feet wide, is not heavily undulated, but it has a constant gentle slope.
The 15th is a definite birdie hole but don't take it for granted because you can walk off with a bogey—or worse—just as easily