Being asked to name your favorite 18 holes in America is something of a dream assignment for any golfer. Until, that is, you begin to second-guess yourself, at which point you soon realize this is going to take way longer and induce a lot more anxiety than you'd originally anticipated.
A lot of golfers could come up with a very credible 18 (each hole on the list must correspond to its actual number on the course) of public holes in no time at all. But the list's shortcomings quickly become apparent—too many holes of the same par or distance; too many from a specific location; too many by the same architect; too many common features, etc. So, you try and create a little variety while always remaining focused on the initial objective—to name your favorite holes in America.
Here's my front nine.
1st: Streamsong Resort (Blue), Par Four, 338 yards—Bowling Green, Fla.
The 80-foot sandhill from which Tom Doak's Blue course sets off may give you a wonderful view of the rolling, sandy terrain that Streamsong is known for, but it may not be entirely clear at first what's required of your opening tee shot. You look off somewhere into the distance but, in fact, the green is much closer than you think and really a safe hybrid/long-iron to the fat of the fairway is all you need. By all means take a driver and go directly at the pin but, given you might not be firing on all cylinders just yet and there's plenty of nasty ground to cover, it's probably not the prudent play. The 90-yard approach from the fairway rises gently and there are some slopes to negotiate but pay close attention to your caddie's instructions and you should be fine.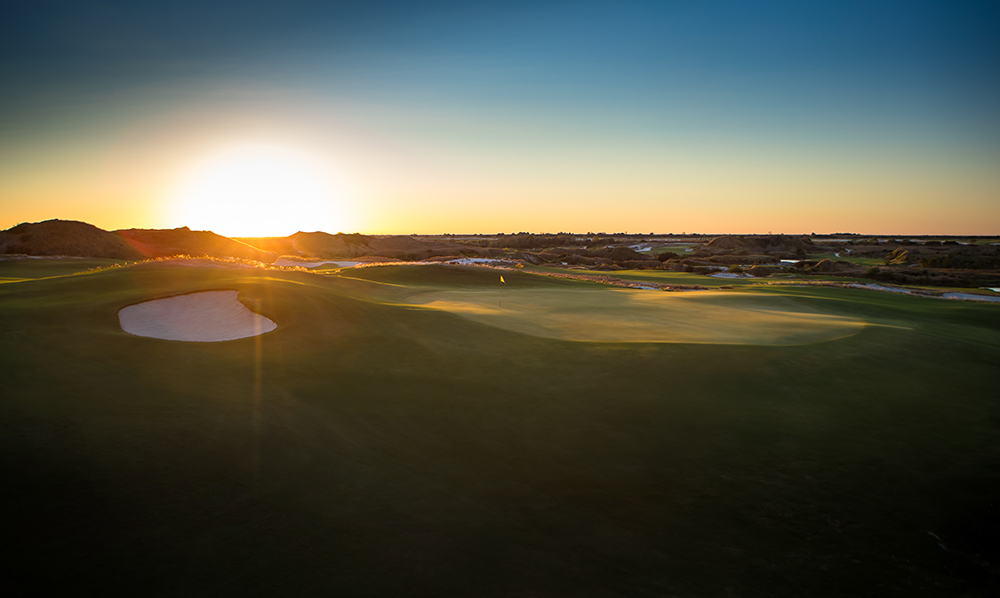 2nd: Talking Stick Resort (O'odham), Par Five, 552 yards—Scottsdale, Ariz.
Play this hole once and it might not appear terribly interesting, a little dreary even. Play it a few times however, and you realize just how clever it is. The fairway isn't quite 1st/18th at St. Andrews-generous, but it is likewise extremely accommodating, and the strategy of the two holes isn't dissimilar. At the Old Course's home hole, you can avoid having to deal with the complexities of the Valley of Sin by going right off the tee. In doing so, though, you risk crossing the fence and spilling on to The Links which is out of bounds. At Talking Stick, the OB all up the left side is your primary concern—risk going close with your tee shot to make the approach shots considerably easier/safer or reject the menacing white line by aiming well to the right and leaving a dicey second or third where you'll be heading directly towards the danger zone with a green sloping toward it. Bill Coore, the hole's designer (along with partner Ben Crenshaw) refers to the strategy here as, "pay me now or pay me later," meaning the OB will have to figure in your thinking at some point.
3rd: Bandon Trails, Par Five, 549 yards—Bandon, Ore.
It's usual for golfers to feel a flicker of energy when driving past any golf course. Sometimes, though, a specific hole will make you stop, gawk for a moment, look at your watch/phone, and weigh up the possibility of stopping, getting out, and removing your clubs from the trunk while no one's looking. I remember well driving down the access road at Bandon Dunes Golf Resort, seeing the 3rd hole on Bandon Trails under construction, and slamming on the breaks. When you actually come to play it, you're still a little mesmerized by the greatness of the first two holes, but then you have to commit to a line. Depending on which tee you're playing, you're unlikely to reach the first centerline bunker and, more often than not, that's a good aimpoint. To be honest, there's no great advantage to be had from going to one side or the other. From there you can certainly go for the green if you're feeling it and have a little tailwind, but most will likely play to the right of the next fairway bunker and then wedge on. Be careful though, the green isn't the deepest and falls off abruptly at the back.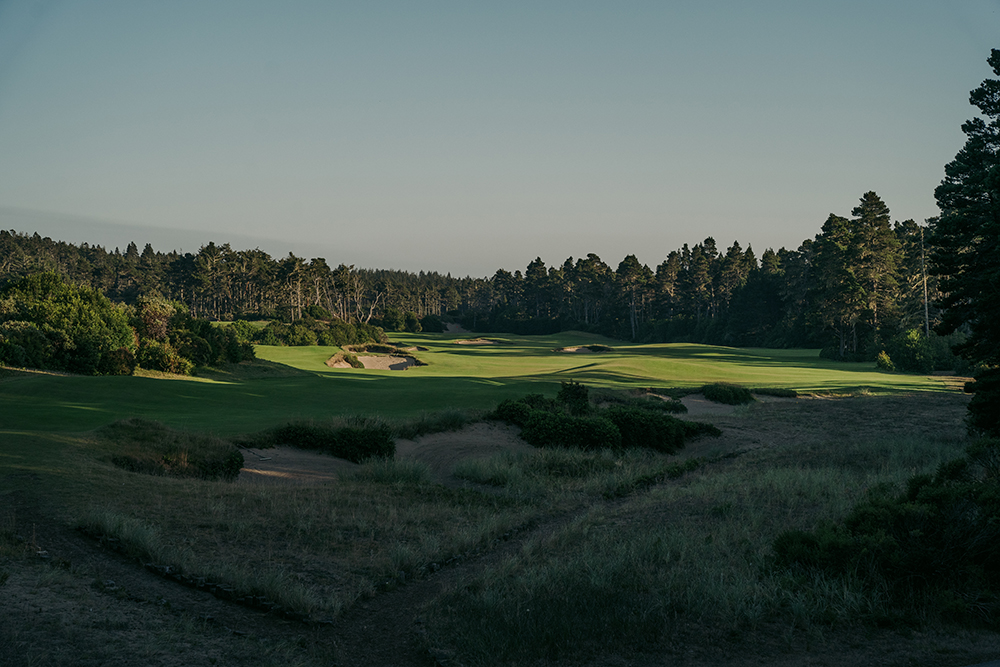 4th: Pacific Dunes, Par Four, 463 yards—Bandon, Ore.
You'll remember the part in the intro about not wanting to include holes from the same region, especially in a country the size of the USA. Well, we're moving a good mile to the north for our next entry. There was also something about not choosing holes by the same designer, but here we are at our second by Tom Doak. Really though, what are you going to do? The 4th sits on cliffs with the Pacific to the right and is surely one of the world's most beautiful holes. You, like me, will be eager to aim well away from the edge, but you'll be heading towards a group of bunkers about 250 yards from the tee, and the subsequent shot is made easier if you approach from the right as the green slopes toward the ocean. Long par fours rarely feature in the "favorite holes" conversation, but they don't all look like the 4th at Pacific Dunes.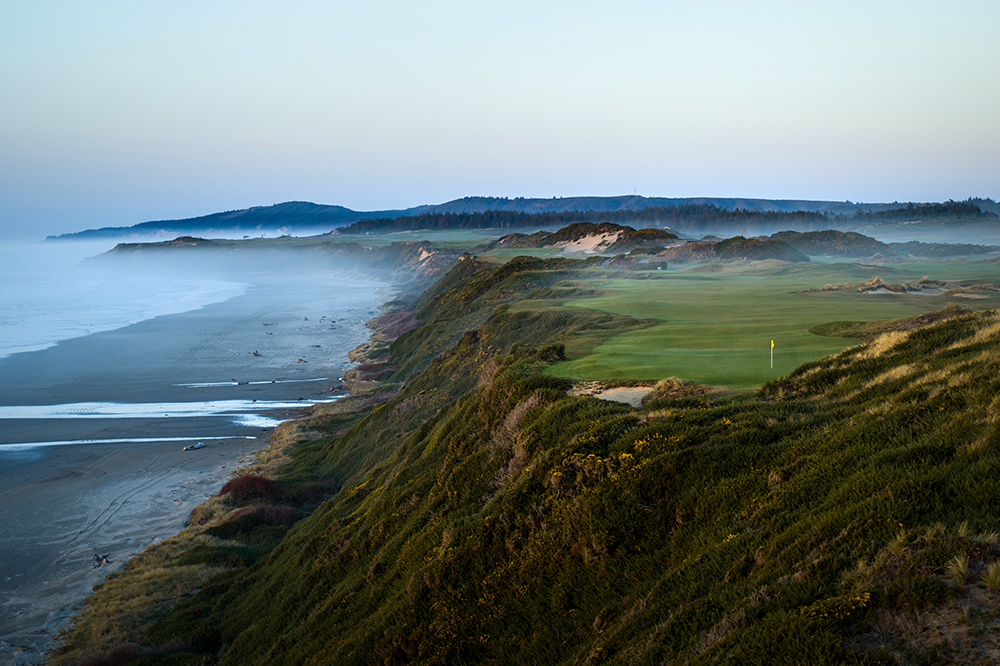 5th: Gamble Sands (Sands), Par Four, 501 yards—Brewster, Wash.
You'll forgive a third entry in a row from the Pacific Northwest, but we have at least moved away from the coast. The short, downhill par-four 2nd which looks down on the Columbia River was, perhaps, a more likely choice from David McLay Kidd's high-desert masterpiece in central Washington and, while it's certainly a brilliant hole, the 5th just edges it for me. We may be heading away from the river, so the views might not be quite so spectacular, but the hole itself is an extraordinary combination of beauty and strategy. Keep your drive as far left as possible to leave a level-ish approach with a good sight of the pin. A fade off the tee will inevitably scamper down to the low part of the fairway from where you'll have no sight of the pin and need to clear a huge, yawning bunker.
6th: Lawsonia Links, Par Four, 439 yards—Green Lake, Wis.
Those playing their first William Langford and Theodore Moreau design will have fallen for the designers' deep, distinctive bunkers and unconventional, steam shovel-formed features by the time they reach the downhill par-four 6th, but here they'll enjoy an extra dose of distortion and irregularity. The 30-yard-long, steeply faced fairway bunker cutting in from the right 200 yards from the tee looks monstrous and somewhat intimidating, but you should be able to clear it without too much bother. When you do, though, you'll face a demanding second to a tiered, contoured green that rises quite steeply above the fairway.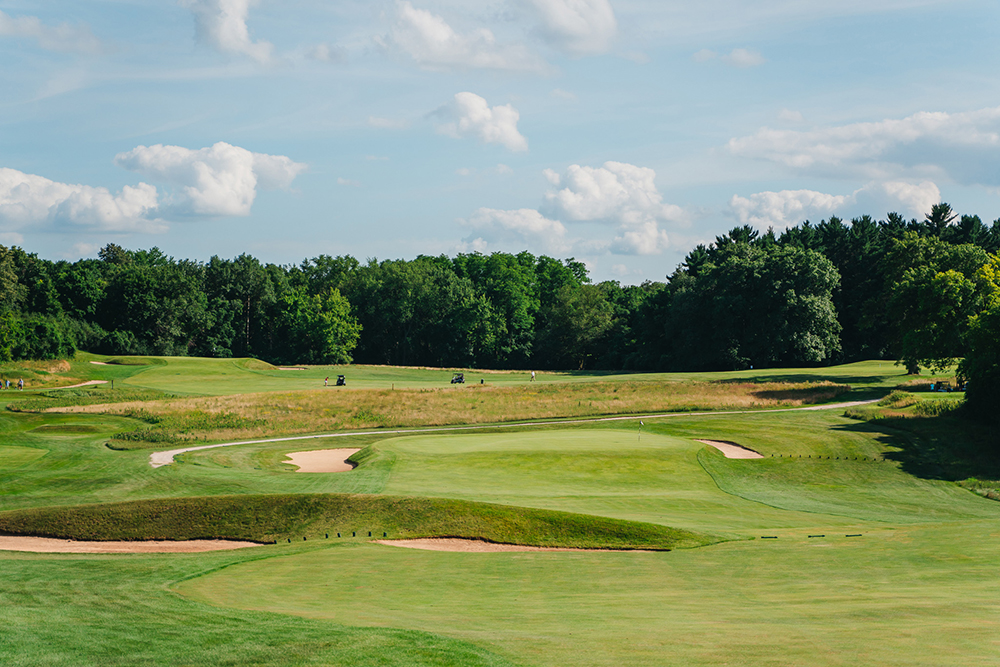 7th: Princeville Makai Golf Club, Par Three, 213 yards—Princeville, Hawaii
You'll already have played an impossibly beautiful par three at the 3rd, but when you arrive at the coastline and see this long one-shotter crossing an ocean inlet with the green perched high above the water and densely vegetated cliff, your heart will most likely skip a beat. Robert Trent Jones Jr.'s Makai course at Kauai's Princeville Resort opened in 1971, 38 years before Jones returned for a redesign, when his original 27 holes became 18. Thankfully, the 7th on what was the Ocean Nine was retained. And I picked this hole over the sublime 7th at Pebble Beach because…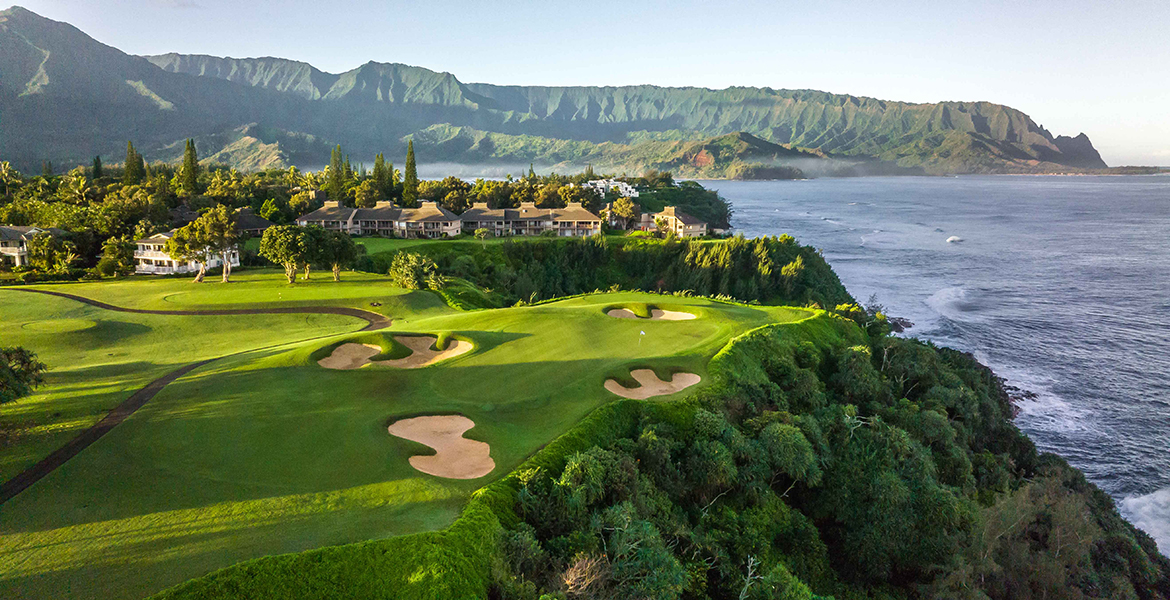 8th: Pebble Beach Golf Links, Par Four, 416 yards—Pebble Beach, Calif.
Jack Neville and Douglas Grant were the original designers of Pebble Beach which opened in 1919, but Alister MacKenzie made changes to the 8th and 13th greens in 1926 ahead of the 1929 U.S. Amateur, and the 8th was modified again in 2022 when the tiny, 2,700-sqaure-foot putting surface became 15 percent larger. At 3,100-sqaure-feet, though, the green is still an elusive target for the glorious approach shot across the cliffs overlooking Carmel Bay.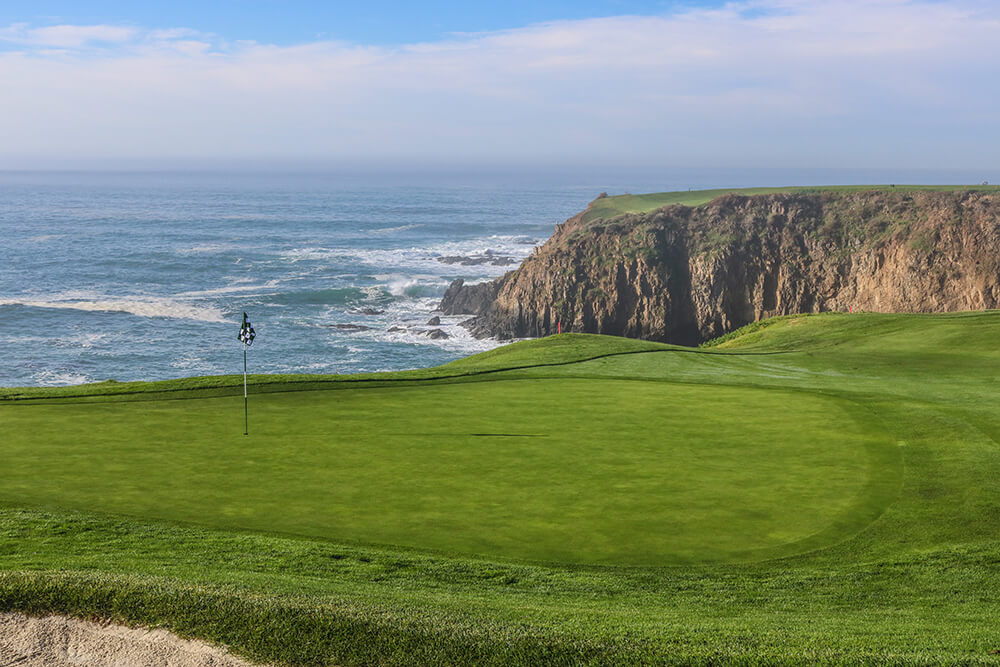 9th: The Greenbrier Resort (Old White), Par Four, 413 yards—White Sulphur Springs, W.Va.
Public golfers don't get many chances to play C.B. Macdonald-designed holes with punchbowl greens, but West Virginia's Greenbrier Resort has one on the 109-year-old Old White course. The bowl here might not be as deep or pronounced as those at other Macdonald punchbowls, but it's still an intriguing feature that gives this beautiful hole its character.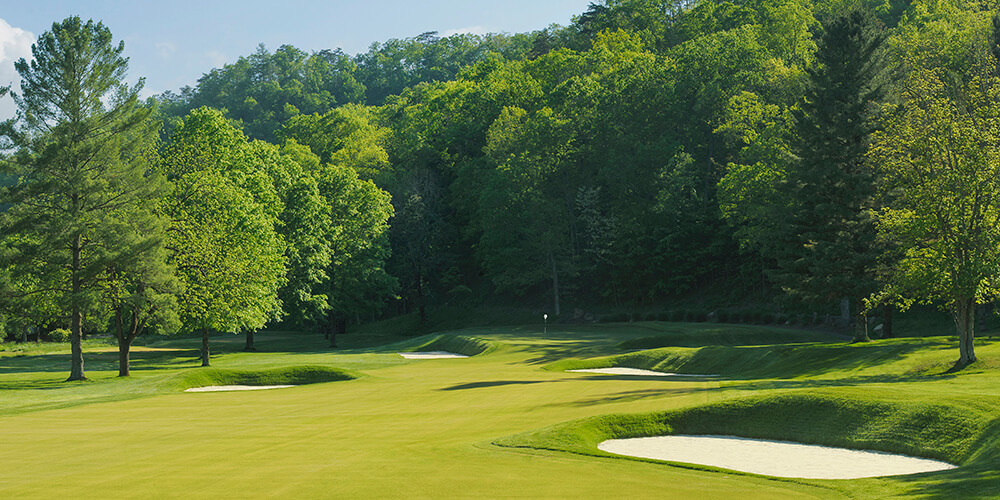 The back nine of my favorite public golf holes in America is set to follow.
Can you come up with your own list? Answer in the comment section below.