After previously naming my favorite front nine public golf holes in America, the back nine reveals some definite biases. There are only three par fours, which might suggest that while most of the world's holes are par fours (and two of those listed are among my favorite holes anywhere in the world), it's the threes and fives that tend to stick in the memory a little longer. Five holes on or close to the Pacific Ocean give a clue as to where I reside and indicate I've not played nearly enough golf east of the Mississippi. Most importantly though, a common feature throughout is firm, sandy ground with close-cropped turf, which makes the game considerably more enjoyable.
When added together, the two halves of my eclectic 18 make a 6,975-yard par-71 design (four par fives, five threes, and nine fours) that's my version of America's most enjoyable public course.
Here are my choices for the back nine.
10th: Chambers Bay, Par Four, 398 yards—University Place, Wash.
The linksy U.S. Open (2015) venue overlooking Puget Sound has several terrific holes that vied for a spot on the list, but this uphill two-shotter won the day. The tee shot plays slightly downhill into a fairly generous fairway with tall sand hills either side while the approach rises toward a long and beautifully positioned green that looks and feels a lot narrower than it is by virtue of the dune left and a lengthy bunker right. You'll really only need a solid drive and mid- to short-iron to get home, but the hole does play a little more difficult than it looks.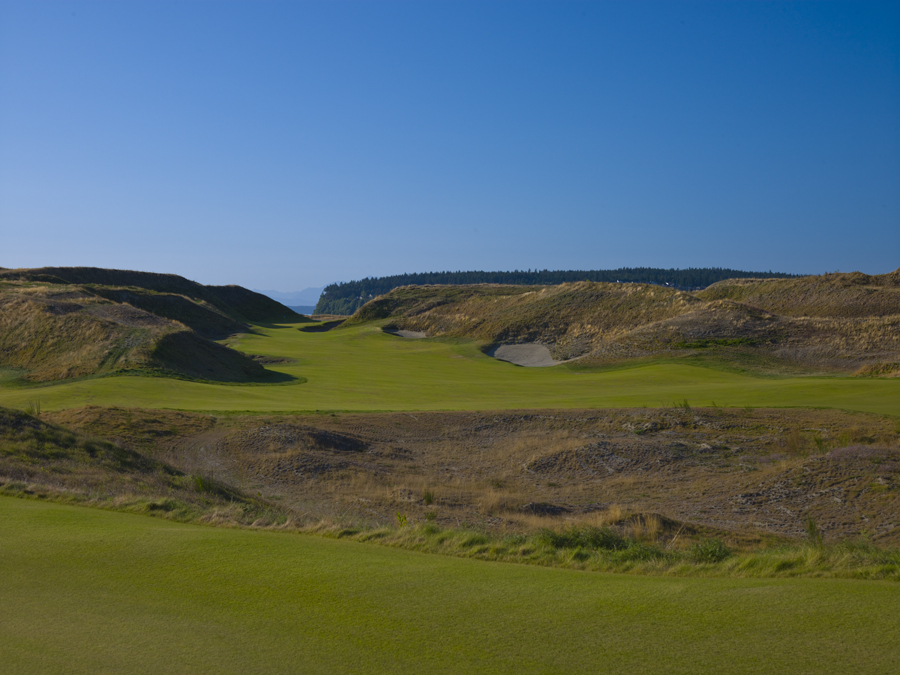 11th: Wild Horse, Par Three, 126 yards—Gothenburg, Neb.
It was a toss-up between this and Tom Doak's oceanside par three at Pacific Dunes in Oregon, but the Nebraska prairie got the nod, as Doak is featured elsewhere, and Wild Horse really is the little course that could. Incredibly, Dave Axland and Dan Proctor built it for less than $1 million and, though it's invariably in excellent condition thanks to superintendent Josh Mahar's expertise and experience (he's been here since the course opened in 1998), the maintenance budget might just cover the first six holes at more attention-hungry courses. The 11th is a sporty little number—short with a large green that suggests an easy par. Stay clear, though, of the unfortunate soul who finds one of the large greenside bunkers or fails to negotiate the green's contours.
Again, multiple holes from this John Fought/Andy Staples co-design were worthy of the list but, with space for only one from the amazing clockwise-moving stretch between the 10th and 15th, five serious contenders would inevitably wind up on the cutting room floor. The jaw-dropping moment when you make your way from the 11th green to the 12th tee and see the Red Cliffs National Conservation Area in the distance beyond the sandstone ledge on which the hole is laid out is one you'll take to the grave. No unseemly hype or vacuous puffery is needed to emphasize the glory of this hole. Just an image will suffice.
Par-4 12th Hole at Sand Hollow#Utah #utahgolf @HOGGOLFBLOG @SandHollowGolf pic.twitter.com/GJMeOiFnvg

— Tony Korologos (@TheGolfSpace) October 2, 2020
13th: Kiva Dunes, Par Three, 175 yards—Gulf Shores, Ala.
The narrow, sandy finger of land protruding west from the coastal town of Gulf Shores and separating Mobile Bay from the Gulf of Mexico is known as Fort Morgan Peninsula and is little more than half a mile wide in places. There is, however, ample room for a couple of enjoyable golf courses including Jerry Pate's tremendous Kiva Dunes. Opened in 1995, Pate's layout has its share of vegetation and man-dug water hazards, but also a very links-like look and feel distinguished by this wonderful little par three in the southwestern corner of the course. You'll need a well-struck mid or short iron to cross the exposed sand short of the green, and a sure putter to negotiate its pronounced saddle.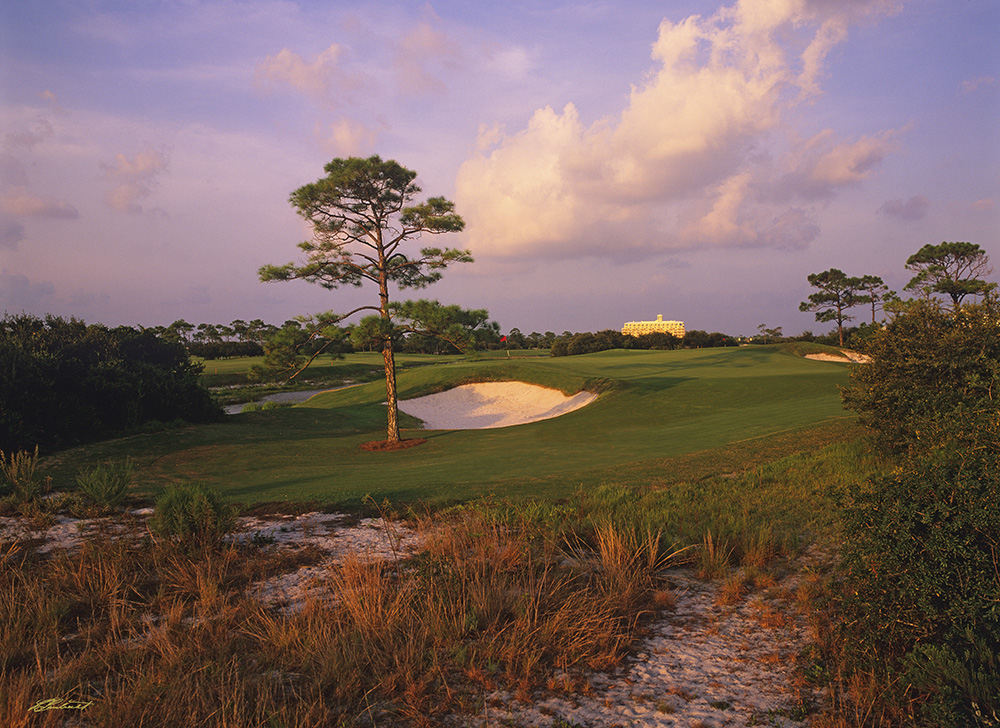 14th: Rustic Canyon, Par Four, 498 yards—Moorpark, Calif.
One of the best holes on Gil Hanse/Geoff Shackelford's rugged Southern California layout, the 14th is a long, left-bending par four which, as great holes usually do, gives players plenty of freedom off the tee while rewarding those who take on, and survive, a little risk. Those that aren't feeling it can bail safely right and leave a long second while those that flirt with the prominent native walnut tree should be able to find the wonderfully natural and bunkerless green with ease. Playing the hole as a short par four from the forwardmost tee is also terrific fun.
Hole of the Day

Rustic Canyon
No. 14 – par 4 – 446 yards

The scorecard yardage is intimidating, but the length of your approach into the 14th is dictated by how much you're willing to bite off on your tee shot. An aggressive line over the wash not only shortens the hole but… pic.twitter.com/o0g6JvMH9A

— Fried Egg Golf (@fried_egg_golf) August 1, 2023
When you first see an image of this incredible uphill par five (opened in 2004), you do a double-take and assume it's an AI-generated fantasy hole. It can't be real, you think. And then you stand on the tee, see that it is very real, and try to see yourself avoiding the ridges of sand and trees that cut in from the edge of the fairway on both sides turning the hole into a sort of serpentine, ascending, avenue of grass. Getting to the green at the top of the rise can be a somewhat complex journey for first timers, and it isn't easy. But it is undeniably fun and beautiful, and you'll definitely want to try it again. Unequivocally one of the Golden Bear's best-ever holes.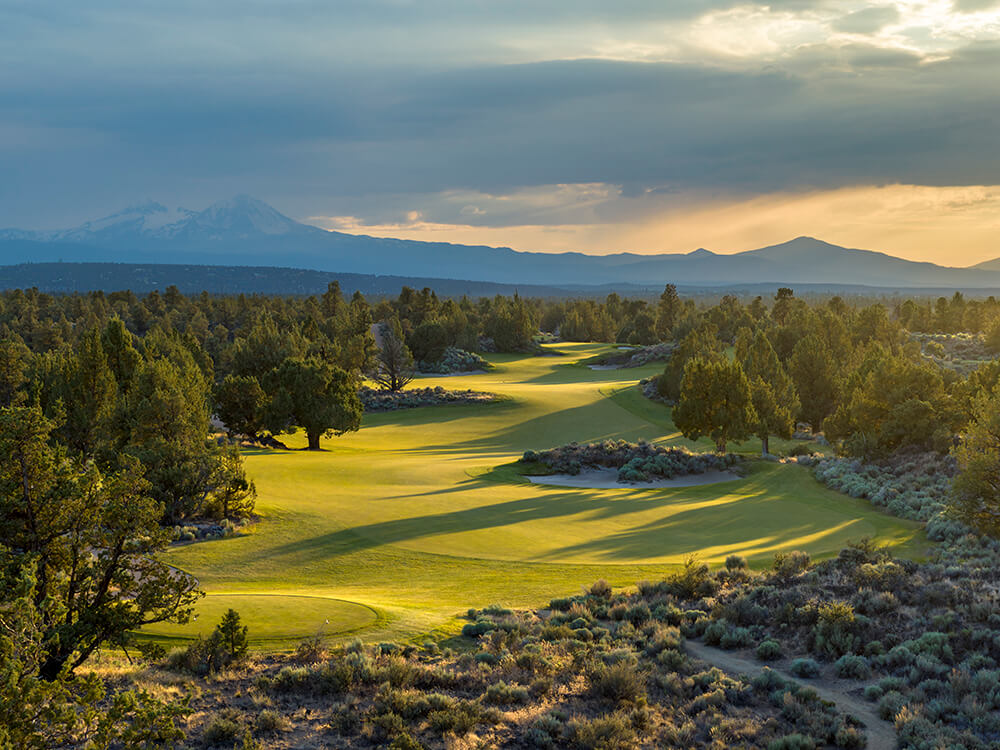 16th: Palouse Ridge, Par Three, 138 yards—Pullman, Wash.
Less than a mile from the Washington State University campus (aim at the school's Bryan Clock Tower on the 1st tee) is John Harbottle's expansive layout which opened in 2008 and reminds us just how good an architect the former Pete Dye and Desmond Muirhead associate was. This wild ride over the slopes of the Palouse is highlighted by several excellent holes, but the little 16th is perhaps the most enjoyable (the short par-four 15th gets a lot of votes, too). Only a precisely struck short-iron will find the smallest green on the course and avoid its four surrounding bunkers.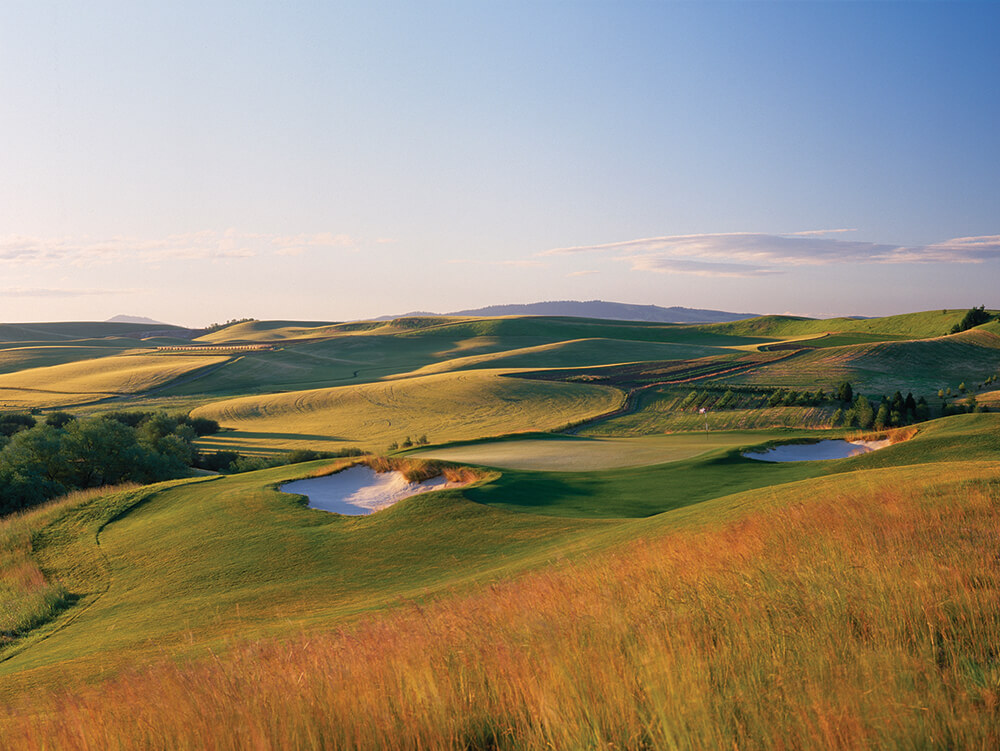 It only seems right to include a Mike Strantz hole in a list of favorites. The South Carolina-based architect who tragically passed away having left us just seven original designs and two redesigns was all about thrilling golf, building numerous holes that are hard to forget. Though one of his less flamboyant designs perhaps (3rd, 9th, and 13th notwithstanding), Caledonia is nevertheless an elegant and hugely satisfying round, and the 17th another exquisite shorty full of sand.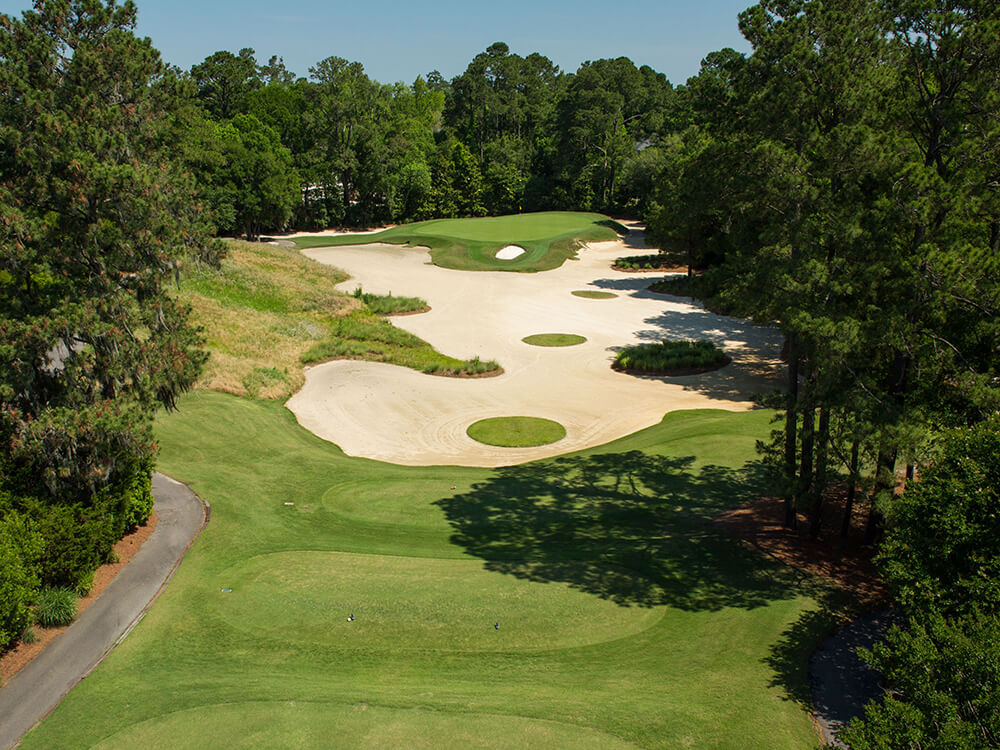 Tom Lehman and Chris Brand's Dunes course gets the lion's share of the acclaim at The Prairie Club and, perhaps, rightly so. But the 18th on the Graham Marsh-designed Pines course is a remarkable hole with so much going on and which might take a few tries before you settle on your preferred route. It bends left around stately pines about a hundred yards apart on the left edge of the fairway, though you can ignore the second and fire at the green if you're far enough down the fairway following your tee shot and are in the mood. Careful placement and sound strategy are necessary if you're to have any hope of making a par or better.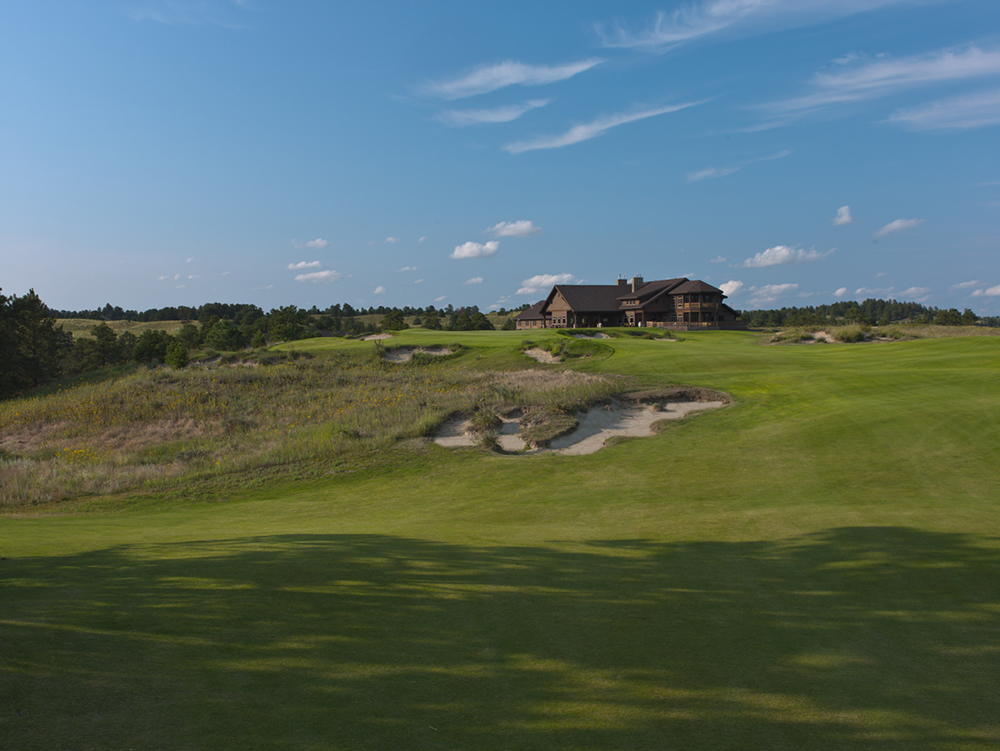 Can you come up with your own list? Answer in the comment section below.