As I got off the Concorde in England with the rest of the 1993 Ryder Cup team, our captain, Tom Watson, looked at each one of us and said, "They may have invented the game on this side of the pond, but we have perfected it." I thought to myself, "Game on, boys."
Earlier that summer, after I'd accumulated enough points to make the team, an article in Golf World rated each player's strengths and weaknesses. They said that I had the heart of a lamb and would be turned into chopped liver by the Europeans. I've always embraced the underdog role, and this helped motivate me to prove the critics wrong.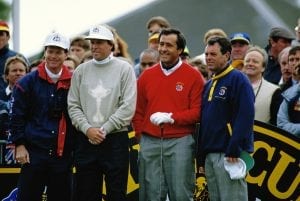 Everything seemed normal leading to the opening-day matches, but when I woke that morning my anxiety level started to rise. I sat out the morning foursomes, but was paired with Lee Janzen in the four-ball matches that afternoon against Peter Baker and Ian Woosnam.
Walking to the first tee, I wasn't sure if I could keep my hands still long enough to tee up my ball. I finally was able to gather myself just enough to get my opening tee shot in the air. Our match was close all day, but Baker made a long birdie putt on 18 to beat us 1-up. The team trailed 4½ to 3½ after Friday.
I sat out again Saturday morning, but was paired with Corey Pavin that afternoon. Corey shot 29 on the front nine and we went on to win my first Ryder Cup point, 5&4 over Mark James and Costantino Rocca. What a relief to finally get a point for the team, but we still trailed 8½ to 7½.
The singles were set, but we'd heard a rumor that Sam Torrance, a European Ryder Cup veteran, may not play due to an injury. This meant someone on our team would have to sit out and that match would be halved.
Sunday morning, I was with my wife Cissye and the Tom Kites at the church service on the 18th green when I heard the news: Lanny Wadkins volunteered to sit out, which would put me up against the great Seve Ballesteros.
I got my wish: The lamb was going up against the lion.
Walking off the first tee, I overheard European Captain Bernard Gallacher tell Seve, "You will beat him 7&5." I was even more motivated after hearing that, and I turned around to Wadkins and Watson and said, "Might be the other way around. He is going down today." Pretty brash on my part, but I was playing great and fired up by Gallacher's remarks.
All week, Watson reminded us "Silence is golden," meaning the loud roars and screams from the European fans would be quieted if we were winning. I got off to a hot start and was 2-up after nine holes; the European fans were shouting Seve's name louder and louder as he walked by. I knew I had to silence them.
I walked off the 16th green a 3&2 winner so proud of what I had just accomplished. Midway through the celebration on the 18th green, Paul Azinger ran up to me and said, "You are now the Killer Lamb Chop."
The U.S. team took home the cherished Ryder Cup once again after defeating Europe 15 to 13. It is has been 25 years since Team USA has won on foreign soil, but it was like yesterday that I came home to Greenwood, Miss., to my oldest daughter, Mary Langdon, wearing a t-shirt that read, "My Daddy Beat Seve."