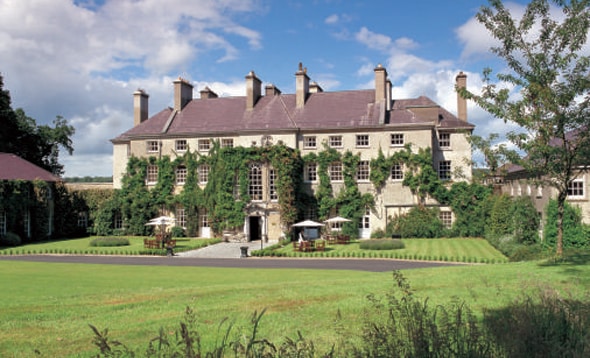 Measuring no larger than South Carolina in square miles, Ireland certainly seems like a compact golf destination. But its roads are ribbony and its top courses recede to the country's perimeter like numbers on a clock face. For less-experienced visitors to the Emerald Isle, the question can be daunting: Where to start? For a variety of reasons, consider Mount Juliet.
Located 75 miles below Dublin, Mount Juliet can function both as a self-contained destination and as a base for day trips to various golf and non-golf attractions. Mount Juliet's 7,200-yard course opened in 1991 with a match between Christy O' Connor Jr., and designer Jack Nicklaus. It has bunkering and other features not unlike the dozens of Jack's courses that Americans may have played Stateside, but the scenery definitely is a switch. You'll become very familiar with the River Nore and its tributary, the King's River, which wind through the estate. Likewise, Mount Juliet's 18th-century Georgian architecture, and flora and fauna—including atomic-sized hares—will make it clear: You're not in Kansas anymore.
True, this is not the seaside links golf for which Ireland is justly famous, but it is a comfortable transition, especially since places like the European Club—a stunning, seldom-crowded links track designed by Irish architect Pat Ruddy—are well within striking distance. That said, the Mount Juliet venue, which has hosted three Irish Opens, is challenge aplenty for most players.
Mount Juliet also gives you ample reason to put the sticks away. The equestrian options range from relaxed trail rides through lush parklands to a cross-country facility with a series of jumps. Atlantic salmon and brown trout lure anglers to the estate's streams and rivers. There is also archery, clay-pigeon shooting, tennis, croquet, cricket and cycling, with all necessary equipment and instruction provided. The Hunter's Yard, originally home to the estate's stables, now houses a modest but inviting spa and a health club with swimming pool. Among the nearby off-property diversions are the Waterford Crystal Factory, the medieval village of Kilkenny and of course Dublin, once a leaden, lugubrious city, now among the most vibrant urban environments you'll find anywhere in the world.
Named for the wife of the 1st Earl of Carrick, the accommodations include Mount Juliet House, originally the main residence. It now encompasses 32 rooms, each individually appointed in period fashion.
More spacious and contemporary are the Rose Garden Lodges, suites with kitchens, balconies, patios and two bedrooms each. Even greater seclusion can be found at the Paddocks, two- and three-bedroom houses close to the 10th tee. Sixteen club-style rooms surround the Hunters Yard, which is also the nexus of the estate's conference facilities.
Old Ireland hands who say you don't go for the food undoubtedly are not thinking of this place, which features cuisine prepared with fresh produce and flavorings from the estate's own herb and vegetable gardens. Restaurant choices include the semi-formal Lady Helen Dining Room, in Mount Juliet House, and the more casual Kendal's.
As is the case throughout Ireland, the service at these establishments—and at all of Mount Juliet—is as warm and welcoming as you'll ever find.