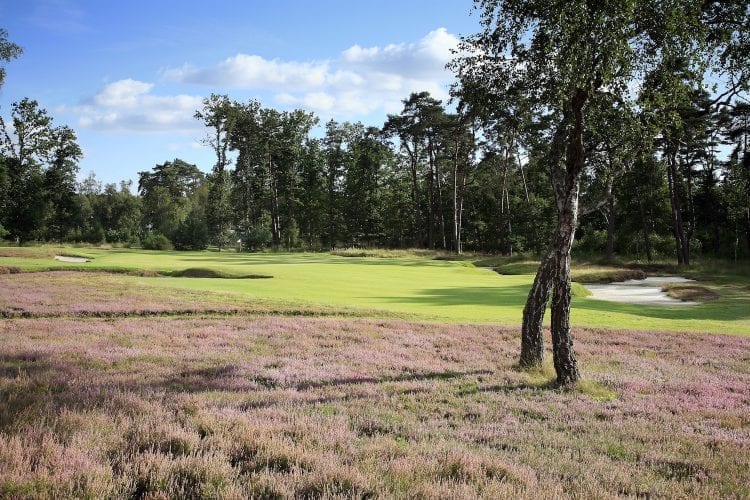 Eighty years ago, if you lived in Europe, had some land and some money, and wanted to build a top-quality golf course, the go-to guy was Tom Simpson—assuming you could put up with his act.
Picture yourself, the course owner, at a site visit. You're out on a boggy moor in your tweeds and wellies contemplating a nascent greensite when a vehicle approaches from over the brae. It's neither a truck nor tractor, but a chauffeur-driven Rolls-Royce. From the backseat emerges what appears to be a fugitive from the Cannes Film Festival, sporting an embroidered cape, horn-rimmed sunglasses, a floppy beret, and an attitude—Tom Simpson has arrived.
Simpson came from money, was educated at Cambridge, and worked briefly as a lawyer before turning to golf course design. A scratch player at venerable Woking Golf Club near London, he knew the game and also knew how to cultivate the carriage trade—among his clients were the Duke of Windsor, Lord Mountbatten and two Barons de Rothschild.
It is Simpson who is credited with dubbing the 1920s and '30s the Golden Age of golf course architecture, and he did his part, with designs at Cruden Bay in Scotland, the Berkshire near London and New Zealand Golf Club, as well as widely lauded renovations of Ireland's Ballybunion and England's Sunningdale. But his best work may have been in France: Chantilly, Fontainebleau and the course that is ranked first in the nation, Morfontaine.
In 1927 a member of the French aristocracy, the 12th duc de Gramont, hired Simpson to build a course on his estate 30 miles north of Paris. Initially, Morfontaine was intended for the private enjoyment of the duke and his friends, but it was such a success that within three years it became an extremely private club with an international membership. Virtually no one plays unless accompanied by a member. And be warned—although there are 450 members, only 12 of them are American.
I managed to gain access and found myself in front of a pair of austere iron gates with an intercom to the side. In the best French I could muster, I announced myself, and sacre bleu, the gates parted. From there it was another mile or so of winding driveway through the course to the modest ivy-covered clubhouse.
There was a light mist and my initial impression was that I had been transported to Northern California. The rolling, dew-covered fairways lined with towering trees brought to mind Olympic and San Francisco Golf Club.
My tee time was 9 a.m. but I had missed it by five minutes. Happily, that wasn't a big issue since the only other people playing that morning were a member and his young son. However, they already had hit their tee shots when the secretary and I approached. When they saw us coming, the dad gave me one of those disdainful looks for which the French are justly famed.
"What is this?" he said.
The secretary rattled off an explanation I couldn't follow—the member didn't seem to buy it either.
"What is his handicap?" he asked.
"Six," I replied.
Grudgingly, dad and son stood aside, dad looking peevishly at his watch. Apparently he, as I, had a plane to catch.
Rarely have I been less prepared—or more intimidated—for an opening tee shot. Without so much as a practice swing, I managed to neck one to the inside corner of the 451-yard dogleg right, then fairly ran after it, father and son skulking in my wake. My thinned 6-iron approach must have looked from a distance like a canny knockdown because it actually drew applause from the dad. Three minutes later, I exited the green, having missed the birdie putt but saved face. Throughout the rest of the morning, both pere et fils waved cheerily from neighboring fairways.
The next 17 holes were serenity itself, three hours of misty solitude on a sleeping beauty of a course. This is ground made for golf—sand-based heathland that rises and falls almost constantly but never precipitously. There was the sense that Simpson might have plotted his holes in any number of ways and come up with an enthralling course, but the choices he made were fine ones.
Morfontaine is a par 70 of 6,545 yards (5,985 meters). Five holes are par 3s and among the 13 others, three bend right, four move left and six are straight. All are defined—more certainly than any course I can recall—by trees, hundred foot-high sylvestre pines (or Scotch pines, as we know them).
The short holes are charmers. None is more than 200 yards but all are guarded staunchly by lace-edged bunkers. Fairway bunkers, however, are scarce. Simpson generally disdained them, saying that "any feature that acts as a lighthouse to define a channel or one that lends assistance in judging distance, is definitely to be deplored."
The standout hole of the front nine is No. 7, a 428-yarder that plays 250 yards uphill over a collection of rocks that looks like a miniature Stonehenge, then turns hard to the left and downhill to an artfully contoured green. It is followed by another leftward dogleg—this one almost 90 degrees—that demands close attention on both the tee shot and approach.
Everything about Morfontaine is understated. There is no pro shop (or pro for that matter), the bar and dining room are tasteful but spare, and the little white scorecard couldn't be simpler—just hole numbers, pars, distances and handicap strokes. The minimalism is most evident at the conclusion of the first nine. There is no halfway house, just a water fountain and next to it a water bowl for man's best amis. (As at many British courses, dogs are welcome.)
In fact, there is a decidedly British feel about this place. Thanks to the sandy soil, it plays hard and fast, almost like a links, and although the fairways and greens are in fine condition, there is no manicuring, just a confident, shabby gentility.
Each nine starts with the same sequence of pars: 4–3–5–3. No. 10, however, is considerably tougher than the opening hole. Recently, American architect Kyle Phillips updated the course, and his biggest change was to add 50 yards to the back tee of this hole, which now plays 475 yards uphill.
Neither 11 nor 13 plays more than 150 yards, but the greens are about as welcoming as a French waiter. No. 13 offers an unusual challenge: a tree that, depending on the tee and hole locations, can be smack on one's intended line of flight. Simpson may have had this hole in mind when he said, "a course with any pretensions to greatness must have its imperfection."
The course ends with a 3 and a 5. Picturesque No. 17 plays across a valley to a green backed by a 20-foot high wall of bright-green ferns. Perhaps fearing a leafy grave, I flinched a bit on my 8-iron and found a deep front bunker. A bogey brought me to the last hole needing a birdie to break 80. Since it was a par 5 of less than 500 yards, I figured I had a chance. I still felt that way after my pushed tee shot into the rough, a bit less that way after my pulled second into the pines, and abandoned all hope when my attempt to skitter a 4-iron through a bunker simply skittered into it. Very rarely have I shot 81 in a more blissful place.
There are many better reasons to go to Paris—foie gras and escargots, Musee d'Orsay and the Louvre, for example—but there is one masterpiece no museum can contain: a course as sweet as crepes suzettes called Morfontaine.