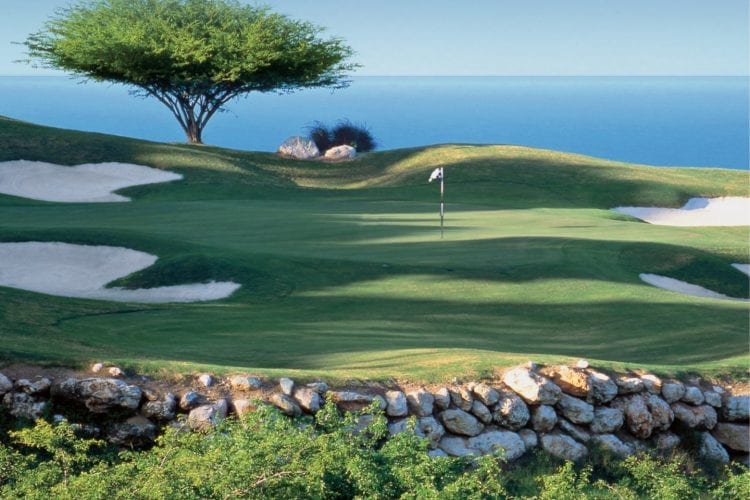 On the 11th hole at Tryall Golf Club on the northwest coast of Jamaica, my ball lands beneath a tree with large round orbs popping out from the leaves.
"Papaya?" I query my caddie, Howell.
"Coconut," he answers. "Not yet ripe."
Later, Howell points out breadfruit and mango trees. Then Cecil, another caddie, walks over with a handful of green leaves. He crumbles them and extends them toward my nose—sweet, pungent.
"Pimento tree," he says. "In America, you call them cloves. From them you get the spice. You also get Old Spice cologne. And the pits, they are dried and you get black pepper."
On the next hole, Howell pulls an orange off a tree, peels it and offers me a section. It tastes better than any orange I've ever eaten. Later I'm shown almonds as they hang from their limbs, long before they're cracked, roasted, salted, bagged and shipped to the supermarket.
Beside another hole is an old water wheel that, almost two centuries ago, was built to crush sugar cane. "First we had sugar cane," Cecil says. "Then coconuts. Now tourists."
Jamaica has a handful of quality golf courses and now, with two new offerings in the Montego Bay area, the northwest corner of the country has become its premier golf destination. All four lie beside the Caribbean Sea and offer spectacular visuals in addition to interesting golf.
Tryall was the island's first course of note. Architect Ralph Plummer's design opened in 1959 as a key amenity to a new club founded by a group of Texans, who bought the 2,200-acre tract that once produced sugar and coconuts. Today the resort and club, set 12 miles west of Montego Bay, are owned by a consortium of more than 50 members, who make available to visitors their 56 estate villas and private rooms in the Great House. Site of the Johnnie Walker World Championship from 1991–95, Tryall has small greens that demand precise approach shots.
Half Moon Golf Club, located seven miles east of Montego Bay, opened two years later and was designed by Robert Trent Jones Sr. It's essentially flat, so it doesn't offer the sensory drama of its neighbors. Still, the ocean breezes from across the highway seem to challenge every shot. Royal palm trees planted during the course's infancy have grown to maturity and act as grand sentinels on many holes.
Next door to Half Moon are the sister courses—White Witch, which opened in August 2000, and Three Palms, which opened in spring 2001 as a complete redesign of the former Wyndham Rose Hall course. Both were designed by the Houston firm of von Hagge, Smelek and Baril. White Witch is part of the Ritz-Carlton Rose Hall, an opulent, 428-room oceanfront hotel, while Three Palms is operated by the Wyndham Rose Hall Resort, which opened in the early 1970s. Visitors at either property enjoy convenient access to both courses.
The names of both courses and the land on which they are routed have ties to Annee Palmer, the early 19th century owner of Rose Hall plantation. According to legend, a series of husbands and assorted lovers fell to unexplained deaths under the reign of "the white witch." In fact, Palmer was rumored to have planted a palm tree for each of the three husbands she buried.
White Witch climbs steeply into the mountains just beyond the hotel and oceanfront, with dramatic views at some points, more than a thousand feet above sea level. Three Palms is set closer to the Caribbean, with five holes on the front nine so close to the churning surf that cranky sea breezes can easily sway your ball into the drink. The memorable waterfall on the 15th hole was a backdrop to a scene in Live and Let Die.
In addition to golf, there is fishing, music, "the Hip Strip" of Montego Bay, where you can adjust to the laid-back pace of the island. If you're having trouble, simply bite into an orange and adopt the national slogan: "No problem, mon."