U.S. Open officials might have needed some extra assistance locating Erin Hills in Wisconsin this year. It'd been a while since they've been to the Midwest.
In fact, that large swath of the nation's heartland has been—and with the exception of this year's blip will continue to be—ignored when it comes to hosting the USGA's marquee event.
This year's Open, which takes place 45 minutes from downtown Milwaukee, will be the first in the Midwest since 2003 when it was held at Olympia Fields outside Chicago. There are no Midwest golf courses on the schedule, which is set through 2026, and no guarantees the Open will return when venues are announced for 2027 and beyond.
It wasn't always this way. Chicago Golf Club in Wheaton, Ill., hosted the third U.S. Open in 1897. Beginning with 1990 at Medinah, there were four Midwest-based U.S. Opens during a 13-year span through Olympia Fields in 2003.
So why are Midwest golf courses, with the exception of this year, overlooked while the USGA does its East Coast-West Coast dance?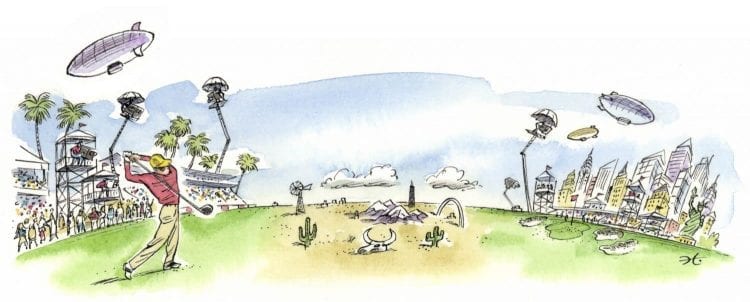 Mike Butz, the USGA's Senior Managing Director for Open Championships, says venue locations tend to "run in cycles." He points out that there wasn't a U.S. Open in the Southeast until Pinehurst in 1999, and that Los Angeles, the nation's second largest market, will go 75 years between the 1948 Open at Riviera and 2023 at Los Angeles Country Club.
Other factors also come into play. Beginning with the 1999 PGA Championship at Medinah, the PGA of America swooped in and did multi-tournament deals (including Ryder Cups) with prominent Midwest golf courses such as Hazeltine, Oakland Hills, Whistling Straits, and Medinah. That knocked the USGA out of the picture at those courses.
Butz also said Opens held at relatively new venues (Pinehurst, Bethpage, Torrey Pines) proved to be extremely popular, meriting return trips. And while Butz didn't directly admit it, robust television ratings for West Coast Opens—which allow for prime-time finishes on Saturday and Sunday on the East Coast—have to account for four of the nine Opens between 2015 and 2023 being in California and Washington.
"It's not like we don't want to be in the Midwest," Butz says. "It's just that we've been in a cycle where some decision-making has precluded us from being there."
The USGA should get out of that cycle. Officials need to go back to former Open venues like Medinah, Hazeltine, and Oakland Hills. As it did with Erin Hills, it needs to find new Midwest golf courses capable of hosting an Open. Cog Hill, a top public facility outside Chicago, spent big money on a Rees Jones redesign in an effort to land an Open. Maybe with some further tweaks, it could be a candidate.
Still, Butz insists the USGA "doesn't get caught up in geographics… Our goal is to find the ultimate test of golf and to provide a great experience for our spectators."
That's all well and good, but another priority should be equity in selecting venues. The Midwest is a big part of the country and a thriving area for golf. It shouldn't go once in nearly a quarter-century—and perhaps longer—in hosting our national championship.