By John Dunn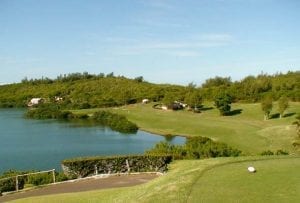 The true genius of C.B. Macdonald was the way he adapted his timeless template holes onto different canvases, none grander than the site of the Mid Ocean Club in Bermuda. I was six the first time I played there, and I felt like a Hobbit scaling moats and battlements while chasing my ball up and down Mid Ocean's plunging fairways and plateau greens. Hanging my tee shot over Mangrove Lake at the famous Cape hole (433-yard 5th) was like shooting an arrow from a castle turret.
Years later, I was shocked when I played my first parkland course and saw a small round green at the end of a wooded chute. "What's the fun in that?" I said. It was like playing down a prison corridor—a test of discipline more than imagination and nothing like Mid Ocean's myriad angles, blind shots, slopes, terraces, berms and basins. Back then, I had no idea these bold features with strange names—Biarritz, Eden, Redan—were tributes to Macdonald's favorite holes from Europe. I just knew they were an absolute joy to play.
For all its pedigree and tradition—knee socks and Bermuda shorts—Mid Ocean has never been a primly coiffed golf experience. Historically, the scraggly grass has swallowed balls in the rough and made them weave drunkenly on the greens. The red soil caked into grooves; the exposed volcanic bones dinged clubfaces and sent shots hurtling crookedly.
The course is not, by definition, links golf, but the 6,549-yard layout has long played that way. The unpredictability of hitting from the road behind the Old Course's 17th green reminds me of hundreds of shots I've had at the Mid Ocean Club.
Tom Doak's work at the club from 2003 to 2005—especially the introduction of
TifEagle grass on the greens—has reduced much of the unpredictability. (You no longer need a full wrist cock on a five-footer.) The clearing of trees, some by hurricanes, has made the layout more playable and opened up beautiful lines of sight. The most striking scene contains the 418-yard 1st, 203-yard Redan 17th and 421-yard 18th. The open vista has unified one of the finest three-hole complexes in golf.
With the starting and finishing holes hugging the cliffs over the island's famous pink-sand beaches and coral reefs, Mid Ocean is a journey out and back in the truest sense. Its halfway house, located high above the turquoise waters of Harrington Sound, marks the farthest point from the clubhouse.
The varying terrain in between—volcanic hills, mangrove lakes, lily ponds and valleys lined by cedar, oleander and hibiscus—somehow matches the intriguing variety of the architecture. Inspired by the links of Scotland, Macdonald's template holes have become an integral component of the overall golf landscape. But no other piece of land has given them greater expression.