Sunday April 12th.
The date was supposed to be an unequaled day on the 2020 golf calendar—Sunday at the Masters. Annually, the day invokes abounding memories for fans of the game. Where were you when Jack Nicklaus won at age 46? When Tiger Woods announced "Here I am world…" in 1997, Jordan Spieth's collapse, Larry Mize's chip in, Rory McIlroy's 80, Bubba Watson's hooked wedge, Arnold Palmer's final walk, Tiger's return to glory. Moments in time that, for a golfer, seem to be as vivid and bright as the green jackets of Augusta National.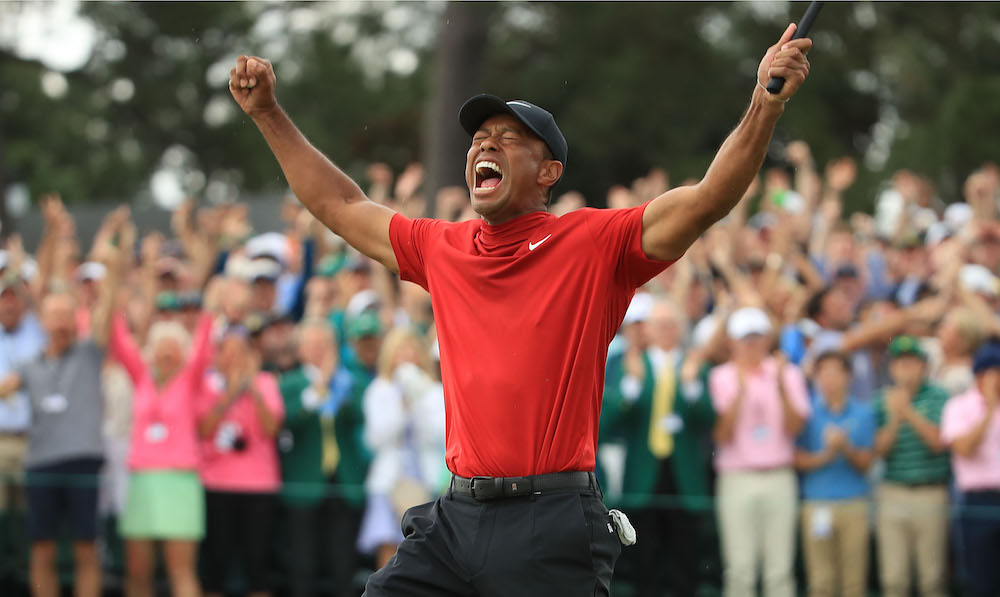 I've had the pleasure of covering/attending four Masters Tournaments in person, which along with watching a lifetime of them on television, has given me an abundance of favorite moments.
To soak in the full nostalgia of Masters Sunday, we caught up with a wide range of golf personalities, who shared their favorite Masters moments and memories.
George Peper
If I had to pick one moment, I would go back to Jack Nicklaus on that Sunday at the 1986 Masters. Most people talk about the last nine holes he played—my memory actually comes from the end of the first nine he played on Sunday. There used to be a grandstand for the press to the left of the 18th green, and I went out there around two or three o'clock and clambered up to the top of it—if you're up on the top you can see both the 18th and the 9th greens.
A few moments after I got there, Nicklaus made his way up to No. 9 and at that point he was five or six shots back, playing about even par. He had left himself sort of a twisting, 30-foot putt from the right side of the green, the pin was at the back. He hunches over it, as deliberate as he is, and is about to take the club back when we hear a tremendous roar from the 8th hole about 500 yards away on top of the hill. What had happened was Tom Kite had holed his wedge shot from 120 or so yards for eagle, and the place went bonkers—I think he may have taken the lead at that point.
So, Jack stepped back, and everyone kind of giggled a little bit. He gets back over the ball and is ready to hit it again, he's just about to take the club back and another, even bigger roar comes out of the same place. This time Seve Ballesteros, playing with Kite, had also holed out for a three. Jack, being kind of funny, looks around and says, "Well, let's see if we can make a little noise of our own," and everybody laughed, thinking, "Good for you, old man. Hang in there." This is the Golden Bear—we're all rooting for him to have a good finish.
He gets back over the ball and proceeds to sink that putt, and of course the place goes crazy. Nobody ever thought he had any sort of a chance at that time because he was five or six behind, but the rest, of course, is history—he busts through the back nine in 30 and won it. I will never forget that.
Justin Thomas
When it comes to The Masters, it's hard to think of just one memory or one thing that stands out because of how special the whole week is. For me, the first thing that comes to mind is my hole-in-one on 16 on Sunday in 2019.
It was roughly 180 yards to the hole, downwind. Above the hole is so fast and hard to keep from three-putting so I wanted to stay below the hole and hit 9-iron. We felt landing it five to eight yards short of the hole was good and I thought I could do it with a 9-iron, while my caddie Jimmy was adamant it was a perfect little 8. After seeing Jon Rahm go before me and hit an 8-iron to two inches, I believed Jimmy was right. I hit a pure little draw 8-iron (165-yard shot) and landed perfect and spun left down the hill. As it started to go Phil Mickelson said, "Go in!" and it did. The video is funny after knowing that because you can see us immediately look at each other and high five. It was a memory I'll never forget and such a special moment.
David Feherty
It was the last round in 2004 and Phil Mickelson had gone through 15, where I sat for 19 years. Normally I would have slid down the pole like a firefighter, and made for the airport, but this time felt special, so I stayed to watch the show on my monitor. After about 30 minutes I looked out from my tower and saw the most astonishing thing. Not everyone could get a vantage point to see that amazing finish, so little bunches of 50 to 100 patrons had gathered under each of the towers, where the cameramen had reversed their cameras, pointing their viewfinders downward towards them. They were watching a four-by-six image from 30 feet below! My cameraman, Joe Ferlic, did the same thing. Obviously, all the stills guys were around the 18th green, but I thought if one of them had taken a panoramic shot of this surreal scene, it would have been amazing.
Greg Norman
My favorite Masters memory might surprise many people. It has nothing to do about the golf course, a shot, a player, or moment. It is about the patrons and the viewing audience who lock themselves in a room to watch every stroke played Thursday through Sunday, and the staff that makes Augusta National what it is. These patrons, viewers, and staff to this day, make me always feel a part of The Masters. Behind the dark cloud of not having ever donned the green jacket is a silver lining given to me by these beautiful people who knew how much my love for Augusta National and The Masters meant to me, and always will.
Michael Bamberger
This is an impossible task, to cite a favorite memory or moment from The Masters, because I have a thousand of them. Do moments from watching the tournament on TV count? Or moments you've only seen in YouTube clips? Or moments you've only read about? Because in that last category, I'm going with Gene Sarazen, making that two on No. 15 in 1935. In the YouTube category, I'm going for Arnold Palmer winning his first coat in 1958, thereby launching him. From my own TV watching, I'm going with Jack Nicklaus in 1986, when he was 46, back when 46 was ancient. Your grandfather was 46. And for seeing it live, I'm going with 1997, not the win itself, which was as grand as grand could be, but back at the house at Westlake with Jaime Diaz, Rick Reilly, Tim Rosaforte, and other Sports Illustrated colleagues around, typing up a story that would have legs far beyond that all-nighter. But I also loved watching Tiger on 18 on Sunday in 2019…the pride. So much pride. On the cutting room floor here, I see about 995 other favorite moments, scattered about. They're screaming: "What about me?"
Brandt Snedeker
I played in the 2004 masters as an amateur. I was so nervous I could barely breathe all week. Paired with Fred Couples and David Toms over the first two days, I was in awe. I was four-over through six holes and had just four-putted the 6th hole, and I wanted to crawl under a rock and disappear. Fred came over and put his arm around me and said, "If you have never four-putted a hole at The Masters, you have never played in one. Relax, and have fun."
It turned my day around. I birdied Amen Corner and shot 73, made the cut, and had a great week. I couldn't thank Freddy enough for doing that for a young kid, and only confirmed what I thought—Freddy really is that cool.
Dan Hicks
In my opinion, it's not even close—Tiger's chip-in for birdie at 16 in 2005. It had absolutely everything you could ask for. Tournament on the line. CBS had plenty of time to set up the difficulty of the shot. The last cut by the director to Tiger's eyes darting to his spot and the hole just before the shot was incredible. Then the shot itself which took about 15 seconds from hit to dropping. And I will say again, Verne Lundquist's call may be the most perfect call considering all the circumstances, enhancing a one-of-a-kind golfing moment seared into our memories forever. But let's face it: Tiger needed to win for it to make its greatest impact. Add all this up, it's not even close.
Brett Quigley
My first and only Masters tournament in 2007 almost didn't happen. My wife Amy was due with our first daughter at the end of April, but her water broke Tuesday and I flew home in time to see Lillian born three weeks early. Amy convinced me to go play the tournament, so I flew back to Augusta late Wednesday night and somehow made the cut with my dad carrying the bag. I've never had a week in my life with more love and gratitude.
Kevin Na
I remember I had a moment on the back nine of my first Masters in 2010. I was walking off a tee box and I looked at my caddie, and I said, "If someone from the future came to me when I was a kid and said, 'Kevin, you're gonna play The Masters one day,' I would've been one happy kid. And now I'm here playing in The Masters." I still get excited every time. From the drive down Magnolia Lane, to the golf course itself, it's amazing. You just feel honored to be there.
My favorite memory is from the 2001 Masters when Tiger won four majors in a row to complete the Tiger Slam. The putt he made on the 72nd hole with the right fist up in the air—to me that was the greatest moment in Masters' history.
Mark Cannizzaro (Author of Seven Days in Augusta)
The 1996 Masters was most memorable to me for the dizzying range of good and bad that occurred. The day was lowlighted by Greg Norman's historic collapse, losing a six-shot lead on the final day, and it was highlighted by the amazing final round from Nick Faldo that few remember because of how epic Norman's fall was.
I walked the golf course watching Norman slowly bleed his lead away and it felt like watching a terrible auto accident in slow motion. The most dramatic point came when Norman got to Amen Corner and air-mailed his tee shot over the 12th green into the bank of azaleas. After no one could find his ball, Norman was forced to make the walk of humiliation back across the Ben Hogan Bridge to take a drop on the other side of Rae's Creek. It was difficult to watch.
When it was over, and Faldo had boat-raced Norman to win the green jacket, I'll never forget the class that Norman showed in the aftermath. Despite the fact that he probably was in shock, he answered every question with patience and grace.
_______________
What's your favorite Masters memory? Tell us in the comments below!